Il Piccolo Blog
How to Plan a Contemporary Bookshelf in 4 steps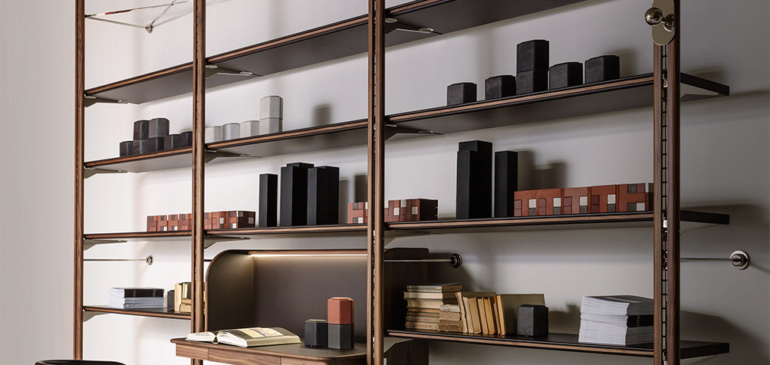 In modern times, a bookcase/bookshelf has become much more than a functional place to store your books. With so many designs and styles available, the bookcase can easily become the eye-catching show-piece of any room.
If you're planning to install a modern bookshelf, the number of options can become overwhelming. However, there are several things to consider before deciding on a final design. Let's take a closer look.
Analyze Your Space
Where do you want to put your bookshelf/bookcase? Is it a corner, a flat wall, a nook, or a different type of space? Measure the area, including the height, width, and depth you'd like. A tip for working out the depth is to measure the widest object or book you wish to display. Make the depth of your bookcase a bit wider than that object and everything will fit perfectly. Also, consider items such as plug outlets, light switches, and vents that can't be obscured.
What Will You Display?
Now consider what you'd like to display on your contemporary bookshelf. There's no limit to what you can place on a bookcase. For example, ornaments, plants, photographs, and, of course, books!
Determine where you'd like each object to stand in relation to others. For example, if you have young children, you will likely want breakable objects to be displayed out of their reach. Trailing plants will look their best when placed high up, and photographs are enjoyed most at eye-level.
Organize your books into piles, whether by size, author, or topic. This will help you decide where to place them. It will also guide you as to how big the shelves need to be.
Consider Your Décor
Your existing or planned home décor should have a significant impact on the style of your bookcase. Think about your color scheme and style and match your bookshelves to it.
Decide the Style of Your Bookcase
There is a myriad of modern bookcase/bookshelf options on the market. They are designed to suit all tastes and styles. Once you've looked at your space, décor, and what you want to display, this should narrow down some of the options for you. Here are some of the most popular options:
Wall unit bookcases: This most common type of bookcase can either be fixed to the wall or standalone. If you have items like power outlets or switches that cannot be covered, choose a wall unit bookcase that doesn't have a solid back.
Wall-to-wall bookcase: These types of bookcases run the entire length of the room. Because they're large, they can look imposing and aren't suitable for all spaces.
Floor-to-ceiling bookcases: As the name suggests, this bookcase is an excellent option if you don't have much space widthways.
Bookcase wall system: These modular systems are fantastic for adapting a design to your space. You can choose from shelves or box storage and design it according to your needs.
Self-supporting bookcase: The advantage of these is that they can be placed anywhere in the home. If you have an ample space, they can act as room dividers. Many are accessible from both sides.
Once you've decided on your style, now you need to choose your material. Wood, metal, and even plastic can all be fantastic options depending on your tastes. With so many options and possibilities, planning a contemporary bookcase can be a particularly enjoyable challenge. Whether you plan to DIY it or purchase from a store, the results can be truly stunning.