Il Piccolo Blog
What are the contemporary interior design characteristics?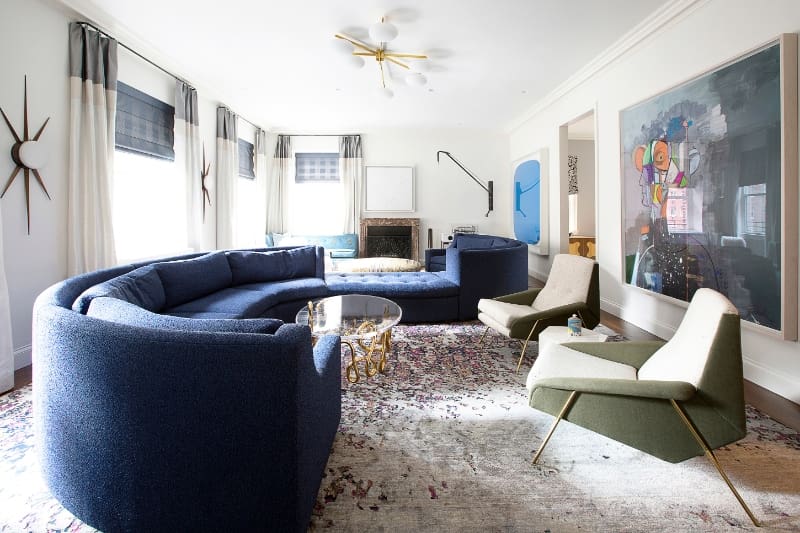 What style for one's home?
Different styles, colors, details. The decisions when choosing to furnish a home are many. The first, essential one is the one related to style: modern, contemporary, classic, antique, minimal? It is often ideal to start from the reality in which you operate. For those who want to seek advice from experts, designers are becoming more and more established. And they are clear about, for example, contemporary interior design characteristics, as well as classic or modern.
A new understanding of home living among the contemporary interior design characteristics
An experienced eye will allow one to carefully choose one's design marked by contemporary taste. It has a deep connection with such a concept as the evolution of living spaces. The home and its premises are undoubtedly being viewed differently, with the establishment of multifunctional spaces, think of the eat-in kitchen with open space, furniture that alternately becomes, for example, countertops or tables, even sofas in the bedroom or the outdoors that are now, after lockdowns, experienced more intensely. The contemporary interior design characteristics obviously take all this into account, creating multifunctional and agile environments that know how to be protagonists of the space and capable of integrating different styles and materials.
Indeed, among the cornerstones of contemporary interior design characteristics
is a keen eye for mixing elements from even different philosophies, bent of course to be functional and integrated. But many designers make no secret of using details and suggestions from times past or even from other parts of the world, mixing, for example, West and East.
Simplicity, comfort, practicality and attention to aesthetics the cornerstones
Beyond everyone's fantasies, the contemporary interior design characteristics are essentially: simplicity, comfort, also understood as practicality, and attention to aesthetics. What does this all mean? Homes must be versatile and convenient, everything must be within reach, if possible also easily cleaned and maintained. The need for state-of-the-art, hi-tech technology that blends seamlessly into the environment and becomes part of it is not overlooked at all. Pure elements such as energy saving are considered when choosing.
Clean, essential lines and innovative materials
Among the contemporary interior design characteristics are clean, light lines with few frills or decorations. You can go from square (rectangular or square, for instance) to rounded, but always with a focus on essentiality. The furnishings are also essential and often minimalist, attentive to intelligent and optimized use of available space.
As for materials, care is taken to use environmentally sustainable ones, sometimes even recycled ones. In recent years, various innovative materials have become popular, perfect for a contemporary style, such as Corian, Silestone, Fenix for kitchens, a locale that also uses steel a lot, lacquered, airbrushed or screen-printed surfaces, perhaps made shiny by some treatment.
Strong colors and essential decorations among the features of contemporary interior design
As for colors, there are definite contemporary interior design characteristics regarding their choice. Few pastel colors, almost nothing: bold, glossy hues prevail, capable of creating contrasts, with plenty of room for imagination, or whites and blacks, or all of them. Black and white know how to create bright and animated effects, giving class and highlighting the essential and clean forms of the chosen furniture. But more than other styles, the contemporary one dares with hues that would never be considered in the classic, such as purple or acid green. The psychology of colors calls for cool and relaxing choices for the sleeping area, warm and energizing for those intended for daytime. Whichever option you prefer, let it be bright and bold, not muted and pastel!
As for decorations, as mentioned few frills. Rather, play with modernity there too: wallpapers, wallpaper and wallstickers for walls, essential works by contemporary artists, for bathroom and kitchen decorative tiles with bold figures, perhaps abstract or stylized.
Devi realizzare un progetto di Interior Design?
Devi arredare casa o un singolo ambiente?

Scegli una falegnameria di alto livello.
Contattaci
Il Piccolo, a second-generation family-run joinery, opens its own showroom in Lugano. With over 50 years of experience, Il Piccolo brings with it a wealth of technical and design knowledge of the highest level, thanks to the numerous interiors designed and furnished throughout the world. In addition, Il Piccolo represents the most prestigious brands of furniture worldwide. Il Piccolo designs, produces and sells the best of the interior design made in Italy, following the customer from the design to the realization, delivery and installation of the work, integrating the process with a precise and professional assistance service. CONTACT US!