Il Piccolo Blog
A corner wardrobe to make use of space without sacrificing aesthetics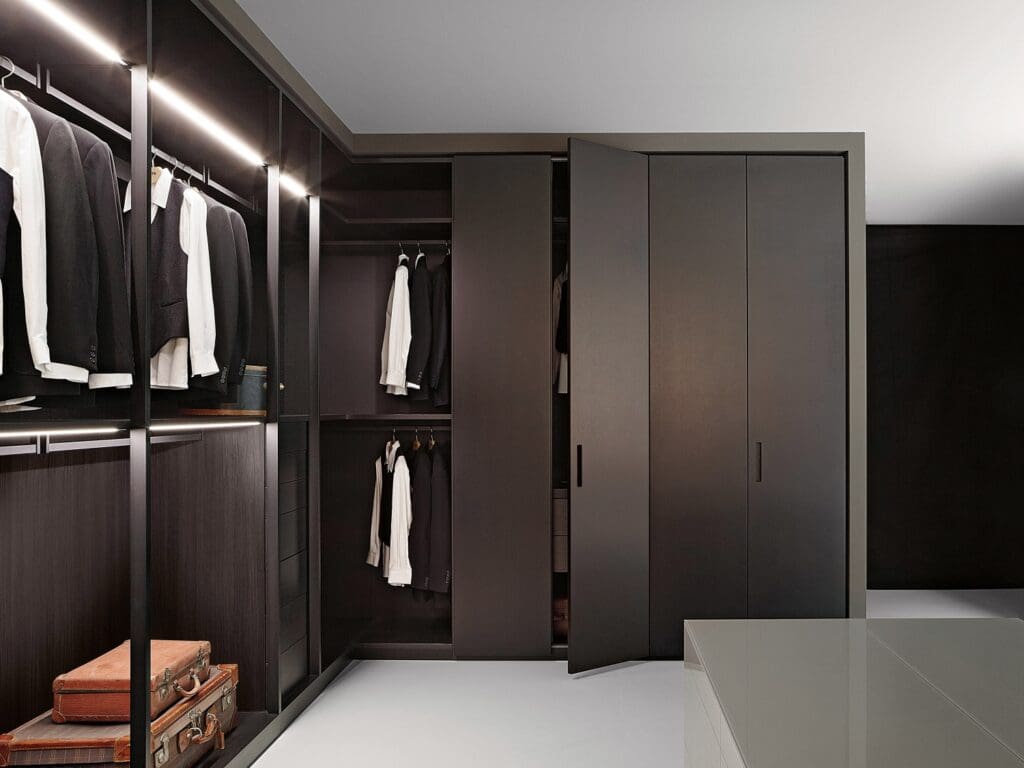 What kind of furniture is a high quality corner wardrobe? What functional and aesthetic benefits do you receive by including it in your bedroom? What furnishing styles go best with a corner wardrobe? And again: is this particular type of furniture also suitable for children's rooms? Or should its use be limited to rooms that accommodate adults?
These are some of the questions that will be answered in our article. If you have decided to buy a luxury corner cabinet or you are a designer who would like to include at least one in your own interior design project, our guide will give you all the answers you are looking for.
Let's see how corner wardrobes fit into different home environments, what advantages they bring to their owners, and which furnishing styles their presence helps to enhance.
The corner wordrobe: a space-saving solution (with style)
Very often, a corner wordrobeis an essential piece of furniture because it is able to blend practicality and design in a small space. Our statement is no exaggeration, and we will now cite all the evidence that supports it.
Let us start with a general consideration. What is a wordrobe? It is a piece of furniture that is always indispensable in bedrooms, because it fulfils an important task: it must accommodate and store all our clothes in an orderly manner.
Despite its valuable function, in many situations the size of the wardrobe can be a problem. This happens when the space in the room is what it is, i.e. it is rather cramped. What to do in such a situation? It is quickly said: choosing a corner wordrobeis the choice that everyone agrees on, both the homeowner and the interior designer. Indeed, a corner wordrobeundoubtedly saves space, so that other furniture can be inserted into the room. As an alternative to introducing other pieces of furniture, the space saved can also be used to leave 'strategic' gaps, i.e. to give the room more 'breathing space'.
In other words, a corner wardrobe is the choice that frees you from the clutter that a more traditional wardrobe model gives. If we want to give some specific examples, we can say that the space gained by the corner cabinet will be useful, for example, to introduce a larger bed. On the other hand, the bed is an element of furniture that is the undisputed protagonist in rooms dedicated to rest. It is therefore normal that it should take precedence in design.
In essence, a corner wardrobe is a clever way to "give more breathing space" to rooms that would otherwise risk suffocating. At the same time, it is certainly a 'stylish' option, because a corner wordrobegives the room a special character. It is no coincidence that more and more designers are creating projects that, thanks in part to the introduction of corner wardrobes, create bedrooms that are genuine oases of relaxation.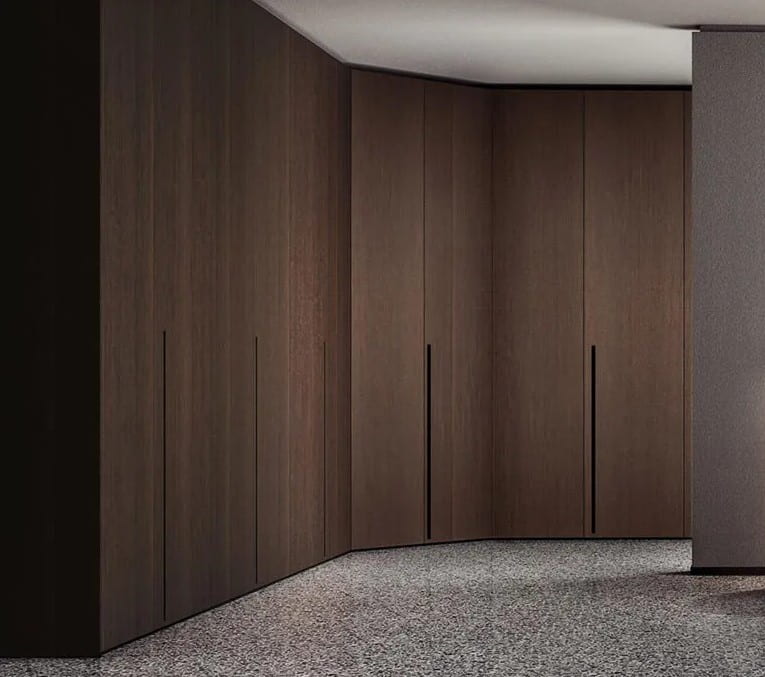 Are you looking for a corner wardrobe? You have two options for your choice
From what we have said so far, it is clear that such a piece of furniture is not a solution for all needs. In fact, the cabinet is especially recommended for those who have little space and, as a result, must necessarily economise on volume.
In this sense, the corner wordrobeis, for example, the ideal choice for those who live in an attic located within a high-end flat. It is well known: the sloping roof of the attic takes up a lot of space. And it is something that poses several design difficulties for an interior designer. In such a room, a particular piece of furniture such as a corner wordrobeis, in practice, a real furnishing necessity.
As their name already suggests, corner cupboards follow the course of the flat walls. To be precise, these cabinets lean against two walls that are perpendicular to each other, forming precisely a corner. Their specific conformation therefore influences the entire appearance of the room and, consequently, imposes interior design choices that must be coherent with the characteristics of the furniture.
Let us therefore try to understand what the various possibilities are for introducing a corner wordrobe into your room, in accordance with your furnishing requirements. Let us immediately say that, in essence, there are two possible solutions for a corner wardrobe. In the first case, the wardrobe can faithfully follow the course of the walls, creating at a certain point a 90° angle between two consecutive doors – which in fact, thanks to special opening mechanisms, will become one.
In the second case, on the other hand, a larger corner element can be used, connecting the two side wings with a single front panel, placed diagonally. With this second solution, you will have less sharp corners. This configuration is generally considered to be the most modern and the most versatile of the two different types of corner cupboards.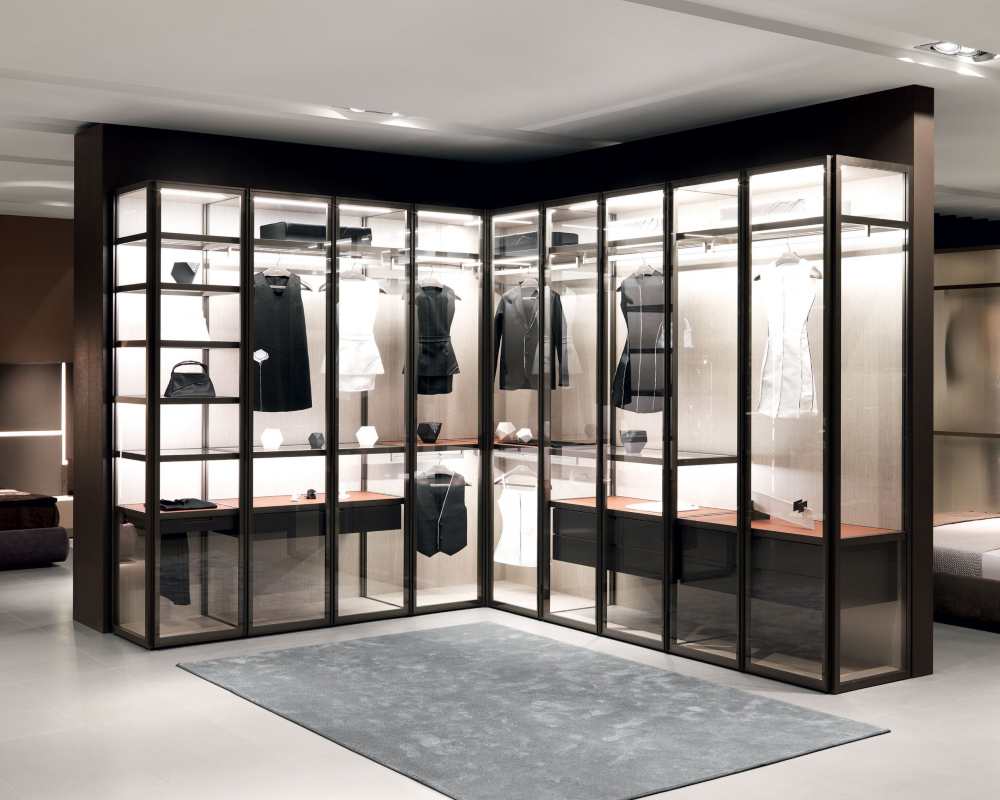 But this is not the end of the story. We have in fact said that a corner wordrobeis not a standard solution. Many other considerations can be made to prove this. Take for example the corner part of the piece. It can be centred in relation to two linear wings or it can be the end or initial part. Both options are absolutely valid furniture choices. So, even from these simple examples, it is clear that a corner wordrobeis not a standard option, but anything but.
In a nutshell, a corner wordrobeis a piece of furniture that lends itself to several design solutions. The result is often surprising, because it is possible to create truly unique and astonishing environments. The taste and design skills of the interior designer, combined with the experience of the carpenter who builds the piece, prove to be fundamental in determining full success.
Having reached this point in the guide, we would like to give one piece of advice. Attention must always be paid to the minimum dimensions when introducing a corner wardrobe into the bedroom. Why do we pay so much attention to this point? Because of a question of both functionality and the overall balance of the furniture design. Indeed, as much as a corner wardrobe represents a space-saving solution, one cannot exaggerate in the choice of its minimum dimensions. That is to say, you cannot go below a certain threshold.
Our suggestion is therefore the following: you should think of a cabinet that measures at least 106 centimetres by 106 centimetres. For its part, the depth of the corner cabinet should be at least 60 centimetres. If there is more space, drawer units and possibly a walk-in wardrobe could be added. The latter would serve as a dressing room. In any case, going below the dimensions we have recommended could be a gamble to regret later.
In other words, those indicated above are the minimum measurements to start from. If you want the doors of the corner wardrobe to have a curved or at least rounded shape – to give an idea of movement to the composition -, you should then consider adding a few centimetres. This will give the perception of a more harmonious composition and will benefit not only the corner wardrobe, but the harmony of the entire room.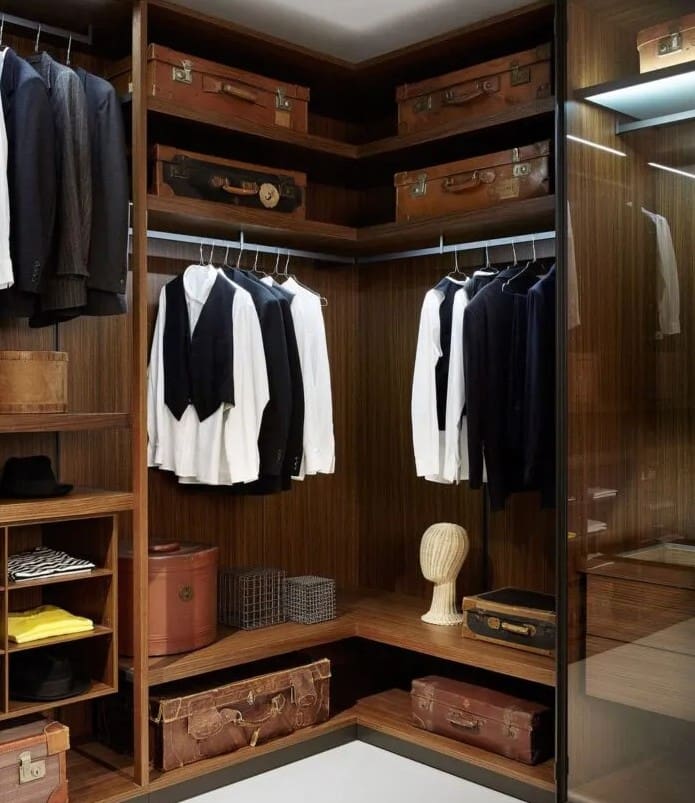 And what about the heights of corner wardrobes? There are no minimum measurements to be respected for this dimension. Consequently, one will adjust according to the room and the overall dimensions of the other furnishings in it.
Finally, what shape should a corner wordrobehave? Here too, you must think about the measurements of the room and what you want to store in the cabinet. If, for example, it will have to accommodate clothes that are not particularly bulky, such as ties, jackets and trousers, a narrow wardrobe is certainly the best idea. For other, bulkier types of clothing, a more generously sized cabinet is definitely better.
In any case, as always, the ideal choice is a compromise between the space available, the functionality that the corner wardrobe must guarantee, and the furnishing style of the room. Here too: the designer's experience and the carpenter's technical skills will certainly make the difference.
Don't want the corner wordrobeto be too conspicuous? Here's the solution…
Some people are afraid that a corner wordrobewill stand out too much. They fear that it will steal the show from other furniture, becoming an unwanted protagonist of the room's decor. In short, their fear is that it will be an unobtrusive piece of furniture.
Nothing could be more wrong. In fact, a good interior designer knows how to study the best design tricks to make the cupboard less conspicuous. For example, it is possible to disguise the shoulders of the cabinet, which are generally points that do not make an important aesthetic contribution. In short, there are parts of the structure of the corner wardrobe on which the interior designer can intervene, with the aim of putting them in the background, so as to create an optical effect that, in any type of bedroom, makes the presence of the corner wardrobe discreet.
In principle, any visible parts of corner wardrobes can be rounded, so as to make the cabinet – as a whole – appear less conspicuous. Care must be taken, however, that such rounding does not affect the internal capacity of the piece. Therefore, the ideal choice is always a compromise, i.e. a balance between aesthetic and functional requirements. On the other hand, the finishes are the elements most often decisive in making one's corner wardrobe capacious and not too bulky from a physical and visual point of view.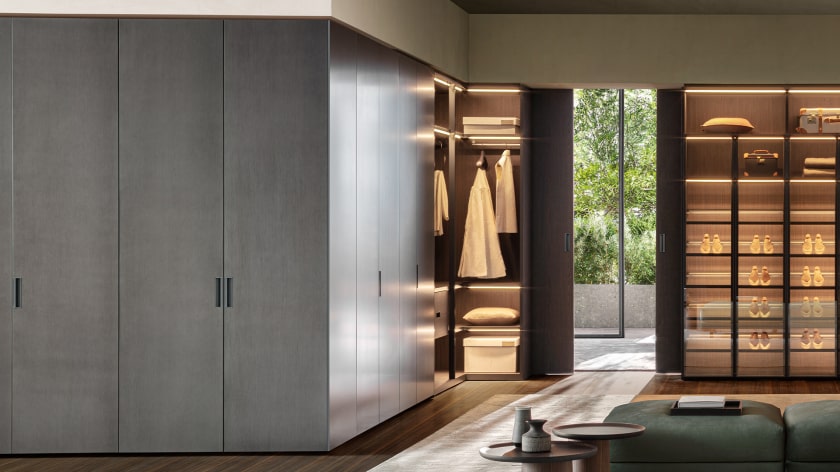 A corner wordrobeis a piece of furniture with surprising adaptability
We have said that corner cupboards can adapt to any furnishing style. This is also true because they can be made of many different materials. From this point of view, there are no real limits for a wardrobe of this type: it can be created in various shapes and styles, using the most diverse types of precious wood.
There are corner cabinets of the classical type, just as there are very simple ones in structure. More modern shaped cabinets are no surprise either. The limit is only the imagination of the person who commissions the piece and the carpenter who builds it. As evidence of this, it should be borne in mind that a corner wordrobeis often custom-made, since it must fit the room that will house it. Therefore, one can really range in solutions, so as to be very free in construction choices.
Thus, one can also decide to create the cabinet in wood, which is after all the evergreen element for creating corner cabinets. The wood can be used in its natural colour or lacquered to achieve the same colour shade as the bedroom.
To make your wardrobe even more precious and refined, you can also opt for the use of glass – a much sought-after material for this type of furniture. Or you may even prefer a mirror system. Making one choice over another obviously depends on how much you want the wardrobe to stand out in the room.
Is a corner wordrobe also suitable for children's rooms?
Who said that a corner wardrobe is only an option for the master bedroom? In fact, this piece of furniture is also suitable for a child's room. In fact, there are no particular design obstacles or other difficulties whatsoever.
A small piece of advice, in order to have even more space available. You can equip the side of the cabinet with a series of shelves, to be coordinated with the wardrobe doors or other furniture in the room.
Need to furnish your home or a single room?
Choose a top-notch woodworking shop.

We have over 50 years of experience!
Contact Us
Il Piccolo, a second generation family-run joinery, opens its own showroom in Lugano. With over 50 years of experience, Il Piccolo brings with it a wealth of technical and design knowledge of the highest level, thanks to the numerous interiors designed and furnished all over the world. In particular, Il Piccolo has a wealth of experience in the design and production of several corner wardrobe models. Finally, Il Piccolo represents the world's most prestigious furniture brands.
Our company designs, manufactures and sells the best of made-in-Italy interior design, following the customer from the design to the realisation, delivery and installation of the work, supplementing the process with a precise and professional assistance service. Looking for the ideal corner wardrobe for your room? CONTACT US!