Il Piccolo Blog
A corner wardrobe to make use of space without sacrificing aesthetics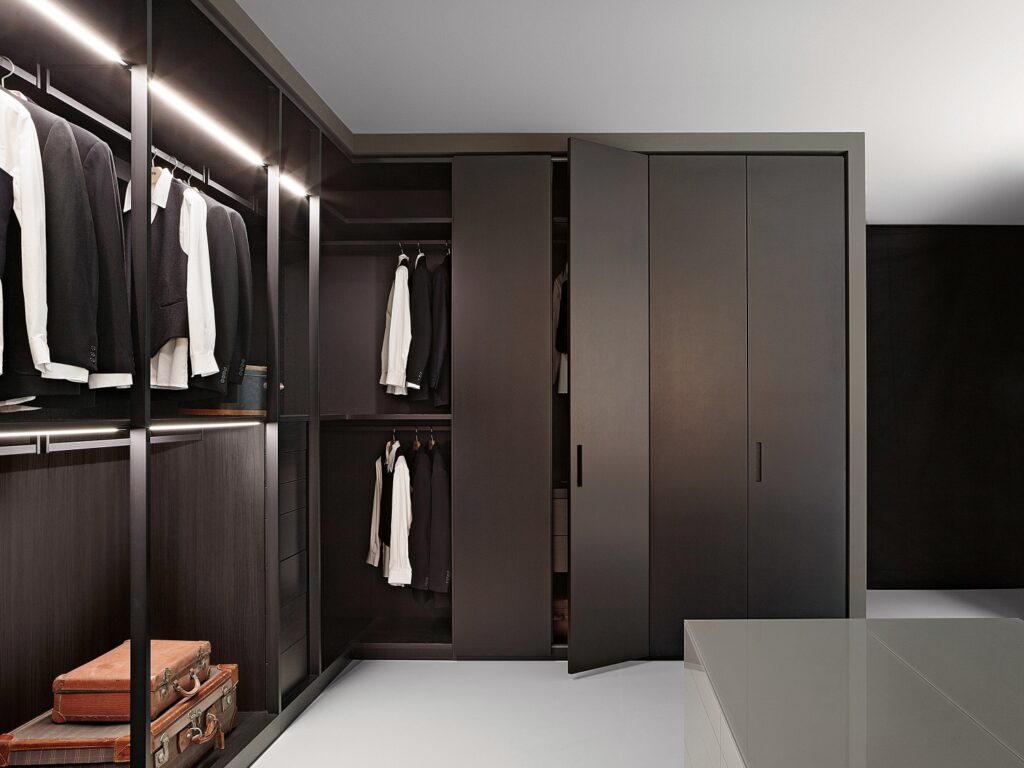 Corner wardrobe, the space-saving solution
A corner wardrobe can be the real secret to combining practicality and design in a small space. A wardrobe is essential in your room, especially for clothes, but not only. But in many cases it is a problem because the size of the room is what it is. By opting for a corner wardrobe, you can certainly save space for other pieces of furniture, starting with a bed that is the star of the room as well as an oasis for relaxation (perhaps a canopy?).
There are two possibilities for a corner wardrobe: it doesn't have to be standard!
The corner wardrobe is therefore suitable for everyone, but it is recommended for those who have little space, especially those who live in a studio or attic apartment. It will therefore follow the course of the walls, "covering" two of them perpendicular to each other. There are essentially two possible solutions for a corner wardrobe: either it can follow the exact course of the wall, creating at a certain point a 90° angle between two consecutive doors (which in fact, thanks to special opening mechanisms, will become one), or it can be used as a larger corner element that connects the two side wings with a single front panel placed diagonally. In the latter case, the corners will be less clear-cut. This is a more modern and versatile configuration of the corner cabinet.
The corner part can be centred on two linear wings or it can be the end or initial part. So even a corner cupboard is by no means standard and monotonous, but lends itself to design solutions.
Pay attention to minimum dimensions if you want a corner cupboard
Of course, there are also minimum dimensions when buying a corner cupboard, however small and space-saving you want it to be. You should think about at least 106 centimetres by 106 centimetres. The depth should be at least 60 centimetres. If there is more space, you can add drawer units and possibly a walk-in wardrobe to act as a changing room. However, these are minimum measurements to start from (if you want doors with curved shapes, to give more movement to the whole, you must consider a few centimetres more). As far as heights are concerned, there are no minimums, you will have to adapt them according to the room.
What shape should a corner cupboard have? Again, consider the size of the room and what you want to store. Narrow wardrobes are perfect for ties or jackets. For other types of clothing, wider ones are better.
Do you not want the corner cupboard to be too conspicuous?
Many people think that a corner wardrobe can be unobtrusive and stand out too much. But in reality, solutions are studied to make it less evident, to hide less aesthetically pleasing parts such as the shoulders. If the final part is visible, it can be rounded off, so as to appear less bulky. At this point it should be borne in mind that the internal dimensions may decrease. The choice is always a balance between aesthetics and functionality. The finishes are often the decisive elements to make your wardrobe roomy and not too bulky.
Corner wardrobe, you can adapt it to any style and use various materials
As far as styles and materials are concerned, there are no real limits for corner wardrobes. There are some that are classic, with a very simple structure, or with more modern shapes. Bear in mind that a corner cupboard is often commissioned on a made-to-measure basis, as it has to fit the room as well as possible, so you can really be varied. As a material, you can choose wood, an evergreen element, either in its natural colour or lacquered to match the colour of the room. To embellish your wardrobe, glass or a system of mirrors is very popular, but it depends on how much you want the wardrobe to stand out.
How to adapt a corner wardrobe to a child's room
A corner wardrobe is also suitable for a child's room. For even more space, in these cases it is possible to equip the side with a series of shelves to coordinate with the wardrobe doors.
Need to furnish your home or a single room?
Choose a top-notch woodworking shop.

We have over 50 years of experience!
Contact Us
Il Piccolo, second generation family-run carpentry shop, opens its showroom in Lugano. With over 50 years of experience, Il Piccolo brings with it a wealth of technical and design knowledge of the highest level, thanks to the many interiors designed and furnished all over the world. In addition, Il Piccolo represents the most prestigious brands of furniture worldwide. Il Piccolo designs, manufactures and sells the best of interior design made in Italy, following the customer from design to implementation, delivery and installation of the work, integrating the process with a precise and professional service. CONTACT US!