Il Piccolo Blog
Are crystal chandeliers an element in every home? Yes, but pay attention to a few details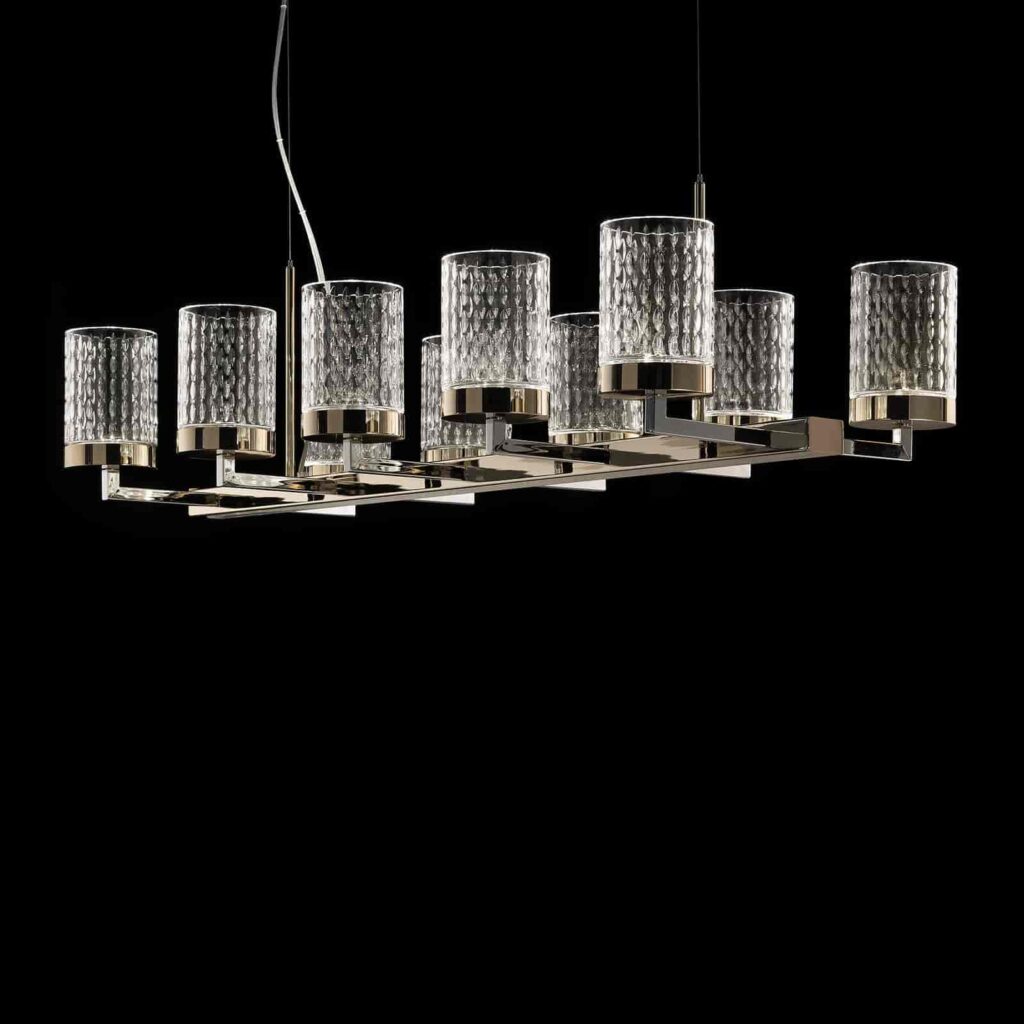 Why you should choose crystal chandeliers
Shine, brilliance and an aura of elegance: crystal chandeliers have an undeniable charm and are therefore an object of desire for many people. Having a crystal chandelier adds a touch of sophistication, but no detail should be overlooked when choosing a chandelier.
What to take into account: first of all, the size
There are a number of misconceptions which mean that people who want crystal chandeliers do not always buy them. First of all, the idea that they are only suitable for modern or particularly refined furnishings, or even for extremely elegant environments: in reality, they go very well with any type of style and in practically all living rooms, if certain precautions are taken into account. Which are? First of all, the size. It is a false myth that a chandelier, especially a crystal one, is only beautiful if it is imposing. This may be true if we are talking about a room of a suitable size. If the room where it is to be placed is not large and has a low ceiling, it is not necessary to give up the dream of such a piece of furniture, you will just have to decide for one that is less large. Although it is designed primarily for the living room, which is usually considered the most hospitable room in the house, it is perfect for an original touch in the bedroom or even in the hallway.
Not only aesthetics but also functionality
Crystal chandeliers are not only aesthetically pleasing to the eye. They combine beauty with functionality, allowing you to play with light to enhance what you want in your room. They can make the room cosy and warm, as well as refined. If you want, you can make the chandelier the star of the room.
When choosing crystal chandeliers, you must not forget that they are not only aesthetic elements, but also fundamental in giving brightness to the room. The intensity of the light must be carefully calculated, depending on the number of light sources in the room.
Modern or classic? The choice is wide
Obviously, every style requires different crystal chandeliers, and when choosing them, as always when it comes to interior design, the context must be taken into account. A modern chandelier cannot be placed in opulent and classical rooms, perhaps furnished with luxury furniture and important armchairs, just as an opulent and drop-shaped one will not be harmonious in an ultra-modern living room. In order to make this furnishing accessory contemporary, ellipse or orbital shapes are studied, which can be perfectly inserted even in a context of essential and linear shapes. In the case of classic choices, inlays or so-called gold leaves can be fascinating additions, a sort of boiserie on the chandelier.
Harmony must not only exist in the choice of style for crystal chandeliers, but also in their colour. There are many possibilities here too, especially thanks to modern material processing technologies, and it is preferable to opt for something that matches the colour of the room. Do not forget that these types of chandeliers, whether modern or classic, are able to create fascinating plays of light and evocative rainbows, which in turn must fit into the context of the room where they are located: in this way, they will be an addition, or even the focal point, of the room.
How to clean crystal chandeliers: you can't do without them!
If you want crystal chandeliers, you have to take into account that they have to be cleaned carefully. And that is not self-evident! The haloed material is decidedly unattractive and can spoil the effect as well as affect the light. Therefore, if you opt for a chandelier of this type, think about dedicating a little time to cleaning, perhaps disassembling and placing in a bowl with water the parts that can be removed and reassembled without too much difficulty. If it is not possible to do this, start with the dust and treat the crystal parts with a specific spray.