Il Piccolo Blog
Crystal drop chandeliers, charm for every type of furnishing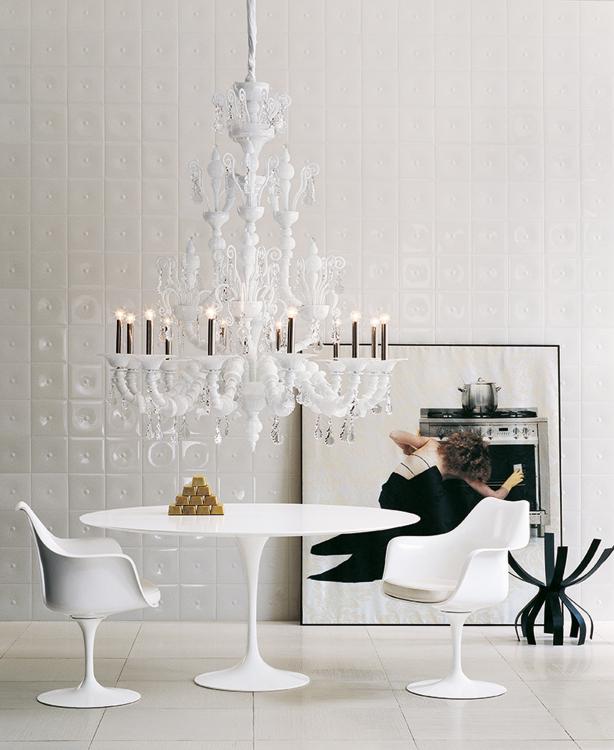 An eye to the past with an eye to the present: crystal drop chandeliers
Crystal drop chandeliers are a choice that ensures the success of those who want to furnish their homes without leaving anything to chance. They guarantee romanticism and refinement, as in a hall of a villa or a castle of the past, with the soft light that illuminates the room in a delicate and elegant way… A suggestive image that can become reality thanks to these chandeliers that wink at the past without forgetting the elegance and functionality required in contemporary times.
Versatility is the key word
Contrary to what many people may think, crystal drop chandeliers are very versatile pieces of furniture. They can be placed in different rooms of the house, from the living room to the bedroom, passing through the entrance. Any space, even the most anonymous, will acquire character and charm because crystal drop chandeliers are well suited to any environment, emphasizing its characteristics and giving each room that aura of refinement that can make it unique.
They can be combined without any problem with various types of furniture, which is why they are considered very versatile. Those who have a classic furnishing, as well as those who have a house furnished in a modern or even minimal style, can choose this elegant type of chandelier with extreme satisfaction, adapting it in the best way.
Different types of crystal drop chandeliers
There are different types of chandeliers made with crystal and that have drops, among them you can clearly choose the one that best suits the furnishings already present in the house, taking into account your personal tastes.
Worthy of note is the ceiling light model, which brings back the atmosphere of times gone by. When you look at the crystal ceiling lamp, it seems as if you are looking at a real waterfall of drops, an optical game that will surely leave your guests speechless and never bore your hosts. Particularly ideal for rooms furnished in a minimalist style, this type of crystal chandelier can become the focus of the room, giving it strength and character, thanks to the clean and decisive lines in contrast with the crystals.
Another proposal is a crystal chandelier with drops that offers a mix of classic and modern, consisting of a central cylinder of crystal drops that hang around which is a glass diffuser with a geometric pattern. This diffuser is available in various colours including white, silver, gold leaf or black. One of the most striking of these is the gold leaf, which evokes the atmosphere of the 1920s. Those who prefer a more modern version of crystal drop chandeliers can opt for the one defined by crystals combined with steel which are illuminated by three small spotlights and a diffuser. The spotlights are directional so that it is possible to choose on which part of the chandelier to point their lights. This type of crystal drop chandelier is particularly suitable for large rooms, such as living areas, because the spotlights enable even the most remote areas of the room to be illuminated.
Vintage models
If you are fascinated by by bygone days, you can opt for crystal drop chandeliers that are genuine vintage models but also run on electricity, thus combining charm and practicality. They are particularly suitable for large rooms where many guests can be accommodated, such as a living room or dining room. This model can also be easily incorporated into contemporary homes and can be combined with different styles. Finally, large crystal drop chandeliers are particularly suitable for large spaces and fit well into a contemporary or minimalist interior, especially if this offers few colours. Crystal pendants create a wonderful play of light on the ceiling and walls, giving the entire room a timeless charm.
Devi realizzare un progetto di Interior Design?
Devi arredare casa o un singolo ambiente?

Scegli una falegnameria di alto livello.
Contattaci
Il Piccolo, a second-generation family-run joinery, opens its own showroom in Lugano. With over 50 years of experience, Il Piccolo brings with it a wealth of technical and design knowledge of the highest level, thanks to the numerous interiors designed and furnished throughout the world. In addition, Il Piccolo represents the most prestigious brands of furniture worldwide. Il Piccolo designs, produces and sells the best of the interior design made in Italy, following the customer from the design to the realization, delivery and installation of the work, integrating the process with a precise and professional assistance service. CONTACT US!