Il Piccolo Blog
How to furnish a domotic house: where to start?
Thanks to domotics, it is possible to install intelligent systems in the home that make it possible to optimise consumption and improve the quality of life in many ways. A smart home is more comfortable and easier to manage than a traditional home. With a few tricks, it is possible to furnish a domotic house to make it perfect for the tastes and needs of those who will have to live in it day after day.
The special relationship between domotics and interior design
Home automation is not only an ally of the people who live in the house and a system capable of improving the quality of domestic life, but it can also become the right arm of interior designers who must develop the furnishing project for a smart, elegant, and comfortable home.
When choosing the furnishings for the home, it is necessary to keep in mind what home automation systems are present and where they are positioned. The layout of the furniture should therefore be defined according to the smart systems installed in the house, so that everything is in perfect balance and can work smoothly.
Choosing home automation systems for your home is one of the interior design trends of the moment. Being able to use technology to make the rooms in your home more comfortable is an advantage that convinces more and more people. Thanks to domotics, it is possible to control and regulate the temperature of the various rooms in the house, to ensure that it is optimal at all times of the day, or to monitor air quality. Home automation systems can also be used to adjust lights and remotely control household appliances.
For example, having a smart home allows you to turn lights on and off automatically and adjust the heating and air conditioning system to ensure maximum comfort at all times. As well as improving people's quality of life, these systems also save energy and make household consumption more efficient.
In order to decide how to furnish rooms, it is first necessary to define the general style you want to give to your home. Although home automation is associated with modern, contemporary and avant-garde concepts, you can also choose to live in a smart home furnished in a traditional style.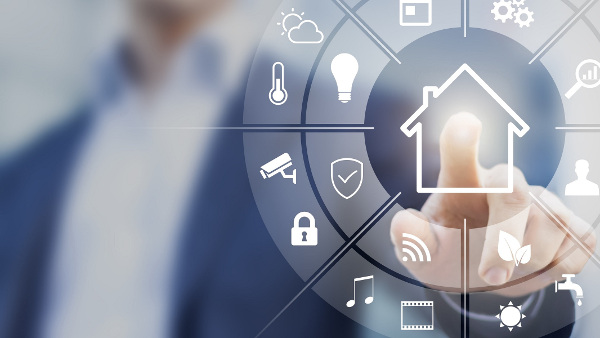 What furnishing style for a domotic house?
Those who love contrasts can choose classic or retro furniture for their home. Combining state-of-the-art temperature and lighting control systems with antique furniture and decorations gives the room a special and eye-catching character.
A minimalist style, on the other hand, is ideal for emphasising the centrality of smart systems and their role in everyday life. In a home furnished in this style, smart furniture and the devices used to control the various functions of the home can be made the protagonists of the furnishing choices, working on their layout and on a lighting system that emphasises their lines.
In many cases smart devices are controlled remotely via apps. But there are also devices that can be controlled by voice commands, such as virtual assistants. In the latter case, they can also be used as central decorative elements in the design of the room.
Other devices, on the other hand, can be inserted into the design of rooms in such a way that they are not particularly visible. Examples of this are security cameras used to monitor spaces in the home or sensors used to detect gas leaks or fire hazards. Sensors and cameras can be camouflaged through the use of mirrors, for example, or they can be hidden in pictures and other decorations.
One of the great advantages of living in a domotic house is the versatility of these systems, which are able to adapt to any type of furniture and can be distributed in the different rooms of the house. Depending on one's taste, one can make innovative choices to define the design of the rooms, for example, combining furniture with classic lines with domotic furniture, or define a precise style of furniture for one's home and select the domotic systems to be installed, making sure that they are coherent and in line with the general atmosphere that one wants to give to the home.
Do you have to carry out an Interior Design project?
Choose a high-level carpentry.

We have over 50 years of experience!
Contact Us
"Italian Interior Design since 1968".

Il Piccolo is a luxury joinery, specialised in interior design. We are a recognized brand, spokesman of the made in Italy all over the world.
For over 50 years, we have been serving the most demanding clients and the most innovative designers. We are reliable interpreters of the projects of architecture studios, which we work alongside as consultants on the latest in industrial design and as scouts for unique pieces to be included in furnishings, from modern antiques to contemporary art.
Our clients have a personal and direct relationship with us: this gives them the certainty of achieving their objectives, meeting tight deadlines and solving last-minute problems. The project leader, who is always one of the owners, also takes care of the logistics.
Each stage follows a precise path and is documented. From the plans to the prototyping, so that the best choices can be made from the outset: materials, colours, wood finishes and polishes, stucco effects. By contacting us, you can be sure of excellent customer care. CONTACT US!