Il Piccolo Blog
Huge walk-in closet, a choice for space and design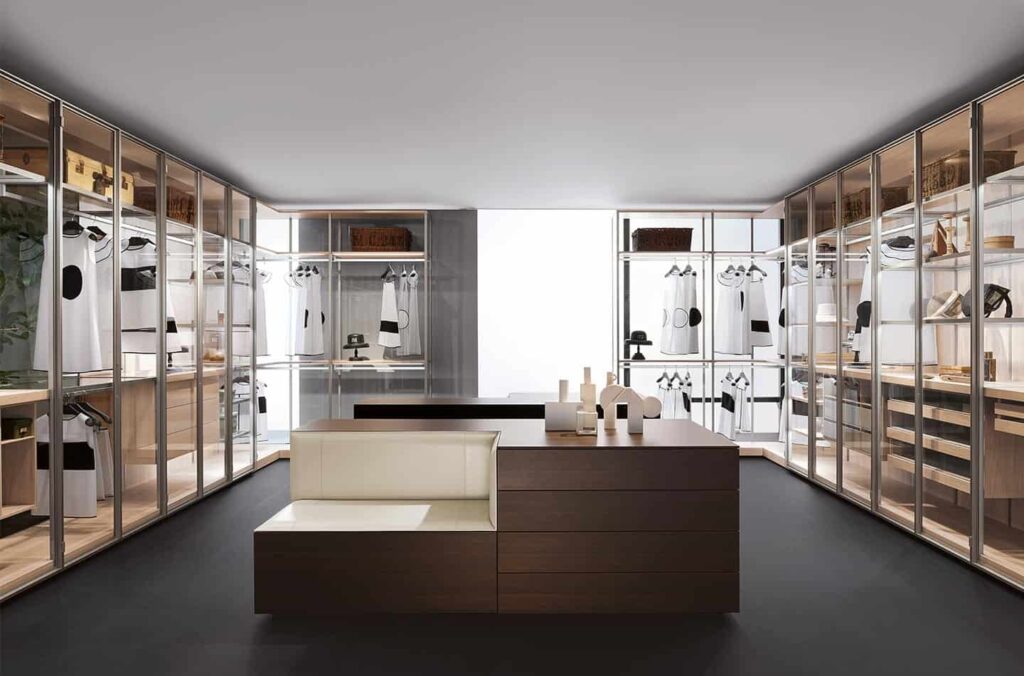 With a huge walk-in closet, plenty of space for clothes and accessories
A huge walk-in closet is useful for those who want to store a lot of clothes and accessories in their walk-in closet, which then takes on considerable size and becomes an important element of their bedroom.
It is said that usually when designing a walk-in closet you should calculate to have an internal space, the one properly used as a wardrobe, of at least 120 centimeters and a depth of 210 centimeters and in this case we talk about standard measures. Those who want their walk-in closet to be huge, should definitely keep in mind more important dimensions. 
The walk-in closet is often a space-saving solution, although it is not indicated in rooms that are too small, because it would risk being too bulky an element or that you have to opt for something small that then does not perform its functions. It is usually said not to choose it if the room is not at least a dozen, even twenty, square meters.
A huge walk-in closet to enhance the content
So it is well understood that to put a huge walk-in closet, you need the correct room. It is possible to place it where there really is a lot of space. And the decision of large size can also be dictated by a matter of style. You want your clothes to be highlighted, for example with a walk-in closet that has transparent doors so that you can see what is contained, hung and arranged not just for practicality but to be observed. In those cases, if you opt for a huge walk-in closet, you can often find a space to enter the walk-in itself, a sort of real wardrobe room.
The shapes for a huge walk-in closet. Don't overlook the finishing touches
A huge walk-in closet can have various shapes. They range from the classic linear one, leaning against one wall to the angular one, which is placed between two walls and the very special horseshoe shape, which uses three walls. The enormous size can be adapted to all these solutions, with the characteristic of being very large.
When you choose a huge walk-in closet, it becomes the protagonist of the room. It is no longer used for reasons of mere practicality but for design. So it is worth that it is highlighted by the rest of the furniture, which can also be reduced to highlight the walk-in closet. Whoever wants a huge walk-in closet must know that it will attract the eye, even in a room of important dimensions, where maybe you can put other furniture as well, and therefore will have to worry about the finishing touches.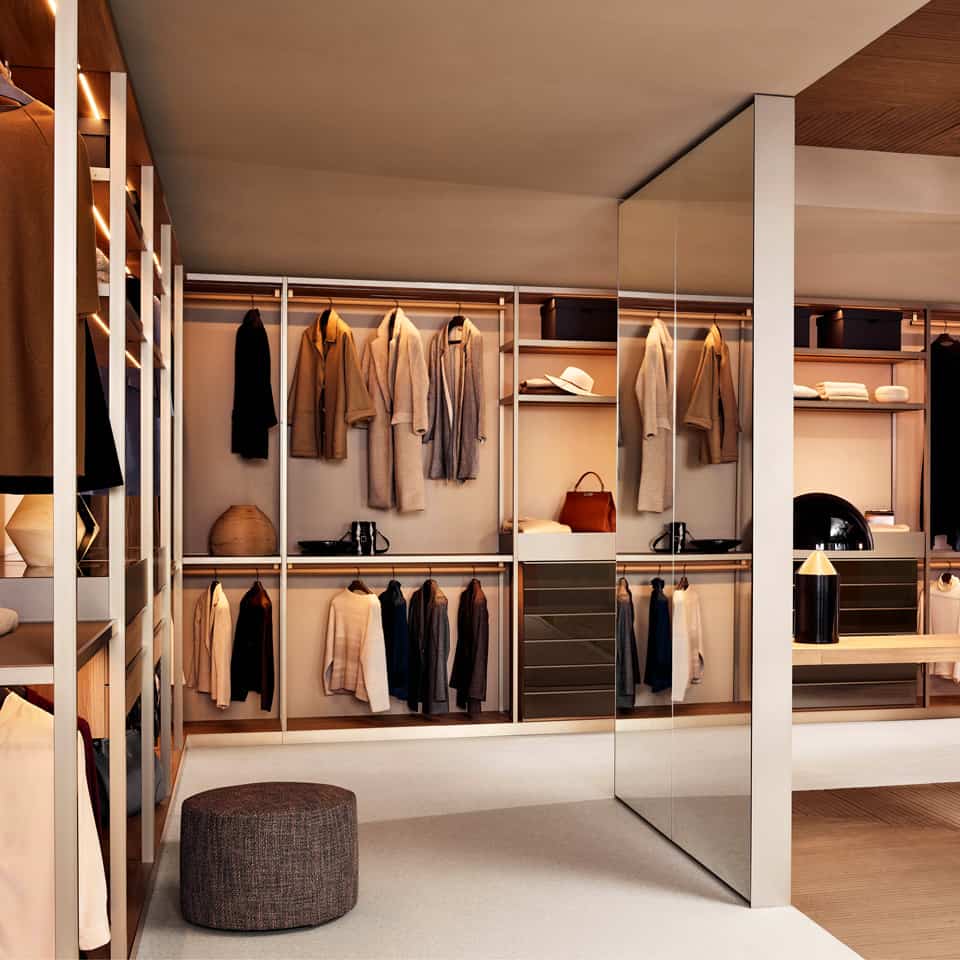 Sliding doors, use of glass or smoked glass, how to make a huge walk-in closet unique
It will no longer be enough just to have a practical and durable walk-in closet, but to have a huge one you need to take care of its style. The materials for walk-in closets, as well as styles, are very varied. From a space-saving solution, it soon became a design element and different types were added. The most classic material is wood, perfect for a walk-in closet, huge or not, that fits into a room with classic tones. Then there are the various steels, which instead follow more modern and minimalist trends, with simpler shapes. A challenging and refined choice is definitely the walk-in closet with doors (or even the whole cabin) in glass or smoked glass, which allows you to comfortably see inside the clothes and enhance them.
These are elements that, carefully finished, give an extra touch to your huge walk-in closet. Given the size, it is essential to take care of all the finishes, including decorative ones, regardless of the material.
And if the choice is a huge walk-in closet, sliding doors, perhaps for the most daring with a technological opening, are also a detail to consider. Integrating an opening thanks to technology would save the effort of opening a door of important dimensions every time.
Need to furnish your home or a single room?
Choose a top-notch woodworking shop.

We have over 50 years of experience!
Contact Us
Il Piccolo, a second-generation family-run joinery, opens its own showroom in Lugano. With over 50 years of experience, Il Piccolo brings with it a wealth of technical and design knowledge of the highest level, thanks to the numerous interiors designed and furnished throughout the world. In addition, Il Piccolo represents the most prestigious brands of furniture worldwide. Il Piccolo designs, produces and sells the best of the interior design made in Italy, following the customer from the design to the realization, delivery and installation of the work, integrating the process with a precise and professional assistance service. CONTACT US!