Il Piccolo Blog
All the tricks for a minimalist small kitchen, where space-saving and taste come together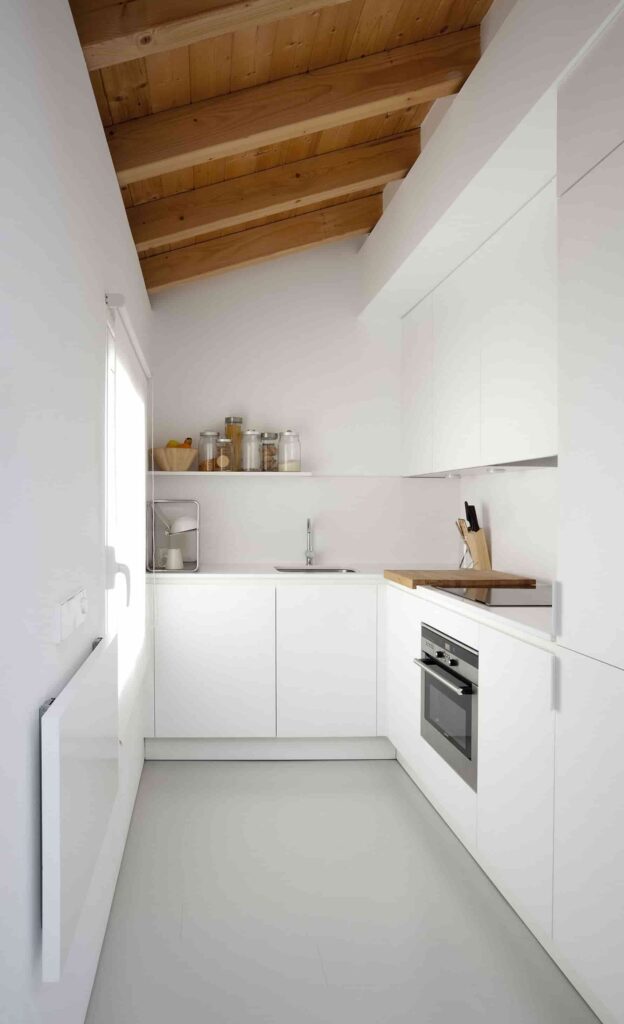 The right solution for those with limited space and many needs
How can you have a kitchen equipped with everything you need to be able to prepare dinners for your family and friends in the limited space that often characterises the most modern flats? How to have everything at hand in a few metres, organising space rationally, without sacrificing aesthetic sense? The answer to the dilemma is a minimalist small kitchen, where you can store everything, have work space and can also wink at pleasant solutions. It is the right idea for smart flats of dynamic young people who desire multi-functionality and also for families with many needs and little space.
Island, height development and rolling solutions, all to save space
When you want to place a minimalist small kitchen in your home, the island is often a trump card. It allows you to have an extra shelf, where you can place the cooker and sink, or where you can eat, perhaps for a quick snack. And it will provide extra compartments for storage. If the shelf is high enough, you can plan to leave chairs or stools, when not in use, under it, saving valuable space.
For the rest, it is necessary to find ideas for storing everything, since you know how many pots and pans you need for a simple meal and often having plenty in the larder comes in handy. For a minimalist small kitchen, therefore, concealed storage spaces are perfect, perhaps columns that can be multifunctional, also turning into something else when needed.
If you cannot play horizontally, you will have to do so vertically: shelves that go up to the ceiling or many shelves are therefore perfect. By the way, if strategically placed, they also create beautiful aesthetic effects, giving regularity and harmony. For pots and pans, if they are to be left visible, hooks can be arranged.
Wheeled cabinets, which can be moved easily and which extend in height, with many drawers, can also come to the rescue of those who do not have enough space. They are then reusable in many ways and very convenient for taking a drink in front of the TV!
Technology in the minimalist small kitchen. And furniture is chosen without handles
In a minimalist small kitchen, the kitchen worktop can be small. Modern technology has enough resources to ensure that quality is not lost, guaranteeing the best possibilities even in small spaces. Hoods, for example, are now also concealed. Household appliances will all be of the latest generation.
The cabinets, designed and conceived to optimise space, will often (a detail that suits very modern and essential kitchens, even larger ones) be without handles. These are small expedients which, when combined with each other, make the entire kitchen truly space-saving.
A minimal kitchen is also minimal in style: from lines to materials to colours
The style, of course, will be minimalist: nothing too much, neither in terms of function nor aesthetics. The furniture will have no frills, which does not mean that it will not be finished and meticulously cared for in every detail, on the contrary. The square and essential shapes in themselves help to save space and create a harmonious and uncluttered whole.
The minimalist small kitchen is in fact composed of furniture that has clear lines, decisive angles, rectangular or square shapes. Minimalism is seen not only in the shapes but also in the colours and materials. Such a kitchen is modern by definition: green light therefore to metals, steel, lacquered wood and even if you want Fenix, all suitable for an ultra-modern concept. For colours, enamelled and glossy colours should prevail.
Usually, to emphasise essentiality, a two-tone or tone-on-tone choice is preferred, without overdoing it with lots of different colours. Yes to bold colours and also to contrasts, if you like them (you can also dare a black and white, for example) but always with attention to good taste.
Devi realizzare un progetto di Interior Design?
Devi arredare casa o un singolo ambiente?

Scegli una falegnameria di alto livello.
Contattaci
Il Piccolo, a second-generation family-run joinery, opens its own showroom in Lugano. With over 50 years of experience, Il Piccolo brings with it a wealth of technical and design knowledge of the highest level, thanks to the numerous interiors designed and furnished throughout the world. In addition, Il Piccolo represents the most prestigious brands of furniture worldwide. Il Piccolo designs, produces and sells the best of the interior design made in Italy, following the customer from the design to the realization, delivery and installation of the work, integrating the process with a precise and professional assistance service. CONTACT US!