Il Piccolo Blog
Mirrored closets: what are they? How to choose the ideal model for the individual room?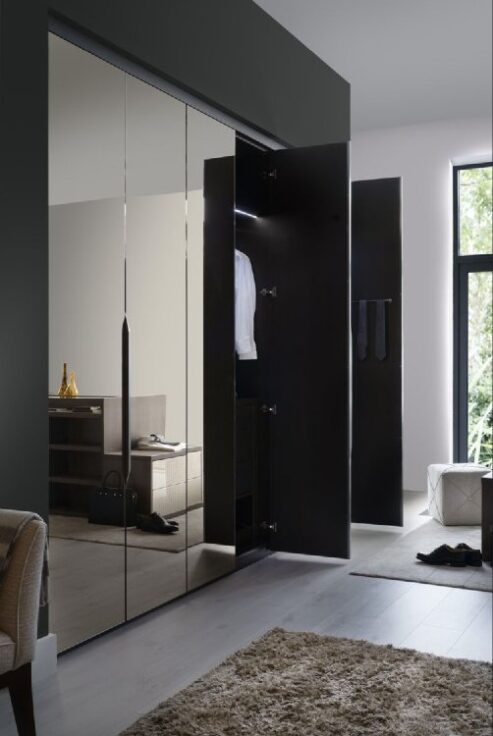 Mirrored closets offer a number of advantages that make them a choice to be absolutely considered in many cases. In addition to naturally making the space in which they are placed more elegant and bright, these cabinets offer important benefits, also from a practical point of view, and can transform the appearance of the living space, sometimes with an even small investment.
For all these reasons, anyone in need of a new quality wardrobe to use in the home, not just in the bedroom, should carefully consider the features of mirrored wardrobes.
What are the main advantages of a Mirrored closets?
The aspect that most distinguishes Mirrored closets from other wardrobe models is the presence of mirrored doors that can reflect light very effectively.
The first result of furnishing with a mirrored cabinet is being able to visually amplify the space, making it more welcoming. Since placing a mirror on the surface of a wardrobe allows you to make the most of the light, whether natural or artificial, you can give the room an immediately brighter look and a pleasant sense of openness, which can be particularly appreciated in dark or cramped spaces in the home.
Another notable advantage of Mirrored closets is their ability to create the illusion of being in a larger room. Especially in smaller rooms, deciding to install a wardrobe with mirrored doors may prove to be the right choice.
What more can be said? Mirrored closets are just as aesthetically pleasing as they are functional. Combining in one product the storage space of traditional cabinets with a full mirror, these cabinets are practical and save a lot of space.
The structure of these cabinets is perfect for creating a space in the room entirely dedicated to preparing one's look. In addition to being able to store clothes inside, you can mirror yourself using one of the doors and, by adding a luxury rug or pouf, you can create a cosy and functional space to get ready before leaving the house.
It should also not be forgotten that mirrored cabinet are versatile and can be used in different environments. They are, of course, perfect for the bedroom, but can also be used in a walk-in wardrobe or for wardrobes in stairwells and hallways.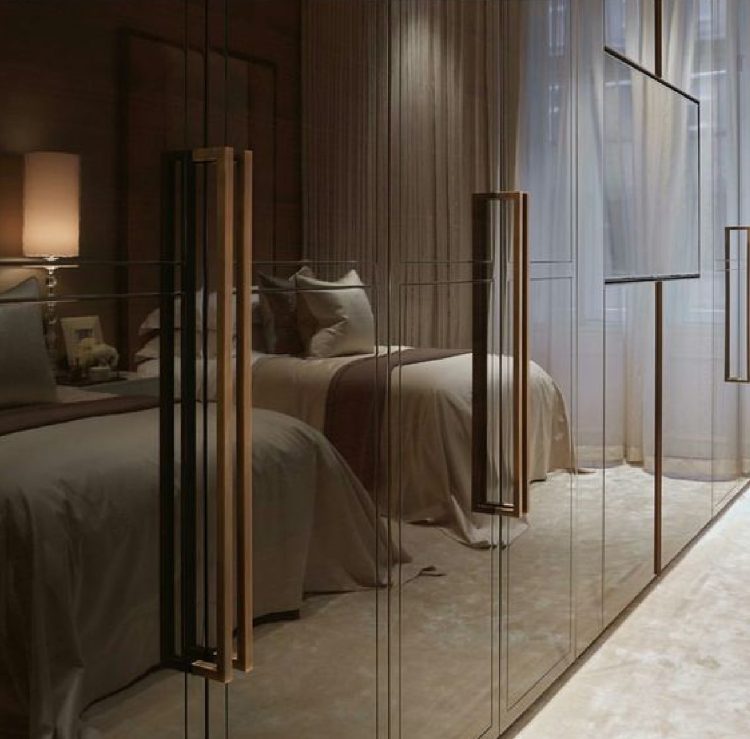 What is the best structure for Mirrored closets?
In order to be able to find the best structure for Mirrored closets, there are several options to consider. The first major decision to be made concerns the distinction between models with sliding or hinged doors, but the height of the cabinet must also be carefully considered.
Wardrobe manufacturers offer full-height mirrored models, perfect if you have to furnish small spaces and want to make the most of every available centimetre, or wardrobes of standard height. There is also a third way: made-to-measure mirror cabinets, which are ideal if you have to furnish an attic with sloping roofs, for example, or if you have special space requirements.
Generally speaking, mirrored wardrobes with sliding doors are preferable if the space for the wardrobe is small. Such a solution is very useful, for example, for furnishing guest rooms or narrow corridors.
Mirror wardrobes with hinged doors, on the other hand, are the right choice if you want to have access to the entire contents of the wardrobe. Since the doors take up space when open, you should check that the doors are not in the way before choosing this solution.
In which rooms of the house can a Mirrored closets be introduced?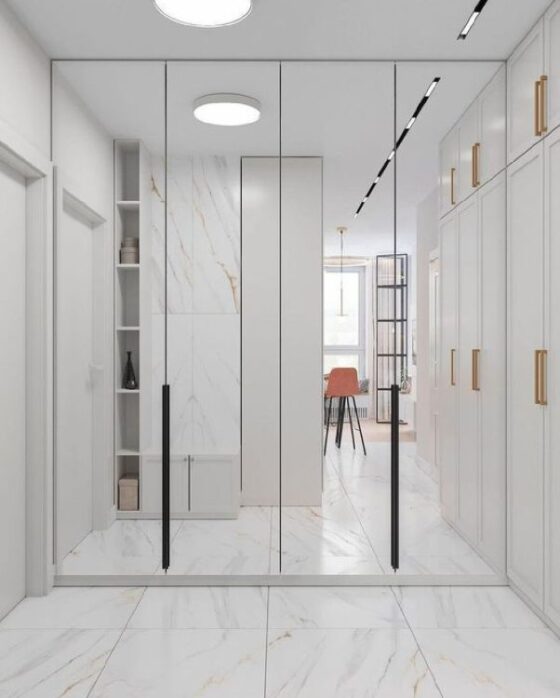 Mirrored wardrobes can furnish various areas of the home in an elegant and functional manner. Depending on one's needs and the space available, one can decide to install wardrobes of this type in the bedrooms of the house, in a walk-in wardrobe, or in stairwells and hallways.
Mirrored closets for bedrooms are ideal if you have chosen modern or contemporary furniture. The presence of mirrors gives the illusion of being in a larger room and reflects the design of the furniture decorating the space. The mirrored wardrobe can be used to furnish both the master bedroom and the children's or guest room: the benefits of this structure can be appreciated in each of these rooms.
Those who have chosen to have a walk-in wardrobe in their home may decide to install a mirrored wardrobe to avoid having clothes in view and, at the same time, to have a mirrored wall that makes the space more elegant and functional. A wardrobe of this type allows you to keep your wardrobe tidy and optimise the time needed to get ready when you have to get dressed.
Wardrobes with mirrored doors are also ideal for exploiting otherwise unused spaces in the home such as stairwells and hallways. In these rooms, wardrobes of this type can make up for the natural lack of light and can be a great help in making spaces appear spacious and cosy.
A similar reasoning can be made for the entrance area. Placing a small wardrobe with mirrored doors here provides enough space to store the whole family's jackets, coats and bags, and brightens up the area.
Need to furnish your home or a single room?
Choose a top-notch woodworking shop.

We have over 50 years of experience!
Contact us!
Il Piccolo, a second generation family business, opens its showroom in Lugano. With over 50 years of experience, Il Piccolo brings with it a wealth of technical and design knowledge of the highest level, thanks to the many interiors designed and furnished around the world. In addition, Il Piccolo represents many of the best international luxury furniture brands. We design, manufacture and sell the best in design. Also with regard to La Cornue kitchens, we follow the customer from the design to the realisation of the project, integrating the whole process with a precise and professional service.CONTACT US