Il Piccolo Blog
Modern bathroom ideas: what are the latest trends for a trendy bathroom?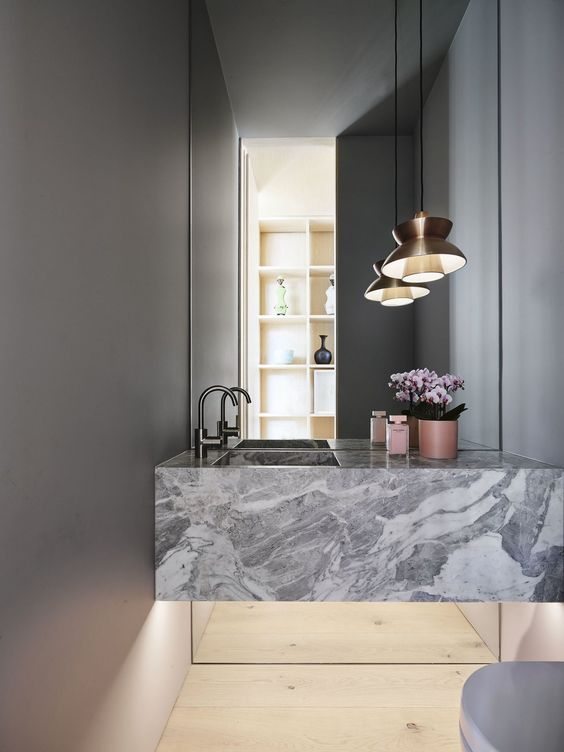 When you have to design or renovate a bathroom and want to give it a modern look, looking for solutions and suggestions from which to take inspiration is a good starting point for setting the work correctly.
To facilitate the task of architects and interior designers, as well as the customers who will then be living in the room, we have collected 10 modern bathroom ideas.
Creating a design that combines aesthetics and functionality
Bathroom design should always harmoniously combine functionality and aesthetics. In a modern bathroom, one can consider installing, for example, a cabinet with an integrated washbasin, which saves space and, at the same time, adds a touch of elegance to the bathroom. Another example are walk-in showers, which are contemporary in style, comfortable to use and affordable.
Planning good bathroom lighting
Modern bathroom ideas include the following. A modern bathroom should not only be beautiful to look at, but also comfortable to use and well designed. In this respect, good lighting is crucial. In addition to providing a central light that illuminates a large part of the room, it is good to provide other pinpoint light sources that emphasise certain spaces.
To improve the brightness of the bathroom, for example, you can use LED lights along the mirror, or soft lights above the bathtub, or even directional spotlights.
Designing the bathroom with an eye on accessibility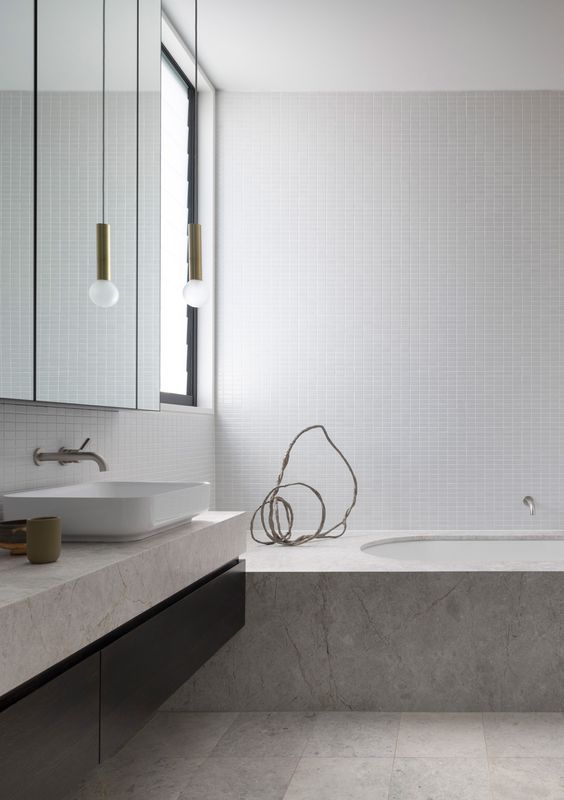 In modern interior design, worrying about the accessibility of different rooms in the home is an increasingly important concern.
To make the bathroom accessible and safe for everyone, you can replace the bathtub with a shower and, even better, prefer a shower tray that is flush with the floor. If the bathroom is frequented by the elderly or those with mobility difficulties, it can also be useful to insert grab bars to act as support.
Turning a simple bathroom into a private spa
What other modern bathroom ideas? For example, we can mention this one. With a few tricks, a contemporary bathroom can become a small private spa, an oasis of well-being in which to retreat whenever you want to relax.
A large freestanding bathtub, perhaps with a hydromassage function, or a shower column with a massage and chromotherapy function can be used to create your own spa. 
Choose furnishings with clean, contemporary lines
To realise your modern bathroom, you can choose furniture and sanitary fixtures with clean, contemporary lines. Floor-standing or wall-hung sanitary fixtures are excellent solutions in this respect and help to create a room that looks elegant and easy to clean.
Suspended or push-pull opening furniture can be used to complete the bathroom décor, perfect if you want to give the room a minimalist touch. As far as colours are concerned, it is preferable to use neutral or cold tones, which help to create a refined and elegant style.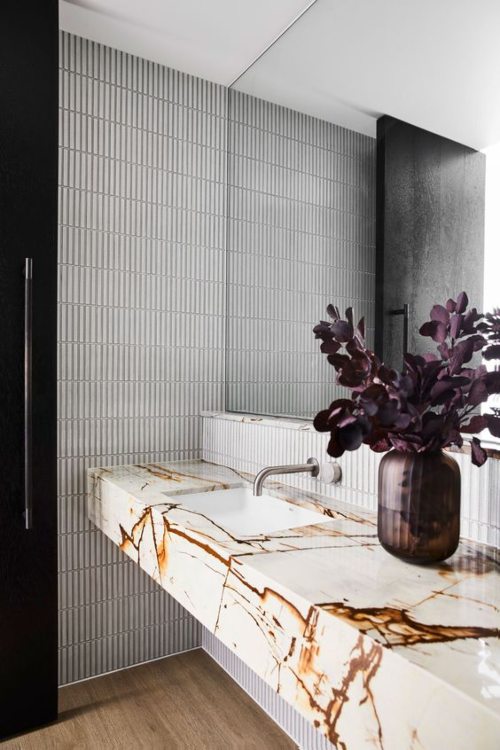 Decorate with modern furniture and sanitary ware
More modern bathroom ideas? A simple measure to give the bathroom a more contemporary look is to choose furniture and sanitary fixtures with clean, modern shapes. The modern style is characterised by simple lines and smooth surfaces.
Adopt space-saving solutions
Space-saving furniture is not only a prerogative of small bathrooms. Even in larger bathrooms, adopting such a solution proves to be a smart choice to optimise the use of space.
Inserting a cabinet under the washbasin, a mirror with hidden storage space, a pillar behind the door or shelves for storing towels, cosmetics, candles and small decorations enhances the appearance and functionality of the room in which one thinks about the well-being of the body. This is also one of the modern bathroom ideas that are in vogue lately.
Warm up the decor by adding natural elements
Adding natural elements to the interior of a modern bathroom helps to give the room a fresh, light touch. Wood and stone are perfect materials in this respect, as they can give the bathroom warmth and texture. Wood can be used for the floor, furniture, shelves or mirror frames. All these elements can help to create a cosy and welcoming feeling.
Natural stone, such as marble or quartz, on the other hand, can be used for cladding or as a decorative element, helping to create a natural and refined atmosphere. Do you like this solution that is rightly among the best modern bathroom ideas?
Give space personality with contrasting elements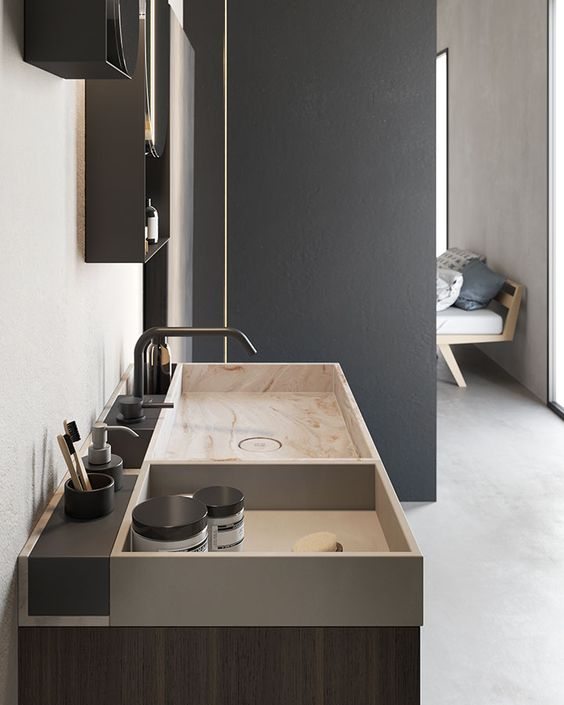 To make the bathroom more visually interesting, contrasting furniture elements can be added. In a bathroom furnished predominantly in light tones, for example, black elements or coloured tiles can be added. A good contrast between the different furniture elements can also be created by acting on the lighting system. Juxtaposing soft lighting and intense light points can give depth to the space and allow more or less warm light at different times of day.
Adding an element that becomes the focal point of the room
And here we come to the last of our modern bathroom ideas. Generally speaking, a good design for a modern bathroom cannot fail to include at least one element capable of capturing attention. This can be a mosaic wall in the shower niche or a freestanding bathtub occupying the central area of the bathroom. A designer washbasin in unusual shapes or exclusive materials is also a good idea to create a modern bathroom that is pleasant to use.
Need to furnish your home or a single room?
Choose a top-notch woodworking shop.

We have over 50 years of experience!
Contact us!
Il Piccolo, a second generation family business, opens its showroom in Lugano. With over 50 years of experience, Il Piccolo brings with it a wealth of technical and design knowledge of the highest level, thanks to the many interiors designed and furnished around the world. In addition, Il Piccolo represents many of the best international luxury furniture brands. We design, manufacture and sell the best in design. Also with regard to La Cornue kitchens, we follow the customer from the design to the realisation of the project, integrating the whole process with a precise and professional service.CONTACT US