Il Piccolo Blog
Modern wall kitchens save space. But that's not all!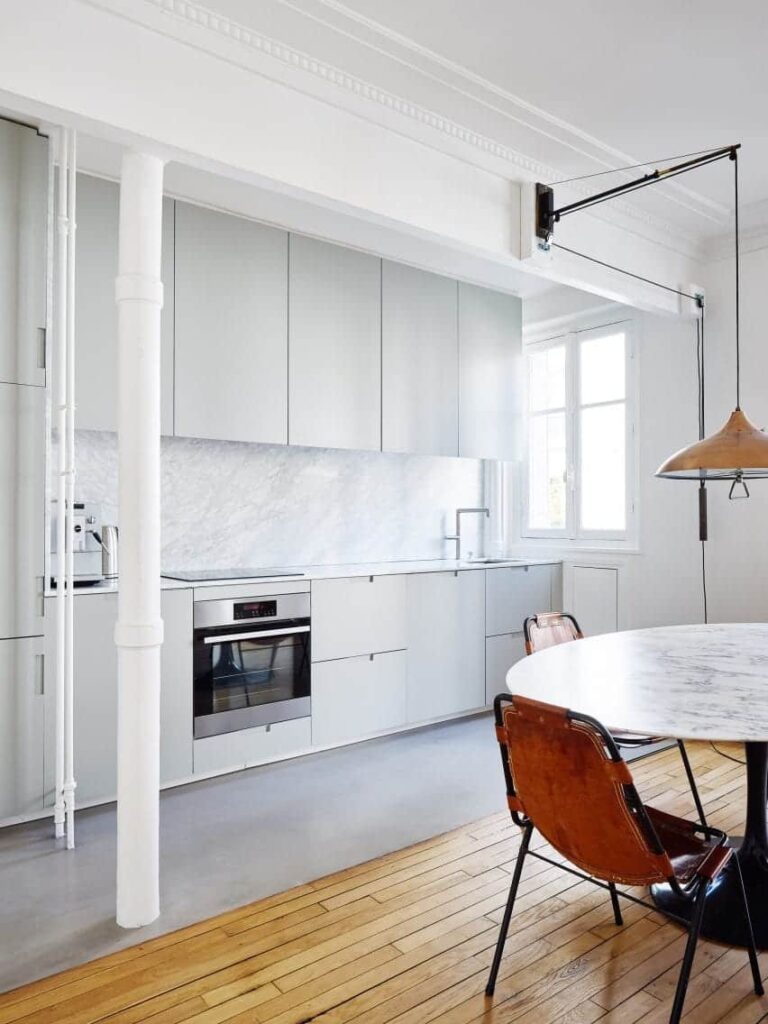 Modern wall-mounted kitchens are an optimal solution for those who are faced with the need to place everything related to the kitchen, so from the hob to the sink up to appliances such as dishwasher and oven, in a not huge space. Kitchens characterized by islands are very popular, leading to an idea of conviviality and multi-functionality, but it is not always possible to adapt them to one's own space.
For modern apartments, which often do not have huge dimensions and have to work with style and imagination to save space, modern wall kitchens are a solution. And beware, those who believe that having to place everything on a single wall makes the composition monotonous, are wrong. If you choose modern wall kitchens capable of combining functionality and design, the effect is pleasant. It fits perfectly into a modern and minimalist environment.
For modern fitted kitchens you can for example focus on height
You can play with modern wall kitchens, as with any other type of kitchen: the only atout that differentiates them from others is that everything must be leaning against a single wall, so it will be necessary to wisely dose the spaces. But if you do it with style, you get an interesting look. For example, to take full advantage of the wall intended for modern kitchens wall, you can think of a full-height solution, which, in addition to ensuring functionality, has many qualities from the point of view of design.
Reaching up to the ceiling allows you to fit everything you need in your modern wall kitchens, leading at the same time to a sophisticated and extremely versatile effect. Of course, by focusing on height, there is a risk that ergonomics, with modern wall kitchens that reach up to the ceiling, may suffer. But all you have to do is study the space carefully, placing what you use most at a suitable height. For the back, a kitchen raised from the ground is excellent, which with its ease of cleaning goes well with the needs of practicality and functionality: do not overdo it, however, in modern wall kitchens you must also save space.
For beautiful and comfortable modern kitchens, focus on the organization of heights
Modern wall kitchens not only save space and are practical (after all, everything is within reach, even if something will have to go up), but they are also beautiful and allow a thousand solutions. During the design phase, also to obtain maximum comfort, think carefully about the alternation of heights, with bases, columns and wall units. A rational organization is certainly privileged in modern wall kitchens, where from a base of bases, wall units and columns you can create truly dynamic and imaginative combinations, in their linearity and simplicity.
A thousand possibilities of colors and materials for modern wall kitchens
As they are designed for minimalist and modern lofts, they cannot miss the latest generation appliances, with extensive use of home automation.
As for materials and colors, modern wall kitchens have a very wide range of choices. Do not forget that we are talking about modern houses, so laminates and steels are fine. They fit the general style and are pleasant to look at, as well as easy to keep clean. One material, for those who don't want to deviate too much from tradition, that is also great for modern wall kitchens is wood. Depending on how much you want to embellish your modern wall kitchens, you can use finishing materials such as ceramic and stone. Never forget, however, that the details make a difference and should be taken care of, not least details such as handles. As for colors, you can choose something bright with shades such as white or light colors that give the feeling of clean, or even focus on strong contrasts, including black (but the range is really wide) and making the whole more aggressive and dynamic.
Need to furnish your home or a single room?
Choose a top-notch woodworking shop.

We have over 50 years of experience!
Contact Us
Il Piccolo, a second-generation family-run joinery, opens its own showroom in Lugano. With over 50 years of experience, Il Piccolo brings with it a wealth of technical and design knowledge of the highest level, thanks to the numerous interiors designed and furnished throughout the world. In addition, Il Piccolo represents the most prestigious brands of furniture worldwide. Il Piccolo designs, produces and sells the best of the interior design made in Italy, following the customer from the design to the realization, delivery and installation of the work, integrating the process with a precise and professional assistance service. CONTACT US!