Il Piccolo Blog
Modern wooden kitchens: good and bad. But the sense of family is priceless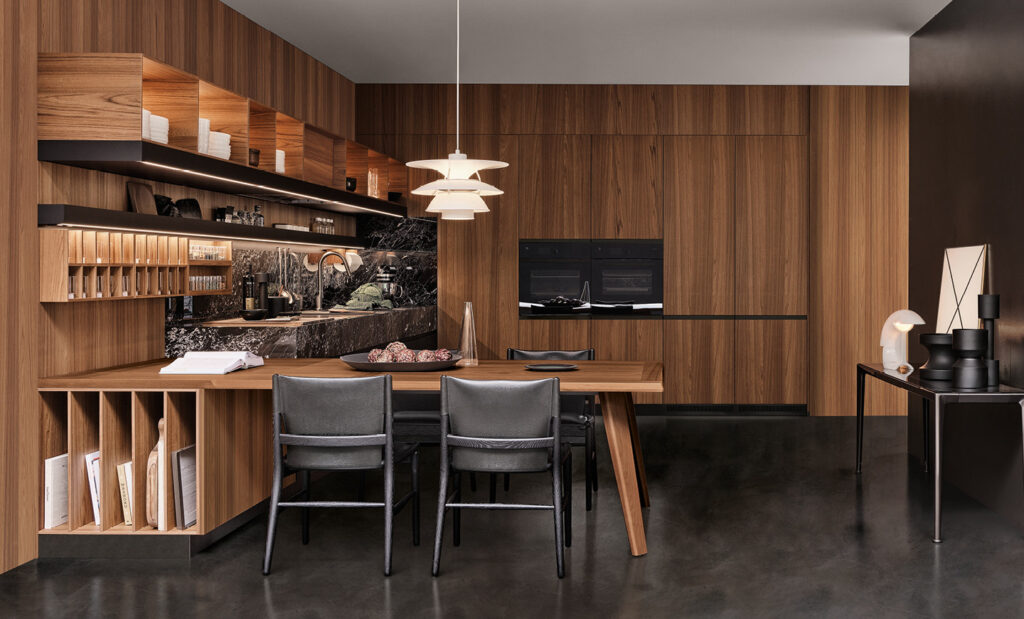 Modern kitchens: wood goes well with brightness and functionality
Many kitchens, even modern ones, still use wood as the primary material. Wood is usually associated, in the collective imagination, with classic kitchens (Link to article: Design classic kitchens). In reality, it is a choice that also works well for modern kitchens, especially if you want to strongly recall the concept of home.
Modern kitchens are characterised by the brightness of the environment, as well as the functionality of the space and the presence of the latest generation of appliances that facilitate both the action of cooking and everything that revolves around it. Wood, therefore, goes well with these kitchens, designed to be modern and useful, as well as places where you can spend time in a convivial manner.
The types of wood that can be used in modern kitchens
But why choose wood for your modern kitchen? Like any material, it has its pros and cons.
For those who choose wood for their modern kitchens, wood recalls the concept of home and hearth. It allows you to create comfortable kitchens with a single material: wood, however, can be declined in a wide variety of shapes and styles, adapting to the demands of anyone and the style of the house. Some of the options can be oak (with honey-yellow tones, it is a precious wood), ash (strong and resistant although flexible), birch (elastic and well workable, usually with light colours), solid fir (it can be easily painted, so it lends itself to a wide variety of colours), closed-pore or even lacquered decapé (a technique that ages the wood, leaving the grain visible, widely used in classic and shabby styles).
Modern wooden kitchens are easy to repair, even in terms of furnishing accessories. But be careful…
The furniture components, if you choose to make your modern kitchens with it, must also be made of wood: from tables to chairs, usually. An advantage is that they can be easily repaired in case of damage, and there are insulators on the market that allow you to protect your furniture, hiding even small defects such as cracks, nicks and marks.
Wooden kitchens, designed to be modern, are therefore resistant but require more maintenance than kitchens made of other materials. It is important to always use the hood when cooking and to be careful of direct sunlight, which discolours the wood. Cleaning must also be carried out with care. It is advisable to use a wet cloth to keep the surfaces clean, always following the direction of the grain, and then clean with a dry cloth. In wooden kitchens it is best to avoid bleaches and solvents, and waxes are not recommended for matt wood. Moisture can also lead to deformations that can cause cracks. Modern wooden kitchens therefore need to maintain a balance between temperature and humidity, and require more care than kitchens made of other materials.
Modern wooden kitchens are complex to assemble, but once they are in place they can be modified without too many problems. In fact, wood is easily treated and can be painted in various shades with a large number of different paints. When you want to change the look of your modern kitchen, wood allows you to do so without having to buy additional furniture.
Ash and walnut – which wood should you choose for your modern kitchen? It also depends on your wallet
If you decide to buy a wooden kitchen, you will have to make a larger initial investment than in a modern kitchen made of other materials. It's the workmanship and the finish that cost money. Walnut is the most expensive wood and ash is the cheapest, but it is mechanically strong and may darken over time. Walnut in modern wooden kitchens leads to very fine finishes.
If you choose wood, you will in any case have an excellent quality kitchen that will last over time if you take the necessary precautions mentioned above, in cleaning and preserving the environment.
Need to furnish your home or a single room?
Choose a top-notch woodworking shop.

We have over 50 years of experience!
Contact Us
Il Piccolo, second generation family-run carpentry shop, opens its showroom in Lugano. With over 50 years of experience, Il Piccolo brings with it a wealth of technical and design knowledge of the highest level, thanks to the many interiors designed and furnished all over the world. In addition, Il Piccolo represents the most prestigious brands of furniture worldwide. Il Piccolo designs, manufactures and sells the best of interior design made in Italy, following the customer from design to implementation, delivery and installation of the work, integrating the process with a precise and professional service. CONTACT US!