Il Piccolo Blog
Between grills, barbecues and time together: modular outdoor kitchens for outdoor living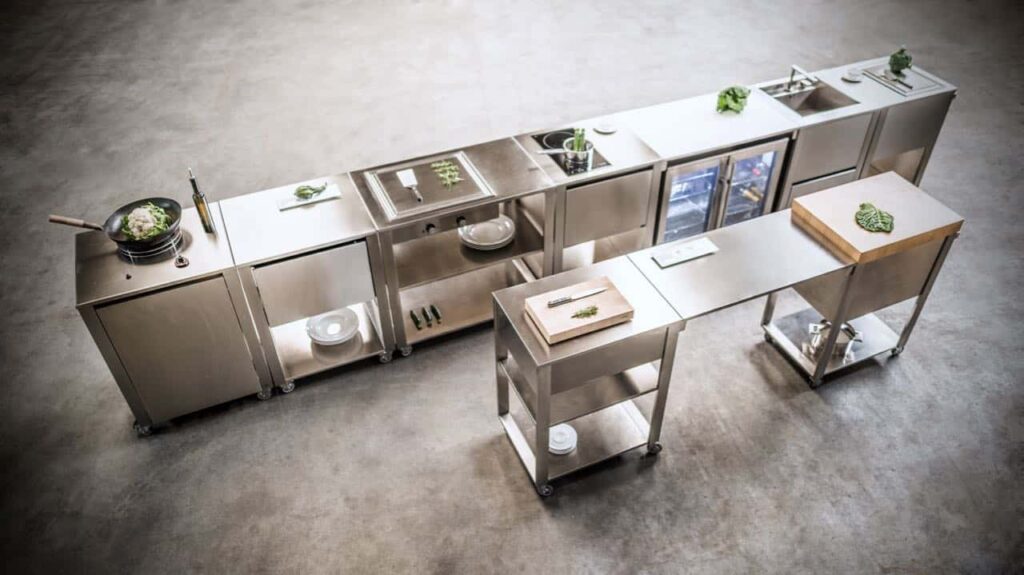 The outdoors lived in a more convivial way, from kitchens onwards
Over the years, thanks also to the pandemic that has effectively prevented people from having a social life outside their homes, the way of living has changed. People enjoy spending time with family and friends within their own walls, and even gardens and terraces, in times of lockdown, have become more important. Outside, one is together, relaxing, enjoying oneself and eating. The need has therefore arisen to furnish the outdoors with special care, equipping it with everything necessary for cooking. An ideal solution are modular outdoor kitchens, which can be adapted to many needs.
What should be included in modular outdoor kitchens? Barbecue, grill, wood, gas?
Modular outdoor kitchens give you the opportunity to create your own customised corner, based on your needs and intended use. You can even, if in doubt, start with a few elements and then, thanks precisely to modularity, add on later. Is it necessary, when cooking outside, to have everything? Perhaps from the fridge to the oven? Is there sufficient space? Don't you prefer to leave some tools inside, picking them up as you go, to gain space, to be occupied by a nice table to sit at or sofas to relax on? All questions to ask yourself when you choose to create an outdoor kitchen.
They can be made up of different 'pieces'. The fundamentals, of course, are the hobs. When one thinks of cooking outside, thoughts fly to grills and barbecues and so they are the first choices for the outdoors. But they also like the oven. What to put in? As always, it depends on what you want to do. Cooking appliances can be wood-fired, with fewer construction constraints, for a more agile outdoor kitchen, or gas-fired. The first solution is favoured because it is different from the methods used in the home, the second because it is easier to clean.
The sink and worktop. But you can also opt for non-fixed elements
In modular outdoor kitchens, not necessarily all elements are fixed. The minimum elements that are needed, in addition to one or more hobs, those listed above, are the sink and worktop. The sink, since it needs connection to the water supply, must be fixed and often requires some masonry work. The worktop is very convenient, but if you really don't have the space, you can do without it, knowing that you have to move inside several times. Logically, being able to include cabinets in one's modular outdoor kitchen where everything is at hand is very convenient, if one has space. Some elements can be mobile, so that you can reconfigure your corner as required.
The materials of modular outdoor kitchens: durability first!
What materials should be used for modular outdoor kitchens? First of all, you have to think that these are spaces that, although they can be mobile, remain outside, and therefore exposed to rain, wind, sun, dust. So, look at durability first and also ease of cleaning and maintenance. This is why stainless steel solutions, used especially in modern structures, are so popular. Less recent outdoor kitchens have made much use of wood or marble, but for fixed elements.
Decorations? Although functionality usually prevails, glass cabinets, for example, can be incorporated. Or variations on the square and practical shapes.
The colours for modular outdoor kitchens are usually the basic colours of the materials. One opts for black or grey steel or natural wood, capable of fitting into the garden or terrace environment. But you can also make bold choices if you want a particular colour. Never forget, however, that cleaning and maintaining an outdoor kitchen is not as obvious as doing so with an indoor one.
Devi realizzare un progetto di Interior Design?
Devi arredare casa o un singolo ambiente?

Scegli una falegnameria di alto livello.
Contattaci
Il Piccolo, a second-generation family-run joinery, opens its own showroom in Lugano. With over 50 years of experience, Il Piccolo brings with it a wealth of technical and design knowledge of the highest level, thanks to the numerous interiors designed and furnished throughout the world. In addition, Il Piccolo represents the most prestigious brands of furniture worldwide. Il Piccolo designs, produces and sells the best of the interior design made in Italy, following the customer from the design to the realization, delivery and installation of the work, integrating the process with a precise and professional assistance service. CONTACT US!