Il Piccolo Blog
Rocking chairs: how to choose the rocking chair that matches your interior design?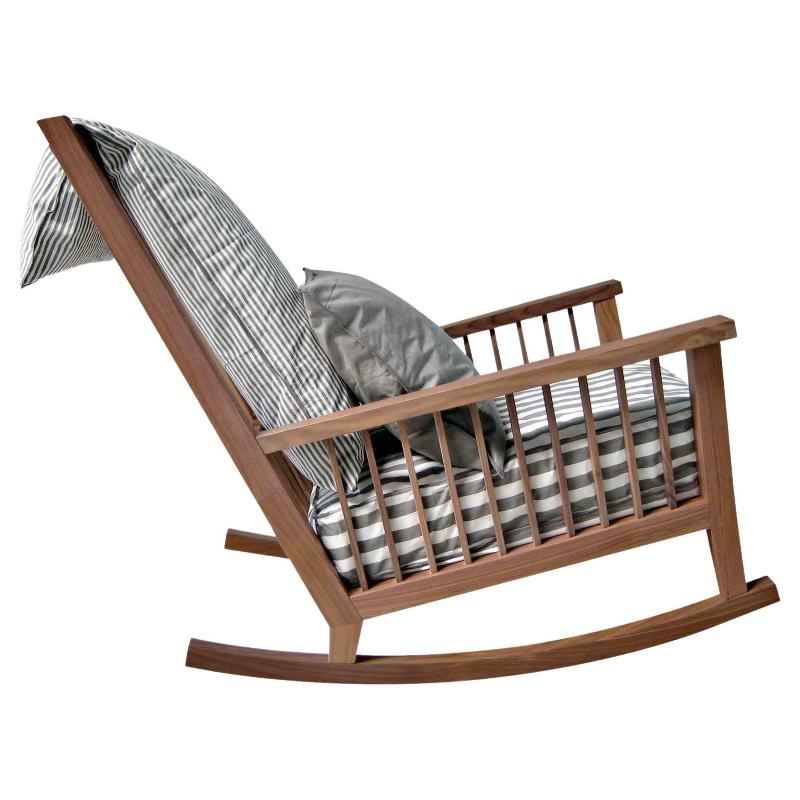 Of all the types of chairs , rocking chairs are a very distinctive piece of furniture that can also become the centrepiece of your interior design.
If in the past their ability to rock demonstrated the prestige and wealth of the families that owned one, today this cross between an armchair and a chair catches the eye above all for its design and can give the room a much sought-after atmosphere.
A brief history of rocking chairs
With their timeless elegance, rocking chairs are, today as in the past, an iconic piece of furniture. Their history has its roots in the 18th century, when American craftsmen created the first models. Originally, they were known as 'slide chairs' and were special armchairs that were seen as a status symbol and were especially appreciated for the comfort of their seating.
Today, these chairs retain all their historical charm, but have been adapted in structure and design to the requirements of modern interior design. When they appear in a luxury interior design project, rocking chairs often take centre stage and become the focal point of the room. Being able to choose from various materials, it is easy to find the most suitable configuration for the space to be furnished.
Wood is generally used to make these chairs. The most luxurious models are made of walnut or cherry wood, but you can also choose chairs that are made of stainless steel or other metals.
The design of this type of furniture represents the perfect meeting point between comfort and aesthetics. The clean lines and elegant curves of the chair in question are combined with high quality upholstery to offer maximum comfort. Luxury rocking chairs often feature impeccable details such as inlays, carvings and handcrafted finishes.
In the world of luxury, these chairs can also be customised to suit individual customer tastes. Fine fabrics, high-quality leathers and unique details ensure that each 'slide' chair is a true custom-made work of art.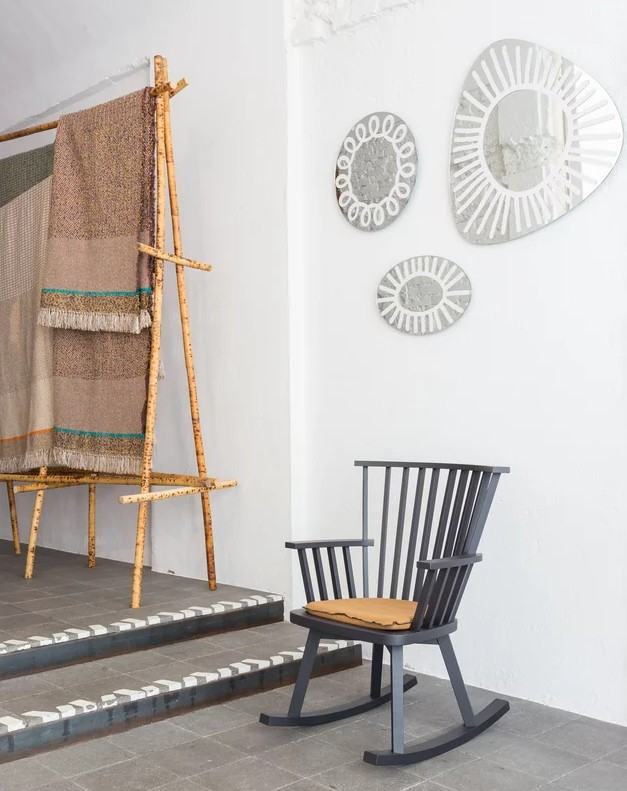 Which material to choose for a rocking chair?
Rocking chairs are available in many different materials, each of which can give the furniture a unique look and character. Among the most common materials are wood, metal and rattan, with the latter being ideal for rocking chairs for outdoor use.
To make such a wooden chair, mostly hardwoods are used, most notably walnut and cherry. Such a choice makes it possible not only to have a solid and resistant product, but also one with a warm and traditional appearance. Thanks to their solidity, this furniture is particularly suitable for the busiest rooms in the home, such as the dining room or living room.
Metal chairs, which are usually made of stainless steel or aluminium, are appreciated for their lightness and the ease with which they can be moved. These materials prove to be excellent indoors, especially when combined with modern or industrial style furnishings, and outdoors, especially when one chooses to place them on a balcony or in the garden.
As mentioned, rattan is another option to consider. The characteristic woven look of this material makes it very suitable for boho-chic environments. The weather resistance, moreover, means that rocking chairs made of this element can find a place in all the outdoor environments of the home, from verandas to patios, passing through terraces and gazebos.
What furnishing styles go best with a rocking chair?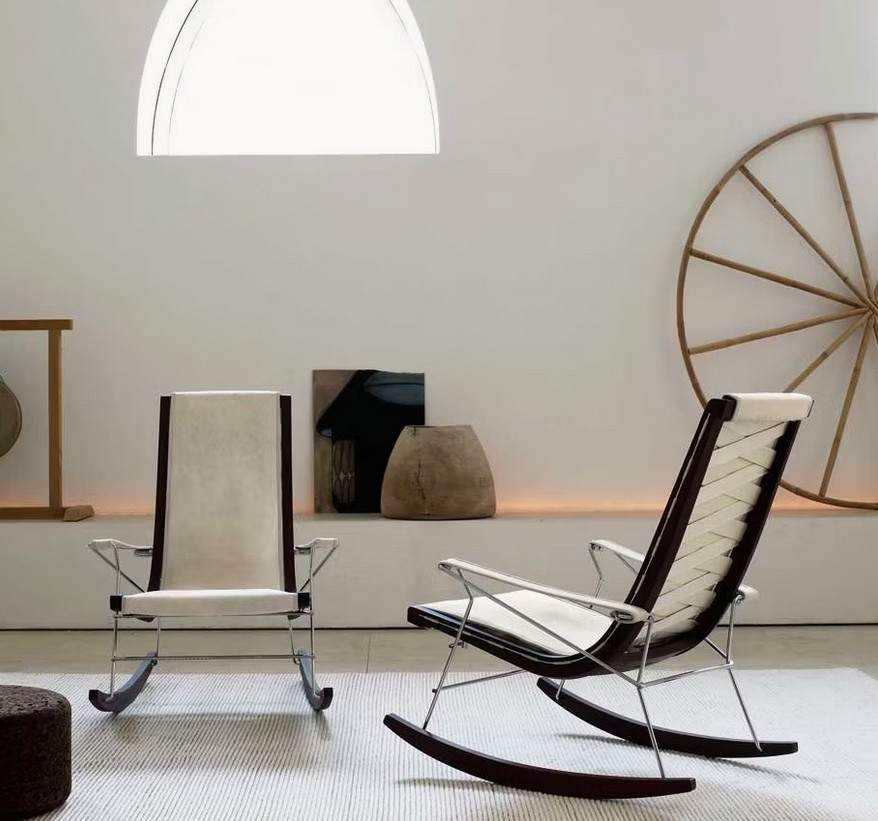 The rocking chair is a very versatile piece of furniture that adapts to various furnishing styles. Depending on the material it is made of and the design it has, the chair can be combined just as well with furniture with classic lines as with modern furniture.
Wooden rocking chairs, with their natural, rustic charm, fit perfectly into homes with rustic or country-style furniture. To warm the room, they can be placed near a fireplace or even in the living room.
A rattan rocking chair is ideal for boho-chic environments. It can be customised and made more comfortable by adding coloured cushions or ethnic fabrics, which are also perfect for adding a touch of colour to the room.
Those who prefer a modern décor can turn to metal rocking chairs. Used in halls or living rooms furnished in a minimalist style, they create a very charming and characteristic contrast.
Finally, these chairs also work very well in environments with shabby-chic style furnishings . In such a context, wooden chairs, perhaps to be repainted in a pastel colour, and antique models are to be preferred.
Need to furnish your home or a single room?
Choose a top-notch woodworking shop.

We have over 50 years of experience!
Contact us!
Il Piccolo, a second generation family business, opens its showroom in Lugano. With over 50 years of experience, Il Piccolo brings with it a wealth of technical and design knowledge of the highest level, thanks to the many interiors designed and furnished around the world. In addition, Il Piccolo represents many of the best international luxury furniture brands. We design, manufacture and sell the best in design. Also with regard to La Cornue kitchens, we follow the customer from the design to the realisation of the project, integrating the whole process with a precise and professional service.CONTACT US