Il Piccolo Blog
Round designer table, harmonises spaces and adds an extra touch to rooms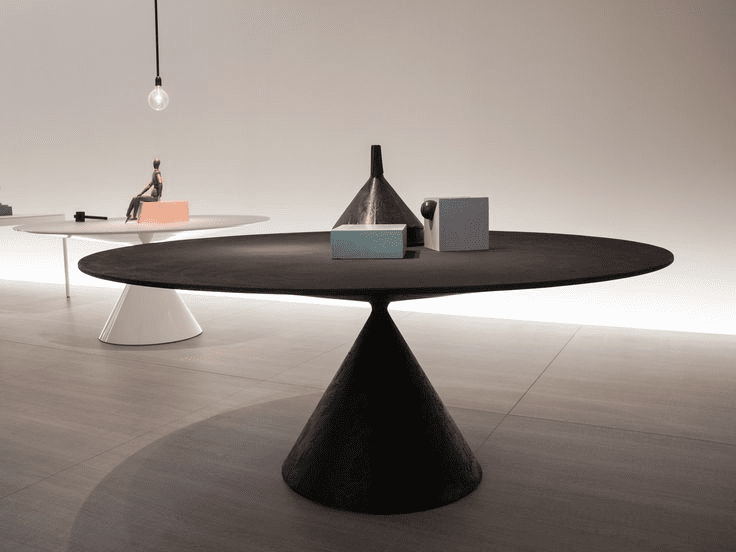 The designer round table is suitable for living rooms, kitchens and even bedrooms
The designer round table is an interesting variation of the table with squarer, rectangular or square shapes, suitable for any room. It is ideal when you want to make the table a design accessory, capable of giving a different touch to the room, and not just a support point for eating or studying.
Which rooms are suitable for a round designer table? Potentially in each one, starting from the kitchen and living room up to the bedrooms, maybe the children's rooms. The first element to take into account is the size. The diameter of a round designer table should be measured, and therefore with the same surface area it looks different from a square or rectangular one, although we must not forget that it allows for a greater number of seats. You can't help but think about this when choosing it! Those who think that a round design table does not fit into a small room do not consider that with the right furnishing accessories it can be enhanced and therefore become a valuable element. But attention to detail is needed. If you make the right choices, a designer round table is even a space-saving solution because it eliminates corners.
A large designer round table for eating in front of the TV small
For a long time the round table had gone into disuse and had not been considered a designer table, but now many have changed their minds and the solution is back in vogue in different environments. There are a variety of solutions, in every style and material as well as size. The small round design table is generally suitable for a living room, where it does not pretend to be a table where one eats but to be placed in front of the TV, where one places objects such as books or magazines or even the PC. On the other hand, larger tables are suitable for the table where family members and guests are welcomed on convivial occasions and for eating in the kitchen. As for the rectangular table, there are versions of a round designer table that can be extended (obviously losing the round shape), so as to allow more people to sit around it: this is an idea suitable for those who do not have a large family but often have guests.
Non-hierarchical seating around a designer round table
One of the merits of a designer round table, making it a piece of furniture that goes beyond functionality, is that it is able, with its shape, to harmonise spaces. When it is used as a dining table it has the advantage of being dynamic because the seats are not hierarchical: there is no one at the head of the table, everyone is equally spaced and this gives a sense of familiarity among the diners.
Styles and materials of a designer round table
As far as styles and materials are concerned, a designer round table offers a very wide choice. They range from classic wood, which is always perfect both in the kitchen and in the dining room, to more sophisticated materials such as glass or crystal or even marble, and to solutions that are ideal for the minimal environments of modern open spaces. For a design round table you can play with the size of the components: there are models with a single, very large central leg, for example, an openness to modernity, or there are classic ones with four legs. The supports can themselves become design elements if they are a different colour to the top. Naturally, one must choose one's round design table in accordance with the style of the room in which it is placed, to which it must usually give continuity, and the same applies to the chairs that are placed around it.
It must be remembered that the round table is a design table precisely because at an optical level it widens the spaces, giving an airy and harmonious sensation to the room. If it can be highlighted and become the protagonist of the room, the table is better enhanced.
Need to furnish your home or a single room?
Choose a top-notch woodworking shop.

We have over 50 years of experience!
Contact Us
Il Piccolo, a second-generation family-run joinery, opens its own showroom in Lugano. With over 50 years of experience, Il Piccolo brings with it a wealth of technical and design knowledge of the highest level, thanks to the numerous interiors designed and furnished throughout the world. In addition, Il Piccolo represents the most prestigious brands of furniture worldwide. Il Piccolo designs, produces and sells the best of the interior design made in Italy, following the customer from the design to the realization, delivery and installation of the work, integrating the process with a precise and professional assistance service. CONTACT US!