Il Piccolo Blog
Sliding door cabinet: what does it look like? How to choose the right model?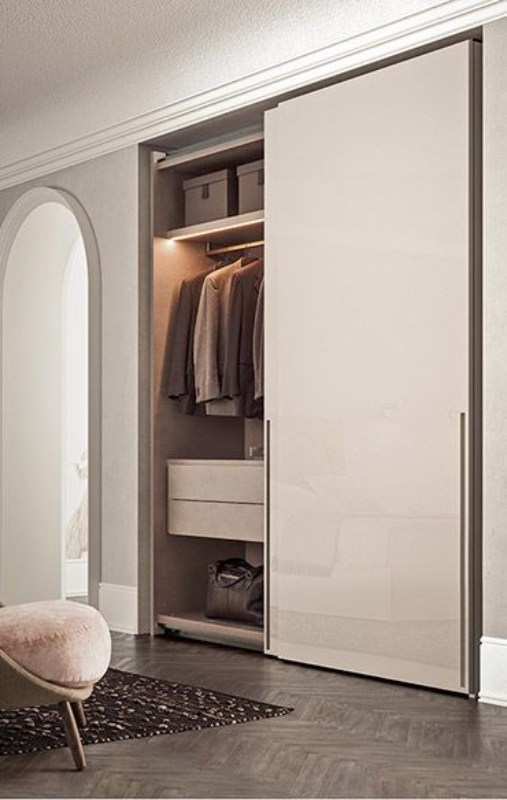 A sliding door cabinet is among the favourite furnishing solutions for those who prefer a modern and essential style. One of the main advantages of this type of furniture is its small size compared to traditional wardrobes with hinged doors.
When furnishing a small room, being able to save several centimetres makes all the difference. But this is not the only advantage of such a solution.
What are all the advantages of sliding door cabinet?
The fact that you can store or search for clothes inside the wardrobe without having to open the doors, but simply sliding them parallel to the cabinet structure, saves valuable space. For this reason, sliding wardrobes are the ideal furnishing solution in all those rooms of the home where space is limited, just think of children's bedrooms, corridors or under-floor compartments.
In addition to allowing you to effectively manage even small spaces, a sliding door cabinet also has a clean and essential aesthetic that fits perfectly into modern contexts. Unlike wardrobes with hinged doors , these models have a linear structure that is free of protrusions. These features give the cabinet an elegant, minimalist look and are the ideal solution if you want to give the room a contemporary feel.
Versatility is another great advantage of this type of cabinet. In fact, both the internal and external structure can be customised to best meet the needs of those living in the home. Based on storage needs, modular solutions can be created by adding shelves, drawers, hangers and customised compartments.
The versatility of a sliding door cabinet can be appreciated above all in terms of style. Sliding wardrobes can be created inspired by the most diverse furnishing styles. Just to give a few examples, you can consider models with essential and elegant lines or ultra-modern solutions that integrate design and technology.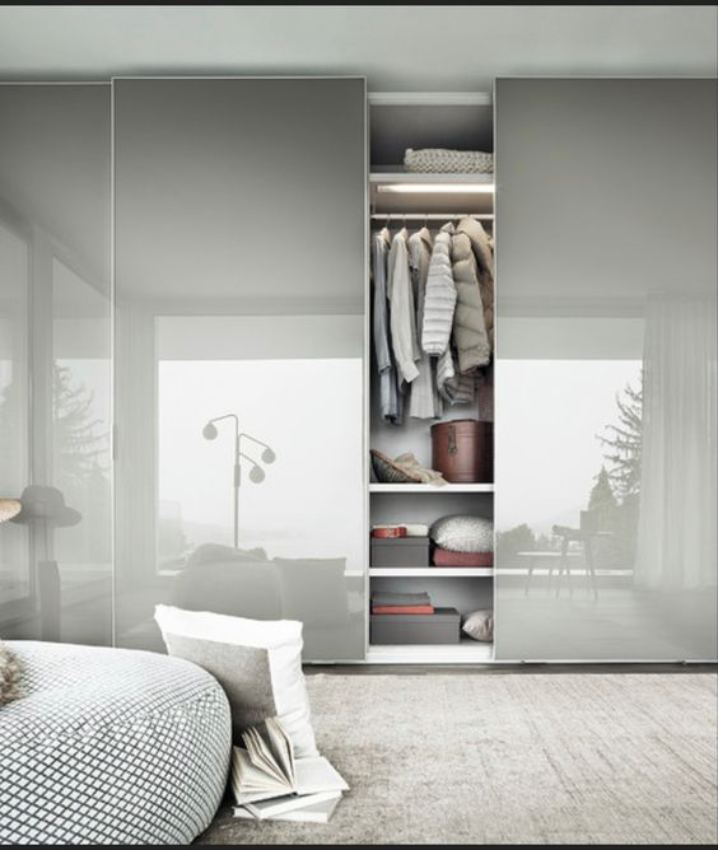 How to choose a sliding door cabinet?
Regardless of the space in the home in which it is placed, the wardrobe immediately becomes the protagonist. Because of its large size and its structure that does not go unnoticed, the wardrobe comes to the fore and can become the focal point of the room. For these reasons, it must be chosen with great care and attention, trying to balance functional aspects with aesthetic ones.
The first consideration to make, when it comes to choosing which sliding door cabinets to buy, concerns the size of the cabinet. You can opt for a wardrobe with standard dimensions, if the amount of clothes and accessories to be stored is small, or you can opt for a made-to-measure solution . Among the options to consider are wardrobes that are high up to the ceiling, wardrobes with a corner structure and those with a bridge structure.
Another crucial aspect to consider is the style of the wardrobe. Here, one must take into account one's personal taste, the general style of the home and the characteristics of the space in which the wardrobe is to be placed.
Those who like modern furniture can consider sliding door cabinet in a minimalist style or those that incorporate glass or metal elements. A sliding door cabinet can also be the right choice in a classically furnished environment. In this case, it is better to opt for wardrobes with a frame made of solid wood and elegant finishes.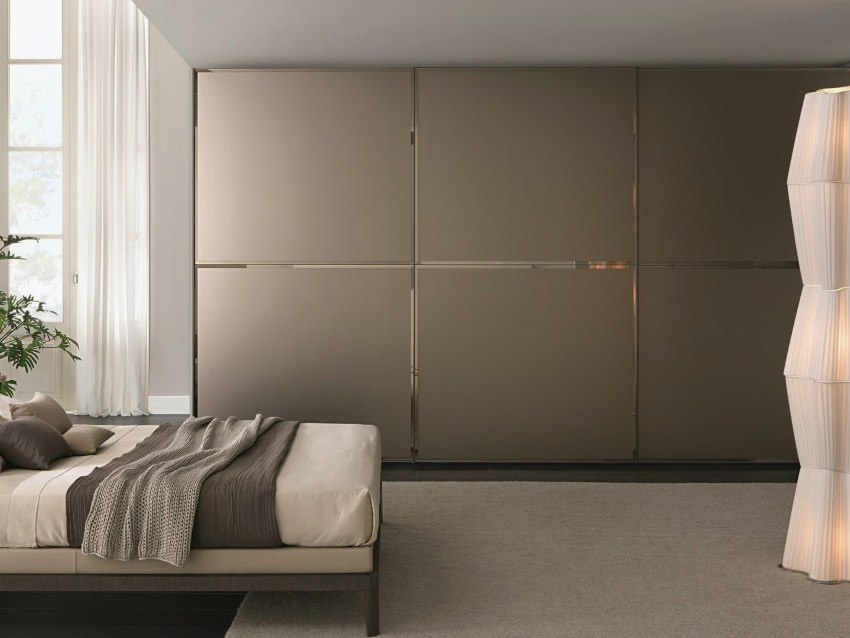 Which wardrobe models with sliding doors can be considered?
As you can easily guess, sliding door cabinet are available in a wide variety of styles and models, each with unique features. Taking into account the distinctive features of different cabinets will help you identify the best solution for your needs.
A very interesting sliding door wardrobe model is one that has mirrored doors. This solution is advantageous first of all because it makes the room immediately appear more spacious, even when the room is very small. In addition, this type of wardrobe is very convenient in everyday life because, when dressing, it allows you to check your outfit without having to move elsewhere in search of a mirror. A wardrobe of this make is of course perfect for bedrooms, but it can also prove very useful in a hallway or entrance area.
Another option to consider are wardrobes with a built-in TV. This furniture option is great for furnishing a modern, small bedroom where you need to introduce multifunctional furniture. And that's not all: these wardrobes provide space to hide the TV when it is not in use, creating a tidy and minimalist atmosphere.
For those looking for a mix of exposed and closed space, cupboards with open compartments and drawers are the ideal solution. These cabinets allow both the display of decorative items and the concealment and protection of clothing behind the doors. This is why a sliding door cabinet of this type is perfect for furnishing a hallway, but is also ideal in a modern bedroom or study.
Need to furnish your home or a single room?
Choose a top-notch woodworking shop.

We have over 50 years of experience!
Contact us!
Il Piccolo, a second generation family business, opens its showroom in Lugano. With over 50 years of experience, Il Piccolo brings with it a wealth of technical and design knowledge of the highest level, thanks to the many interiors designed and furnished around the world. In addition, Il Piccolo represents many of the best international luxury furniture brands. We design, manufacture and sell the best in design. Also with regard to La Cornue kitchens, we follow the customer from the design to the realisation of the project, integrating the whole process with a precise and professional service.CONTACT US