Il Piccolo Blog
The Saarinen Knoll marble table: an icon that stands the test of time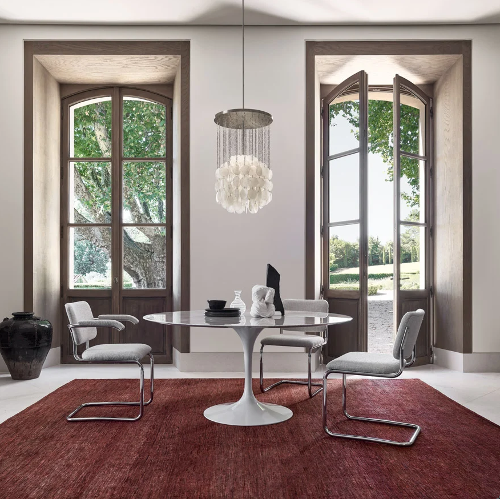 Iconic, timeless, revolutionary, the Saarinen Knoll marble table has rewritten the rules of living room and lounge furniture. Created in the 1950s, this masterpiece of interior design continues to furnish the most exclusive environments and to surprise for its ability to adapt to contemporary and futuristic contexts.
An interior design masterpiece by Saarinen
It was 1957 when Eero Saarinen decided to take determined action to resolve the crowding of legs concentrated between tables and chairs. It was this need to rethink the structure of tables that gave rise to the model that has perhaps most marked the history of interior design: the Tulip table.
Knoll's Tulip collection consists of models with marble tops and a single central foot whose shape recalls that of a flower stem. The refined yet simple line of this table has been an instant success.
The Knoll tables designed by Saarinen can be found in living rooms and parlours and can be adapted to any style of furnishing. Whether they are used in a classic interior or in a contemporary setting, these tables stand out for their avant-garde design and elegant lines.
The tables can be matched with chairs of very different styles. The most traditional combination is with the Tulip chairs, whose design recalls that of the table, available in versions with and without armrests, characterised by a single central foot and coloured padded seats. But Saarinen tables in marble may also be successfully flanked by large wooden chairs with a high back or plastic chairs each in a different colour from the others.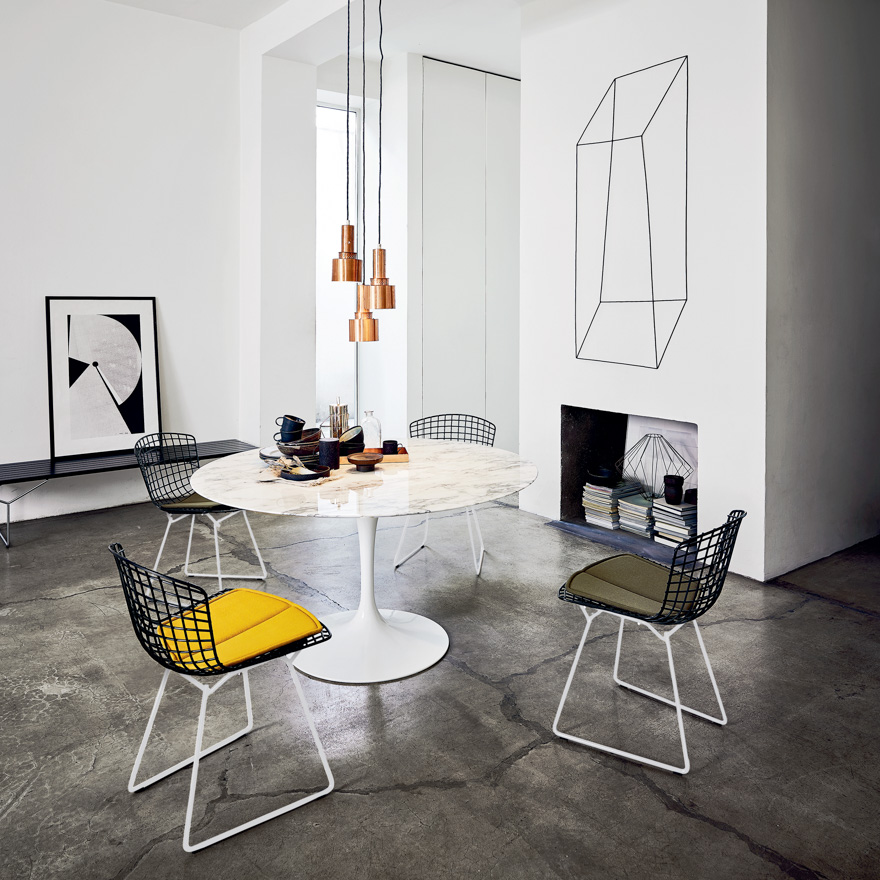 Which marble Tulip table to choose for your home
The Tulip marble table is available in a round or oval version. In both cases, the top is made entirely of marble, with a slab two centimetres thick. The central foot, on the other hand, is made from a single block of painted aluminium alloy, which guarantees strength and lightness. In most cases the table stem is offered in white, but versions in black or platinum are also available.
The design of the Knoll table by Saarinen can be customised in many different ways, choosing one of the many types of marble for the top. The most classic version uses light-coloured marbles from the Carrara quarries. These white marbles have subtle grey or golden veins, as in the case of arabesque and statuarietto marbles.
Those who want to give the room an almost regal look can choose a marble with golden veins, such as calacatta marble, or a marble with an unusual colour, such as Alpi green.
Lovers of warm tones have several options at their disposal: starting with intense red marble, through emperador marble with brown tones to black marble. The best known of the black marbles is marquinia, mostly of Spanish origin and characterised by white veins. Even more characteristic and elegant is the portoro marble, obtained from quarries located in Portovenere and made special by golden veins. The near absence of veining makes the black Sahara marble, from North Africa, unique.
All Tulip tables, regardless of the type of marble chosen for the top, can be made with a matt or polished finish. In addition, to protect the delicacy of the marble and to ensure greater durability and resistance of the product, a polyester treatment can be applied to the surface of the top to prevent the formation of stains or scratches.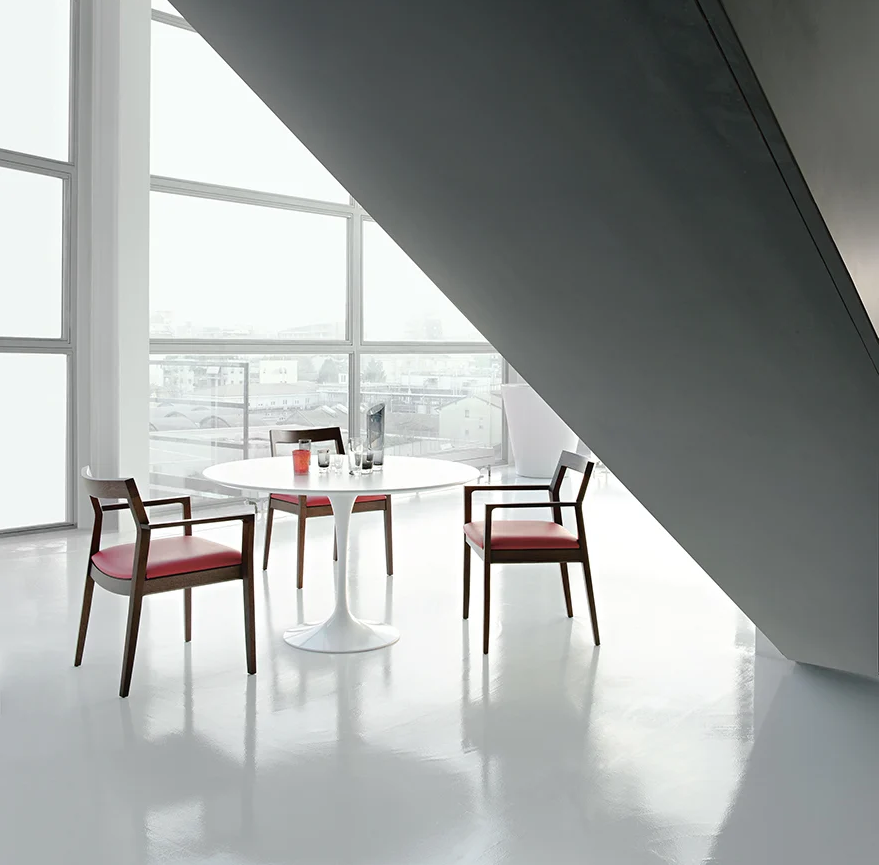 From Bauhaus straight into our homes
Saarinen, an exponent of the Bauhaus school, believed that design was a tool for people to connect with their world. Tables and chairs of the Tulip line succeed in this aim thanks to pure and original lines able to adapt to the most varied furnishing styles.
For almost seventy years, Saarinen Knoll marble tables have been synonymous with design and refinement. Saarinen's approach to design, attentive to technical details and to the balance between form and appearance, has proved successful and has forever marked the history of interior design. Choosing one of the Knoll Saarinen marble tables for your home means giving yourself a special piece of furniture with a wonderful story to tell.
Need to furnish your home or a single room?
Choose a top-notch woodworking shop.

We have over 50 years of experience!
Contact Us
Il Piccolo, second generation family-run carpentry shop, opens its showroom in Lugano. With over 50 years of experience, Il Piccolo brings with it a wealth of technical and design knowledge of the highest level, thanks to the many interiors designed and furnished all over the world. In addition, Il Piccolo represents the most prestigious brands of furniture worldwide. Il Piccolo designs, manufactures and sells the best of interior design made in Italy, following the customer from design to implementation, delivery and installation of the work, integrating the process with a precise and professional service. CONTACT US!