Il Piccolo Blog
Sleeping is an art for Treca: from the mattress to the bed, everything is personalised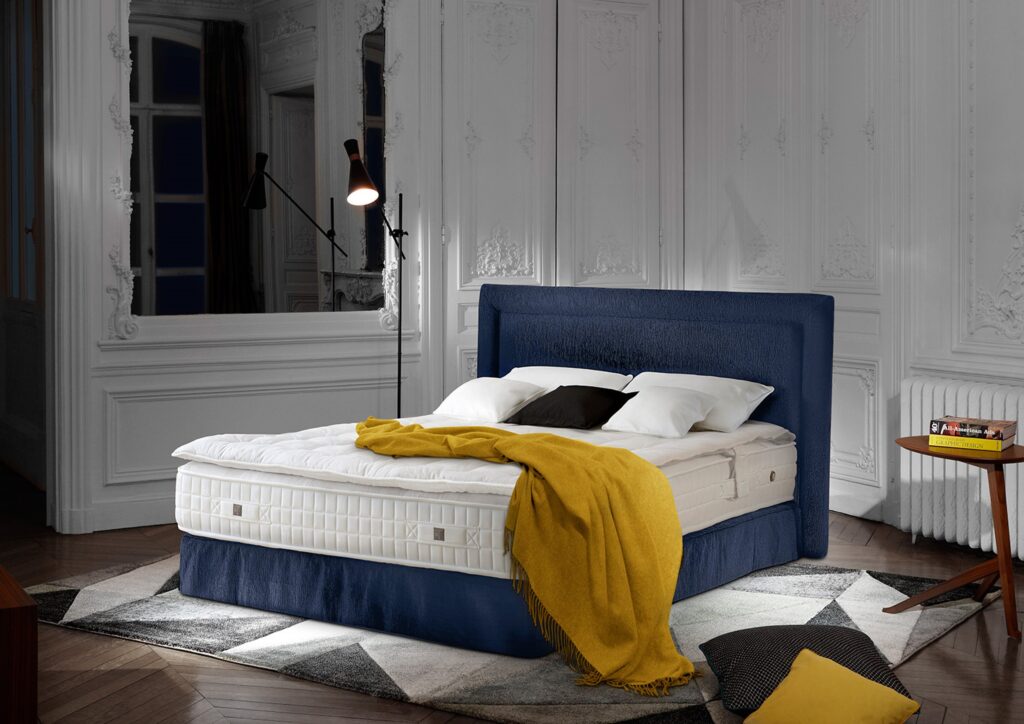 Treca's "savoir dormir
According to Treca, sleeping is more than just those hours when you rest after a long day. From his French tradition, Treca talks about 'savoir dormir' in the French way, meaning you have to know how to sleep. And he has turned it into a motto and a lifestyle. Trecca is inspired by the great Parisian palaces, renowned designers and the best craftsmen, focusing on French tradition and savoir-faire.
Sleeping for Treca is an invitation to escape. And Treca, a French company founded in 1935, has made it a lifestyle. For eighty years it has been creating mattresses, the product from which it started out, and everything to do with beds, with an unmistakable style inspired by traditional French furniture.
French style goes well with Treca
If Scandinavian style is characterised by the search for a sense of home, with the concepts of Higgiye, comfort, and Lagom, being happy without possessing too much, and by playing with light, French style focuses on elegance and splendour, combining modern and antique in a way that winks at the past without being nostalgic. Treca, its mattresses and beds fit perfectly into this all-French concept.
Personalised, an adjective dear to Treca
An adjective dear to the French company Treca is personalised. The ideal is to create an ad hoc relationship with each customer, who will have his or her own bed, exclusively top of the range, because Treca does not produce anything that is not top of the range, personalised.
For Treca, customising your bed means making it up (just think of other pieces of furniture which are modular and can therefore be adapted to suit everyone's needs). The starting point is always a mattress, a topper and a coordinated sommier, to which headboards and accessories such as benches or lamps can be added, choosing from the French maison also the fabrics for the decorations, all made by refined French craftsmen.
Treca beds combine the balance between traditional gestures and modern materials. A traditional element that Treca does not renounce, for example, is the hand-stitching, which is elegant and certainly gives an extra touch. But every bed, every room, is made to measure, to make the bedroom a paradise where you can sleep at your best.
The comfort of Treca beds starts with the mattress
The starting point, and it could not be otherwise knowing the history of Treca, is always the mattress, around which the ideal bed is built. The watchword is adaptability to your posture, to make each mattress comfortable and irreplaceable for those who sleep on it. It should be chosen according to one's habits and also to characteristics such as weight and height. Dimensions? Obviously, at Treca's we have all the sizes available on the market.
In addition to the undeniable elegance of its beds, Treca wants to offer comfort to those who choose its mattresses. It selects its materials with great care. The natural fibres used, of the highest quality, are carefully and skilfully distributed over the entire mattress surface. Treca uses fifteen different spring shapes, heights and combinations of HLE alloy steel spring layers. More personalised than that!
Treca and its sommier beds. But there are also headboards
A characteristic feature of Treca are the sommier beds. This is a special bed without a headboard (although there are also headboards in the various collections, for those who don't want to do without their impressive effect), and footboard. Originally created as a space saver, it has become synonymous with comfort and style at the French maison. The sommier and mattress blend with the quilt, elements that are seen as a whole for the perfect bed.
All designed in the French tradition that looks back to life in the palaces of bygone eras, with an eye to modernity and the unmistakable signature of leading transalpine designers.
Need to furnish your home or a single room?
Choose a top-notch woodworking shop.

We have over 50 years of experience!
Contact Us
Il Piccolo, second generation family-run carpentry shop, opens its showroom in Lugano. With over 50 years of experience, Il Piccolo brings with it a wealth of technical and design knowledge of the highest level, thanks to the many interiors designed and furnished all over the world. In addition, Il Piccolo represents the most prestigious brands of furniture worldwide. Il Piccolo designs, manufactures and sells the best of interior design made in Italy, following the customer from design to implementation, delivery and installation of the work, integrating the process with a precise and professional service. CONTACT US!