Il Piccolo Blog
A wardrobe with groove handles, where practicality embraces clean style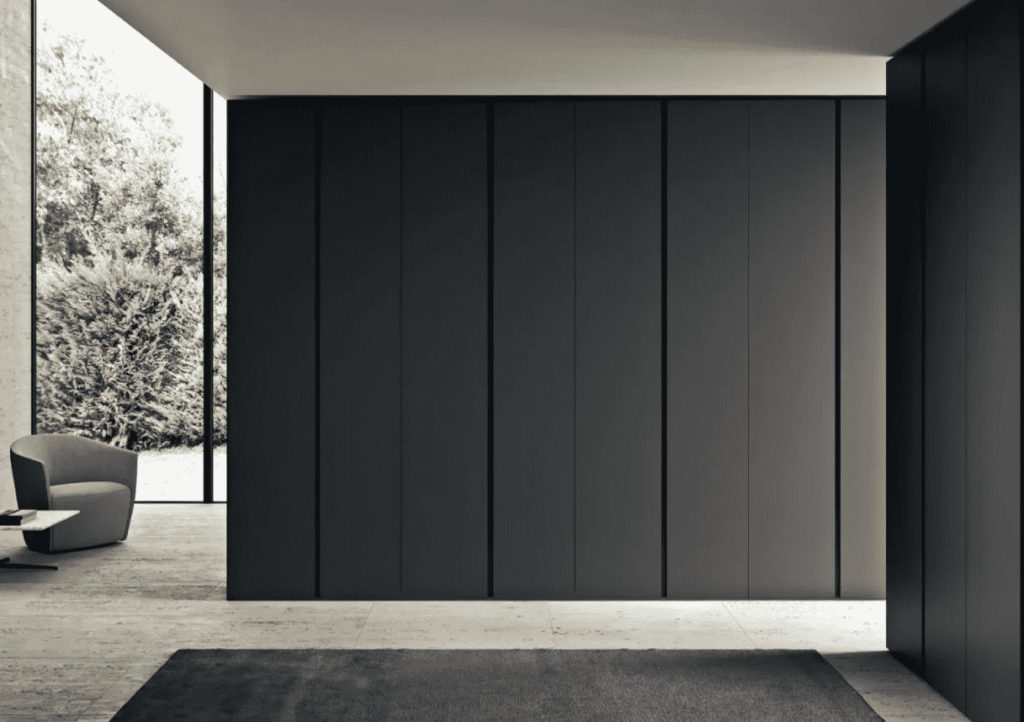 Wardrobe with groove handles, clean and essential but at the same time, if you like, design-oriented
A wardrobe with groove handles is a practical solution for those looking for a minimalist and clean style as well as being comfortable to use. But whoever chooses a wardrobe with recessed handles does not have to renounce aesthetics, because the recess can have a more or less design-oriented shape and you can also play with the colours to make it something discreet and decorative at the same time.
A wardrobe with groove handles, since it does not have any raised handles, is characterised by a clean and essential aesthetic, perfect for rooms that follow a minimalist and very modern style, less so for those who want a wardrobe that fits best in a classic room and therefore must be by definition imposing and give great importance to the finishes, which will be visible and indeed highlighted. On the other hand, a wardrobe with groove handles is linear, simple and practical.
What is a wardrobe with recessed handles?
But what exactly is a wardrobe with grip handles? Handles, as we know, are an opening system, the most common one, that can also embellish the wardrobe. There are various types of handles, from those that protrude to those that are recessed and built into the door. For those who want something eye-catching and customisable, applied handles are perfect, with a variety of shapes, sizes and colours. Recessed handles are less visible. If, on the other hand, you do not want visible handles, the best solution is a cupboard with groove handles: this is a recess in the door. One of the two sides of the door is shaped to make it easy to grip, or a vertical profile is used. In short, a minimalist and clean solution.
To highlight the groove handle, you can create it with a different material from that of the structure of the wardrobe or play with the colours, choosing a different one, perhaps a darker shade than the rest of the structure.
Wardrobe with groove handles: hollow or flat?
If you want a wardrobe with groove handles, you can choose the shape of the groove, making it a design element if you wish. In practice, it is the shape of the groove that changes. It can be hollow or flat. The hollow solution makes the composition of the wardrobe with groove handles very fluid and enhances the finish, the flat solution is a simpler and more essential idea. In terms of practicality, a recessed grip handle makes it easier to open, as you have an element to grip to open the door. Hollow groove handles can be diagonal groove or L-groove, while flat handles are divided into pocket groove, diagonal groove and L-groove handles.
How to make a wardrobe with groove handles designable
Whichever solution you choose, it will give your wardrobe with groove handles a clean, regular and essential look. It is therefore suitable for those who want to place the wardrobe in a room characterised by simplicity and essentiality, perhaps in a contemporary and minimalist style. It is possible to choose a different colour or shade to that of the wardrobe, in order to highlight the grip handle in a discreet manner. One of its advantages is the ability to create colour contrasts in a skilful and unobtrusive way.
A wardrobe with handle grooves is very easy to clean!
The reasons for choosing a wardrobe with handles (but this opening system can also be used on kitchens, for example) are not just aesthetic, although with the care that goes into the design of each individual piece the decision regarding handles is important. In fact, by opting for a cupboard with groove handles you are bringing home a piece of furniture that is easier to clean than one with classic openings, thanks to the continuity of the profiles. You won't see any fingerprints, which is an undeniable plus!
Need to furnish your home or a single room?
Choose a top-notch woodworking shop.

We have over 50 years of experience!
Contact Us
Il Piccolo, a second-generation family-run joinery, opens its own showroom in Lugano. With over 50 years of experience, Il Piccolo brings with it a wealth of technical and design knowledge of the highest level, thanks to the numerous interiors designed and furnished throughout the world. In addition, Il Piccolo represents the most prestigious brands of furniture worldwide. Il Piccolo designs, produces and sells the best of the interior design made in Italy, following the customer from the design to the realization, delivery and installation of the work, integrating the process with a precise and professional assistance service. CONTACT US!