Il Piccolo Blog
Bathroom design luxury: what are the various steps? How do we arrive at the final (and best) design?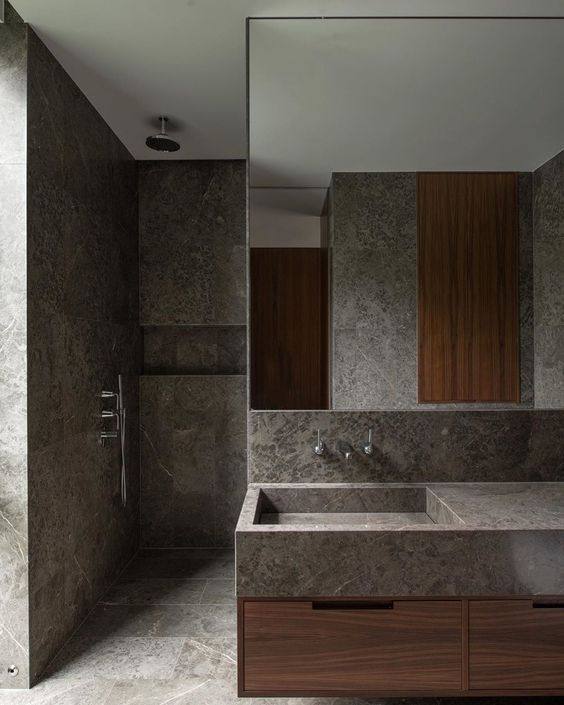 When venturing into the Bathroom design luxury, the primary objective is to create a space dedicated to well-being that manages to combine elegance and functionality.
As such, every design choice should ensure that luxury and practicality go hand in hand. In this post, we will give you a step-by-step guide to follow each step of the process so that you don't make any mistakes. Let's start.
What to consider when bathroom design luxury?
The main thing you need to consider when bathroom design luxury is the goal of creating an environment dedicated to well-being, one that is able to satisfy both the eyes and everyday needs. Every design decision should therefore be the right compromise between design, luxury and practicality.
A crucial element in a luxury bathroom is the choice of sanitary ware. Suspended or flush-to-floor sanitary ware gives the bathroom a clean and elegant look, as well as being practical and facilitating cleaning.
This is not the end of the story. The decision to install a shower or bathtub is one of the most important choices to make when designing a high-quality bathroom. There are many different options to consider: you can opt for a shower cubicle with transparent glass walls, if you want to create a minimal and luxurious atmosphere, or you can decide for a freestanding bathtub, perhaps strategically placed in front of a panoramic window, if you want to create an atmosphere that invites relaxation.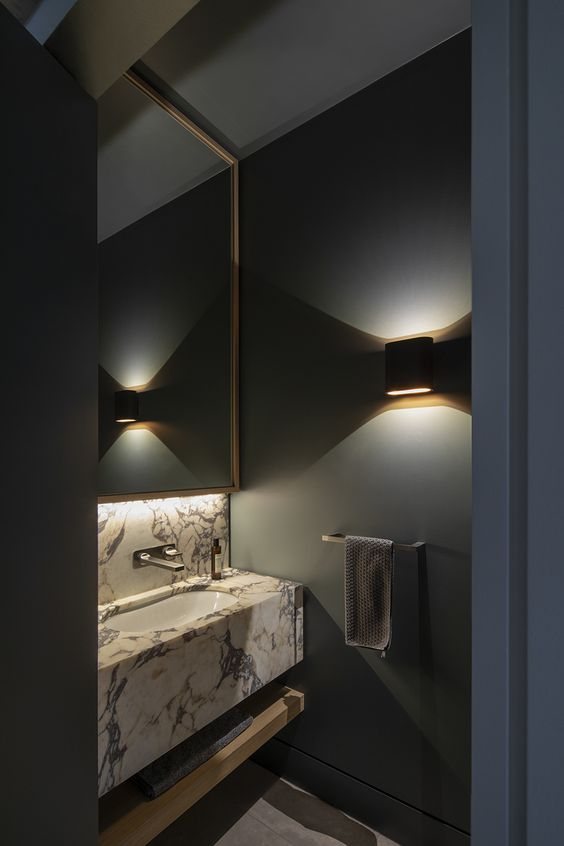 To ensure that the bathroom is not only an elegant but also a functional room, well-designed storage space is essential. A cabinet to be installed under the washbasin and equipped with drawers, cabinets fixed to the walls, and storage mirrors are all good solutions, allowing cosmetics, detergents and personal items to be kept in order without breaking the aesthetic balance of the room.
The key to luxury bathroom design is to balance aesthetics and functionality. Every element, from wall materials to finishes, should therefore be carefully selected to create an environment that is as harmonious as possible.
What materials should be used when bathroom design luxury that is also a designer bathroom?
Creating a luxury designer bathroom requires particular care in the choice of materials, since both the appearance the room will have and the level of comfort it will provide its users largely depend on the decisions made in this regard.
Natural stones such as marble, granite and travertine are an ideal solution in a high-end bathroom. Carrara marble, with its classic elegance, can be used for both floor and wall coverings, and gives the room an irresistible timeless look.
Those who love luxury and want to give the bathroom a more modern and distinctive look can consider using decorative resins for the floors and high-quality wall paints for the walls. This mix of elements offers an excellent level of durability and allows for a multiplication of possibilities when it comes to colours and finishes.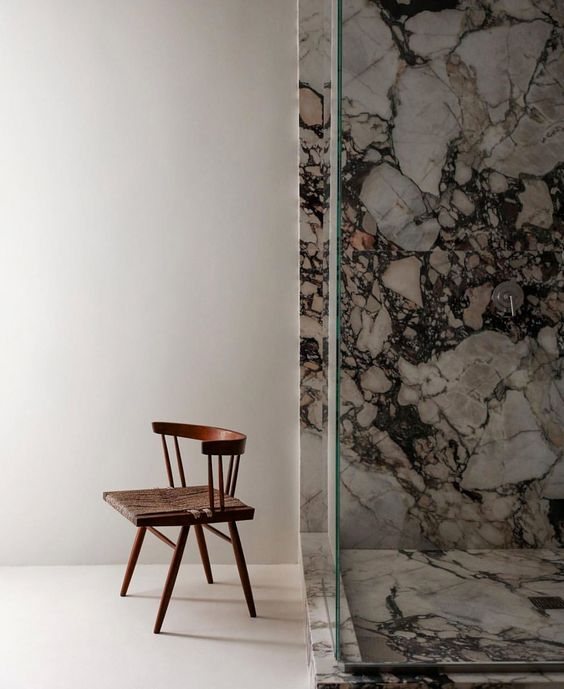 Luxury and originality can also be reflected in the decision to use high-quality wallpaper to cover the walls of the bathroom. Elegant patterns, delicate floral motifs or intriguing geometric shapes can be chosen to give the bathroom a unique and sophisticated look.
In a luxury bathroom with a classic flavour, wooden elements cannot be missing. In order to emphasise the elegance of the room, it is preferable to use durable and valuable woods such as teak, oak or walnut. The Bathroom design luxury also depends on these details, which are certainly not secondary!
With the right balance of materials and finishes you can create a designer bathroom that is aesthetically attractive, functional and durable.
How to find the right style for the luxury bathroom?
During the design phase of a luxury bathroom, the biggest challenge is finding the right style to give the room. It is in fact a long and complex process, requiring attention to detail and respect for the constraints related to the size of the space to be furnished and the aesthetic preferences of those living in the home.
In modern luxury bathrooms, it is common to use a minimalist design that focuses on clean lines and simplicity. This style is perfect for small bathrooms, because the use of light colours and smooth surfaces makes the space appear larger.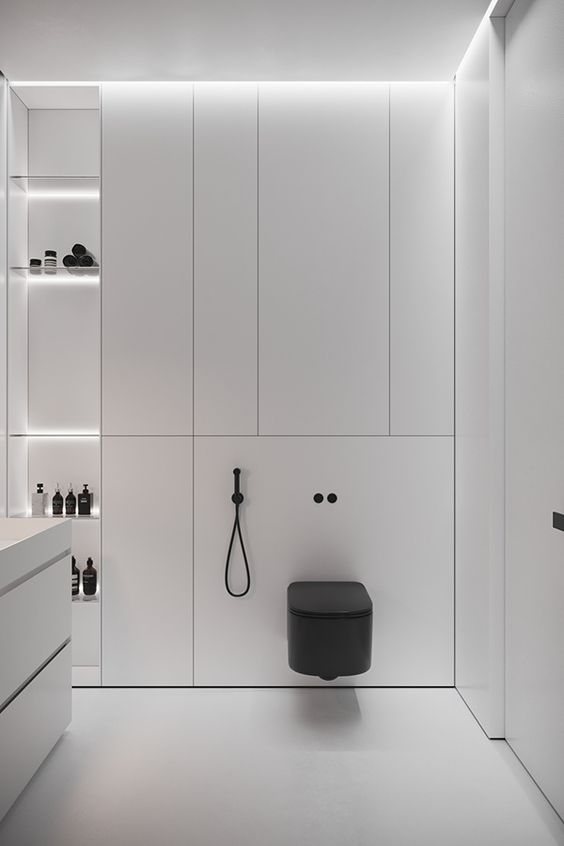 Another tip? Those who wish to emphasise the aspects of comfort and well-being to the utmost can decide on the Bathroom design luxury that is high-tech. Thanks to home automation, one can actually add smart mirrors, digitally controlled showers and lighting that can be adjusted via smartphone.
One can also decide to design a timeless luxury bathroom, i.e. one characterised by the presence of high-quality natural materials and lines that wink at those of past eras.
Regardless of the style one prefers, when choosing to Bathroom design luxury, it is essential to consider the needs of the people living in the home and, as a result, one must make choices, both aesthetic and functional, that fully respect these needs.
Need to furnish your home or a single room?
Choose a top-notch woodworking shop.

We have over 50 years of experience!
Contact us!
Il Piccolo, a second generation family business, opens its showroom in Lugano. With over 50 years of experience, Il Piccolo brings with it a wealth of technical and design knowledge of the highest level, thanks to the many interiors designed and furnished around the world. In addition, Il Piccolo represents many of the best international luxury furniture brands. We design, manufacture and sell the best in design. Also with regard to La Cornue kitchens, we follow the customer from the design to the realisation of the project, integrating the whole process with a precise and professional service.CONTACT US