Il Piccolo Blog
Bathroom design small: a guide to how to design a small bathroom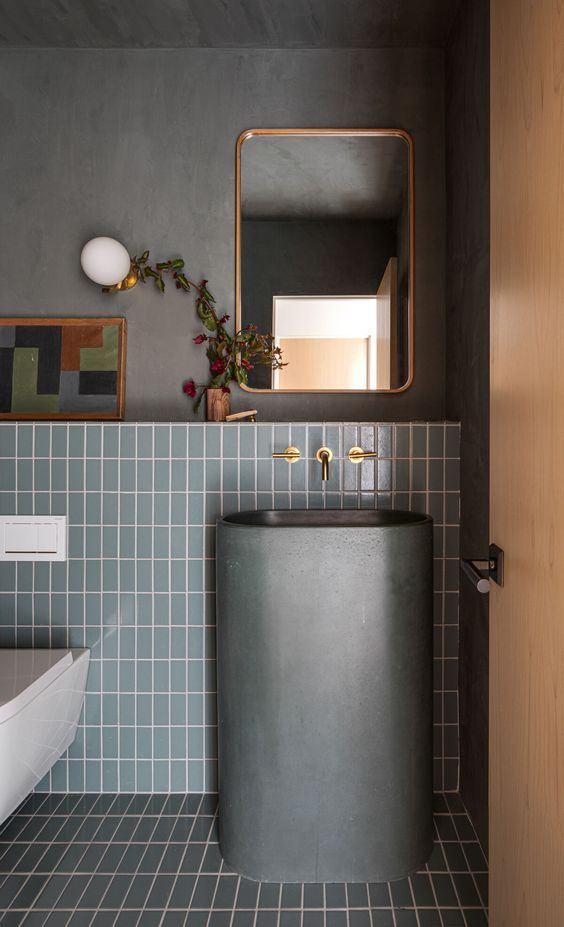 Bathroom design small requires a great deal of attention, since the available space is small and you need to be able to create a functional space without sacrificing design.
When you are called upon to follow a project of this kind, you must always remember that having to deal with a small bathroom does not mean having to give up a cosy and sophisticated ambience. Although large spaces offer more freedom, even with only a few square metres at your disposal you can achieve excellent results. In this article, we will give you pointers so that this can also happen in your case, renovation or not.
What needs to be assessed when doing Bathroom design small?
The first thing to do when setting out to design a small bathroom is to define the optimal position of the sanitary fittings. In order to optimise the space and gain a few extra centimetres, you could consider compact sanitary fittings. These are toilets and bidets that are smaller than standard dimensions. In particular, those that prove to be ideal have a smaller depth and length than the usually used models, with dimensions 5-10 centimetres smaller.
Choosing wall-hung sanitary ware models is also a good solution for optimising the use of space in a small bathroom. Thanks to the fact that these sanitary fixtures are hung on the wall and do not touch the floor, they give the illusion of being in a larger room and, as a result, visually lighten the space.
Another central element in bathroom design is the washbasin. With a view to optimising space, it is preferable to choose a countertop model, which can be integrated into an under-basin cabinet, which can be used to organise towels and beauty products.
With regard to the choice between a shower cubicle or bathtub, in a small bathroom the ideal decision is almost always forced, since a bathtub would steal a little too much space. Depending on how the bathroom is structured, one can opt for a shower cubicle built into a niche or for an open shower space, to be closed if necessary with movable panels or a curtain.
When working on the bathroom design small, it is important to adopt solutions that do not weigh down the room. For this reason, sanitary ware, wall tiles and accessories with simple lines are preferred, which are able to give the bathroom an airy look.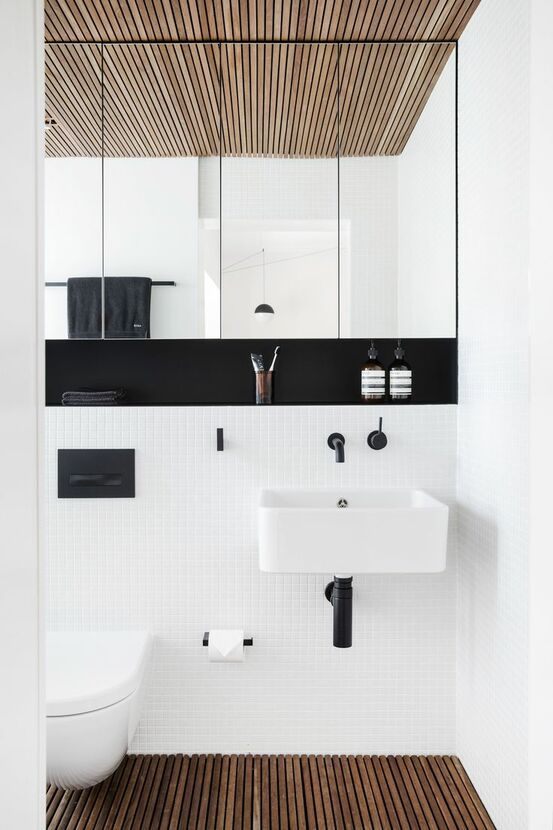 What materials should be used in small bathroom planning?
When venturing into bathroom design small with the aim of making the bathroom comfortable and luxurious, the choice of materials, wall coverings and furniture takes on a truly central role. Indeed, the careful selection of these elements can transform a limited space into an oasis of rare elegance and great practicality.
Specifically with regard to materials and coverings, solutions that give the space a bright appearance and are easy to clean are preferred. The best options are claddings in light colours and neutral shades, which can visually open up the space, reflect light and create a feeling of greater spaciousness.
When choosing furniture, however, the priority should be on functionality rather than aesthetics. In a small bathroom, every element that is added must fulfil a practical role, even better if it can perform several functions in one. Wall-hung sanitaryware and floor-level showers, as we have seen, are good solutions not only because they save space, but also because they give the bathroom a modern, minimalist aesthetic. Adding strategically placed wall mirrors is also a good idea because they help reflect light into the bathroom and give the illusion of moving around in a larger space than it actually is.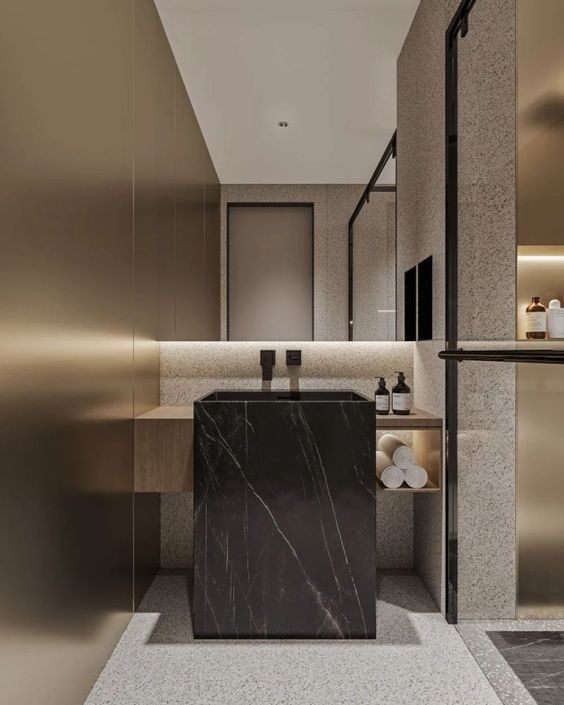 What space-saving solutions and furnishing styles for the Bathroom design small?
In the search for space-saving styles and solutions for Bathroom design small, attention to design and intelligent use of space becomes paramount. So what? There are several furnishing styles to draw inspiration from in order to furnish small bathrooms in the best possible way.
One of the styles that is best suited to this type of room, for example, is minimalist, thanks to the combined use of light-coloured elements and furniture with clean, essential lines, where the focus is above all on functionality and practicality.
Those who love bathrooms with a more classic aesthetic can, for example, decide to have a bathroom design smalled in a vintage style, incorporating vintage furniture and reclaimed accessories. Such elements are capable of adding a touch of personality without weighing down the room.
Space-saving solutions, on the other hand, become valuable allies in a small bathroom. Multifunctional furniture, such as wall-hung cabinets and shelves, allow vertical spaces to be utilised, freeing up the floor and giving an overall sense of lightness to the room. Creative use of corners can also lead to original solutions, for example by installing shelves or shelves on the walls.
Need to furnish your home or a single room?
Choose a top-notch woodworking shop.

We have over 50 years of experience!
Contact us!
Il Piccolo, a second generation family business, opens its showroom in Lugano. With over 50 years of experience, Il Piccolo brings with it a wealth of technical and design knowledge of the highest level, thanks to the many interiors designed and furnished around the world. In addition, Il Piccolo represents many of the best international luxury furniture brands. We design, manufacture and sell the best in design. Also with regard to La Cornue kitchens, we follow the customer from the design to the realisation of the project, integrating the whole process with a precise and professional service.CONTACT US