Il Piccolo Blog
Corner sofa: what is it? How to choose the right model for your furnishing style?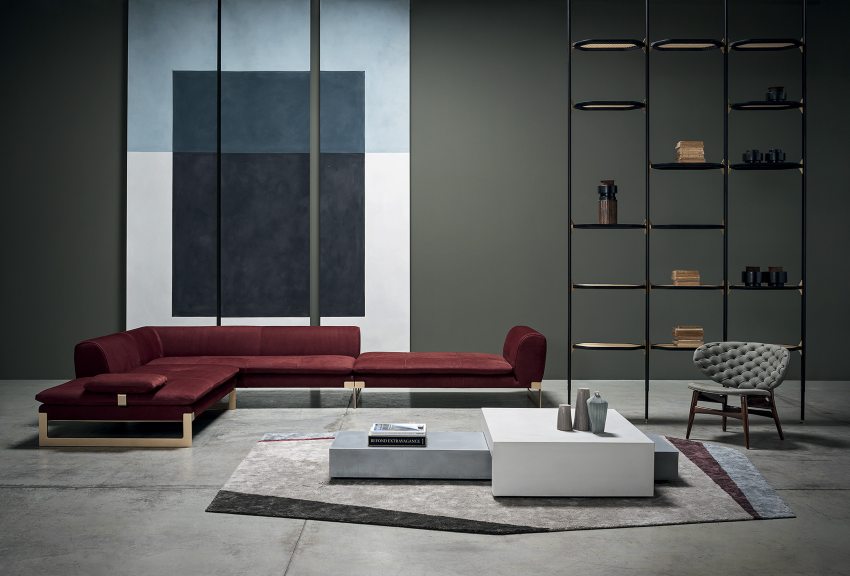 A corner sofa is a versatile and very practical solution that can be used to furnish a living space.
Among the main advantages of this type of furniture is its ability to combine aesthetics, functionality and comfort. Compared to traditional sofas, corner models are generally more generously sized, providing additional space for sitting, relaxing and socialising.
What are the features and advantages of corner sofas?
A corner sofa is particularly advantageous when the space to be furnished runs along two walls, and when other alternative solutions would not allow the space to be used productively.
Corner sofas generally have an L-shaped structure or, in rarer cases, a U-shaped structure. In this way, the furniture fits perfectly into the corners, optimising space and allowing for a better distribution of furniture. In large open-plan spaces, a sofa of this type can also act as a dividing element, separating the relaxation area of the room from the areas dedicated to other functions.
As well as offering obvious practical advantages, corner sofas are also very flexible in terms of style. The variety of structures, materials and colours of these sofas means that one can successfully furnish with a corner sofa whatever furnishing style one has chosen to adopt.
The contexts in which corner sofas, with a fixed or modular structure, best express their potential are those furnished with modern or contemporary furniture. In a living room with furniture with clean lines and made of modern materials , for example, a corner sofa in a bright colour can become the focal point of the room. A model with softer shapes and upholstery in neutral colours, on the other hand, can give the space a more relaxing and chic atmosphere.
One of the main advantages of corner sofas is the possibility to customise their structure. By combining materials, colours and finishes, it is indeed possible to create a custom-made sofa that perfectly reflects one's taste and the atmosphere of the room. Starting from leather upholstery to fabric sofas, available in bright or more sober colours, the customisation options are almost endless.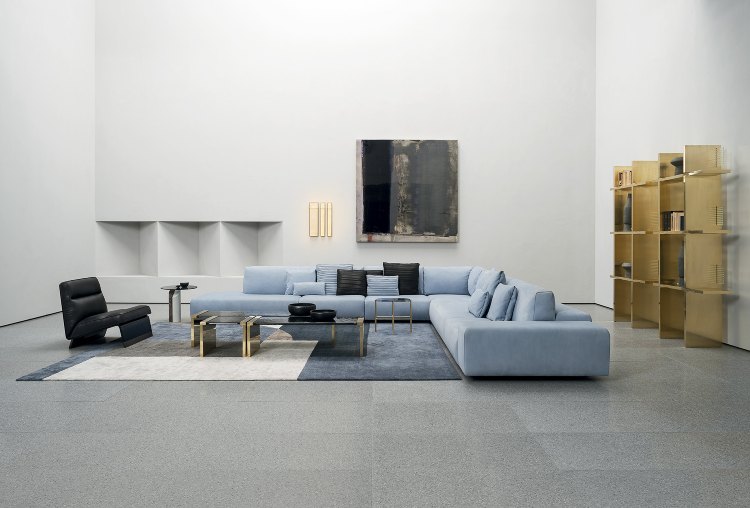 What materials and styles is it best to choose for a corner sofa?
When choosing a corner sofa, the selection of materials and style can make all the difference in the appearance and functionality of the sofa itself and the overall atmosphere in the room. To be able to choose the most suitable material for your furniture project, you should consider what level of durability and comfort you need, and then move on to consider the style you want to give the furniture.
Fabrics, leather or synthetic materials are the most common options for upholstering corner sofas. Leather is the most suitable if you want a durable sofa with a soft upholstery and an elegant, sophisticated look. This type of sofa is perfectly suited to both modern and more classical furnished spaces.
Fabric corner sofas, on the other hand, are more suitable for those looking for a corner sofa that is practical and functional and, at the same time, eco-friendly. Using natural fabrics such as cotton or jute, for example, makes it possible to have a comfortable sofa, available in an infinite number of colours, breathable and rather easy to wash even in the event of stains.
As for the style to be given to the sofa, much depends on the size and design of the room. In small rooms or rooms furnished in a minimalist manner, it is preferable to use a corner sofa with clean lines and neutral tones, so as not to make the room too heavy. On the contrary, in large and bright spaces, you can dare with bright colours or pastel-coloured fabrics to add a touch of freshness and personality.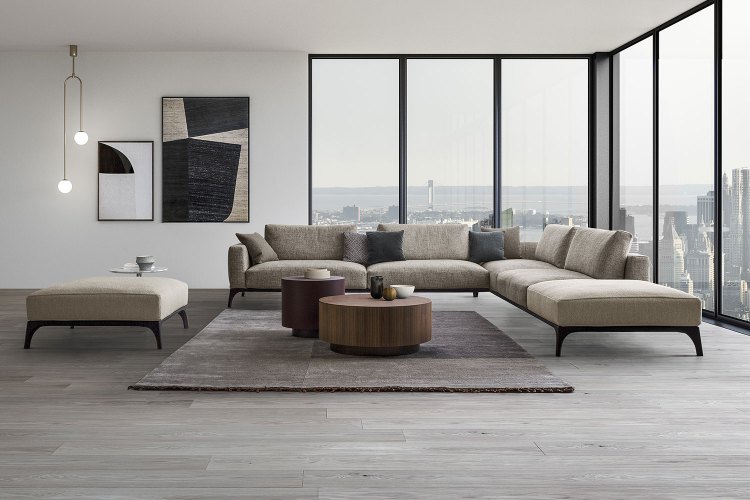 How can a corner sofa be used in home furnishing?
The corner sofa is a smart choice to make the most of living room space and to create a cosy and functional environment.
Those who need flexible solutions that can evolve over time can consider modular or sectional sofas. These models allow the configuration to be customised according to the specific requirements of the room or the needs of the moment. By adding or removing sections, transforming the corner sofa into a smaller sofa and a chaise-longue, or by reclining parts of the sofa, many different customised solutions can be created, which can also adapt to irregular environments.
Thanks to their large structure and modular composition, corner sofas establish themselves as multifunctional furniture. Besides offering comfortable seating that can be used while watching TV or having a conversation, they can become the space in which one can relax while watching a film or reading a book, for example. Some recent models of corner sofas also offer additional features, such as reclining headrests, adjustable footrests and massage seats.
Need to furnish your home or a single room?
Choose a top-notch woodworking shop.

We have over 50 years of experience!
Contact us!
Il Piccolo, a second generation family business, opens its showroom in Lugano. With over 50 years of experience, Il Piccolo brings with it a wealth of technical and design knowledge of the highest level, thanks to the many interiors designed and furnished around the world. In addition, Il Piccolo represents many of the best international luxury furniture brands. We design, manufacture and sell the best in design. Also with regard to La Cornue kitchens, we follow the customer from the design to the realisation of the project, integrating the whole process with a precise and professional service.CONTACT US