Il Piccolo Blog
Entrance wardrobe: which model to choose? [Step-by-step guide].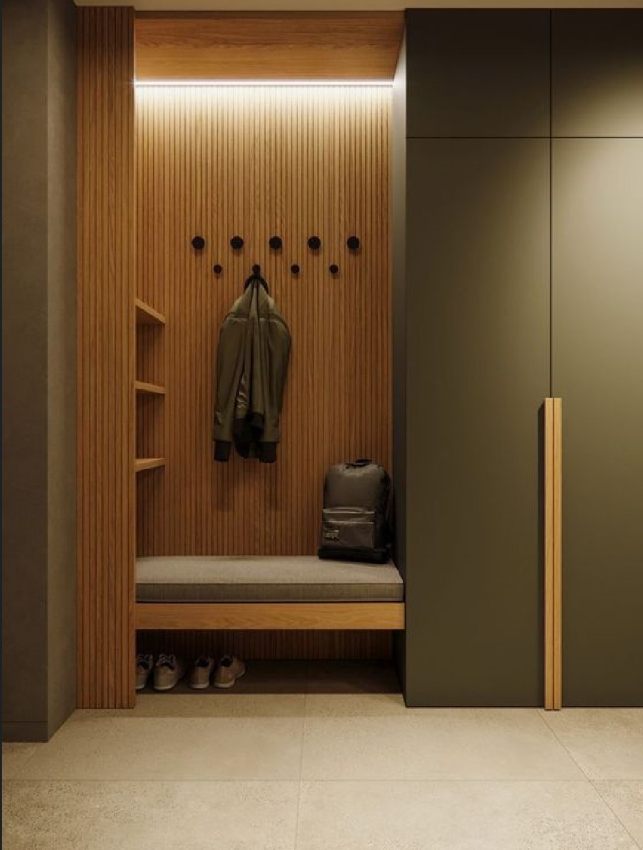 The entrance of the home is the first area that guests come into contact with. Taking care of the furnishing of this part of the house is therefore fundamental if you want to make a good impression or amaze those who visit your home for the first time.
When designing the entrance wardrobe area, it becomes very important to balance the aesthetic and functional aspects, adopting a solution that allows you to organise and store coats, jackets and bags, but that is also well cared for in appearance.
How to design the entrance wardrobe?
One of the first steps in creating a functional and stylish entrance wardrobe is to optimise the available space. Entrances in homes are often small and cramped, but with a little creativity it is possible to make the most of every available inch.
One must then take into account one's own needs and habits and the goals one wants to achieve. There are those who want the wardrobe area to suggest above all order and cleanliness, and those who want to amaze with original and unusual solutions.
If you want to completely conceal the entrance wardrobe, you can opt for a cabinet with doors or a dividing panel. This can visually separate the entrance from the rest of the house, creating a more intimate and reserved environment.
To make the entrance wardrobe even more functional, you can add some accessories that will make everyday life easier. These elements fulfil both a practical and aesthetic function, helping to create a cosy and well-organised space.
One indispensable element is the mirror. Besides allowing you to check that everything is OK before leaving the house, it can help give the illusion of being in a larger space, adding brightness and depth to the room.
If the entrance is large enough, one can consider adding a bench or chair. Providing a seat invites you to take a seat when you need to put on or take off your shoes. By choosing a bench with storage space, you can also create an additional internal storage area, in which shoes or other items in need of storage can perhaps be placed.
In the entrance wardrobe area, it is also advisable to install a wall-mounted key ring or a large emptying tray in which to store keys.
To complete the furnishing of the entrance wardrobe area, a custom-made carpet can be added. Depending on the shape of the space to be furnished and the desired result, a runner, an irregularly shaped rug or a classic rectangular rug can be installed.
Whatever design you choose for your carpet, its presence is very important. Indeed, this element of furniture has an indispensable decorative function, but it also protects the floor, helps to keep the house cleaner and makes the room cosy and warm.
What are modern alternatives to the classic entrance wardrobe?
Instead of a classic, imposing wardrobe with a closed structure, the same result can be achieved by installing shelves or shelves. Adding these kinds of elements to the entrance hall allows you to have enough space to store items such as boxes, baskets or bags and to maintain order and organisation in the home without having to resort to bulky furniture.
Shelves and storage shelves are also very useful for utilising height space. By placing shelves up to the ceiling, extra space can be created in which seasonal or less-used items can be stored.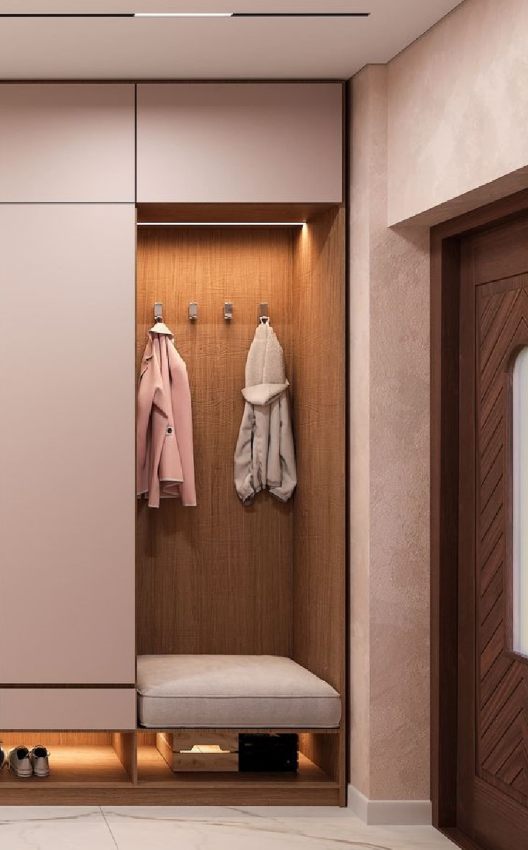 Another practical and perfect solution for those with a minimalist approach is the use of hangers or hooks fixed to the wall. Thanks to the many design solutions available, it is possible to create a very original entrance wardrobe in no time at all. All it takes is a few colourful hangers with a style in line with the rest of the house to create the space you need to keep coats, jackets, bags or umbrellas tidy. For smaller items such as keys, glasses or gloves, on the other hand, it is very useful to install drawers or shelves.
How to customise the entrance wardrobe space?
In order to achieve an optimal result that reflects the tastes of those living in the home, choosing the right colours and materials is essential. As far as colours are concerned, in the entrance area it is advisable to use shades that are consistent with those used in the rest of the house and suitable for the brightness of the space.
In small, dimly lit entrances, the best options are white, beige and grey, versatile and neutral colours that fit in perfectly with both contemporary and classic furnishings.
Those who want to give their entrance a personal touch can consider adding wall decorations. Adhesive decorations, handmade drawings or photographs hung on the wall can warm up the room and give it an unmistakable touch.
Plants and flowers are also an excellent option to personalise the area occupied by the hall wardrobe and to add a touch of freshness and vitality to the space.
Need to furnish your home or a single room?
Choose a top-notch woodworking shop.

We have over 50 years of experience!
Contact us!
Il Piccolo, a second generation family business, opens its showroom in Lugano. With over 50 years of experience, Il Piccolo brings with it a wealth of technical and design knowledge of the highest level, thanks to the many interiors designed and furnished around the world. In addition, Il Piccolo represents many of the best international luxury furniture brands. We design, manufacture and sell the best in design. Also with regard to La Cornue kitchens, we follow the customer from the design to the realisation of the project, integrating the whole process with a precise and professional service.CONTACT US