Il Piccolo Blog
From technology to materials, what are the characteristics of beautiful and functional luxurious modern kitchens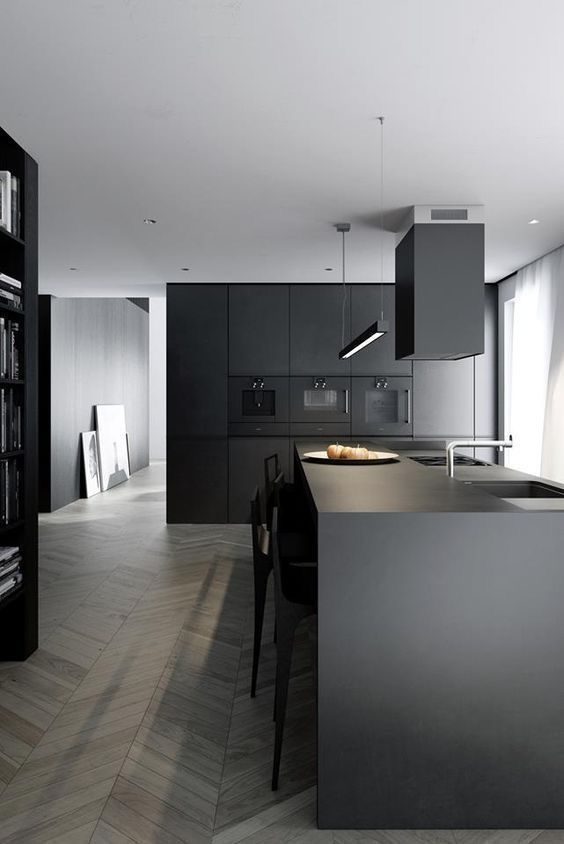 Modern kitchens are spaces to be lived in
Functional, technologically advanced and beautiful to look at, where beauty is not understood as the presence of frills but rather as the absence of them, to be found in the quality of the materials, finishes, details and organisation.
Luxurious modern kitchens are no longer just spaces to cook in, but a part of the home to be lived in dynamically and actively. Especially if they are not a separate room, and are instead in an open space involving the living room, in the most modern loft concept, guests will sit on the sofa (perhaps double-sided), at the table or directly around the island, while someone cooks, sharing space and time.
The basics of luxurious modern kitchens
What defines luxurious modern kitchens is not the size (they can be reproduced in three or four metres, if space is at a premium) but the concept. They are designed to create a fluid and dynamic space, they embrace minimalism in their forms, they are organised down to the last detail, they use top-of-the-range materials and leave nothing to chance. They start with shapes that are as clean and geometric as possible, reflecting a rational and concrete division of space.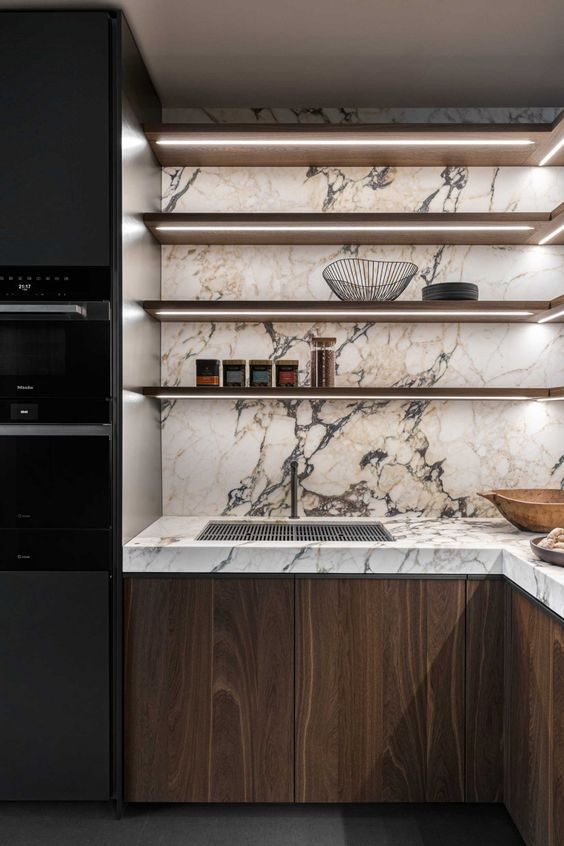 No handles, push-pull systems or grooves are preferred in luxurious modern kitchens
The kitchen countertop has essential lines, accompanied by cabinets that are designed to make room for everything you need, from utensils to food stocks, inside them, without anything being left in sight and that have no handles, replaced by push-pull systems or, if you like, grooves.
In many cases the furniture in luxurious modern kitchens, to accentuate the linear simplicity of the whole, is suspended, which from a practical point of view makes cleaning easier.
Modern appliances are an essential prerogative for a technologically advanced home.
While it is not even compulsory to provide a table, since this, in island solutions, which are very much in demand in luxurious modern kitchens because they make the space fluid and dynamic, can be replaced by the counter, the latest generation of appliances are required, all in energy class AAA+, very modern and with an eye to sustainability, integrated with each other and with home automation.
Think of ovens, hobs and even dishwashers that can be controlled remotely, ghost taps, concealed hoods with a push&down system, particularly important when dealing with an open space.
The materials of luxurious modern kitchens, from steel to marble and wood
The materials are modern and high-quality, designed not to change the smell and taste of the food used and to be easy to clean and resistant over time. Once used only in professional contexts, steel has now also cleared customs in the private sector, then there are innovative materials such as Fenix, created specifically for kitchens, laminates, hi-tech solutions such as Corian, titanium, dekton.
Glass details are very popular, as they give lightness and brightness like no other material. Marble is also often used in luxurious modern kitchens, which might seem at first glance to be intended mainly for a classical context: this is not the case, inserted into the simplicity of modern forms. The same applies to wood, the material that, with its ability to bring home warmth, fits into every style.
In luxurious modern kitchens are single-colour or two-colour
Colours in luxurious modern kitchens should be neutral, ranging from white and black to grey, beige and cream. There is a tendency to prefer single-colour or two-colour solutions, where the predominant colours are just one or two, wisely alternated.
Those who like bold choices such as red or linked to the psychology of colours can certainly implement them, taking great care to maintain a luxurious and refined effect. Depending on personal taste, opt for glossy or matt. Light must be carefully taken care of, playing on a skilful combination of natural and artificial light from LED spotlights on the ceiling and under the wall units.
Need to furnish your home or a single room?
Choose a top-notch woodworking shop.

We have over 50 years of experience!
Contact us!
Il Piccolo, a second generation family business, opens its showroom in Lugano. With over 50 years of experience, Il Piccolo brings with it a wealth of technical and design knowledge of the highest level, thanks to the many interiors designed and furnished around the world. In addition, Il Piccolo represents many of the best international luxury furniture brands. We design, manufacture and sell the best in design. Also with regard to La Cornue kitchens, we follow the customer from the design to the realisation of the project, integrating the whole process with a precise and professional service.CONTACT US