Il Piccolo Blog
Modern kitchens: how to choose a modern kitchen according to your furnishing needs?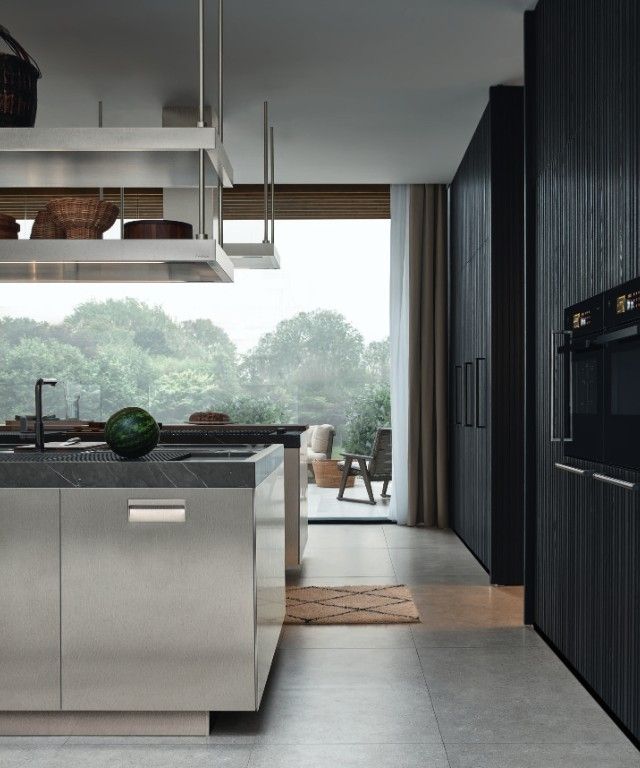 Today we are talking about modern kitchens. In particular, what makes a modern kitchen? What are the details, finishes, accessories, details that make them different from traditional ones? Basically: what makes them different from classic ones? And then: how do you choose the right modern kitchen model based on your living needs and the style in which the rest of the flat, loft or villa is furnished?
Modern kitchens are a truly unique environment. That is, they are a space in the home where it is pleasant to cook, eat, and enjoy the warmth of family, friends and guests in general. Especially if it is luxury, i.e. it has been made by high-level craftsmen and with the best materials, the kitchen is a room that is not just for preparing food. If it has the characteristics we have listed above, the contemporary kitchen is undoubtedly a room that gives the whole interior of the house a strong imprint of prestige and uniqueness.
Having said that, let's get to the heart of this guide dedicated to modern kitchens. We will explain what they are, why they are so beautiful and so functional and, above all, how to choose the kitchen model that best suits your living needs. It makes no difference whether you live in a flat, a loft, a villa or another type of dwelling, old or modern. We will give you the best advice to make the right choice according to your needs. Well, let's get started!
Looking for a modern kitchen?
Trust the best interior designers.
We have been designing kitchens since 1968.
>> CONTACT US! <<<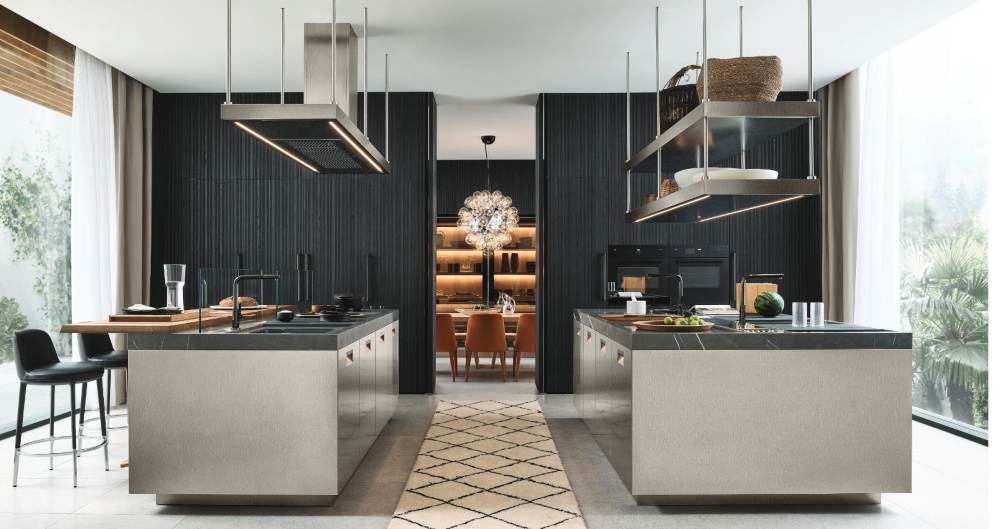 What is a modern kitchen?
We all refer to modern kitchens as if we take what they are for granted. But do we really know exactly what elements characterise such a kitchen? What furnishings and styles distinguish them from all other types of kitchens, especially the more classic ones? Let's find out together.
Let's start by saying that those who choose a modern style kitchen are likely to be rather active people, who are very attentive to the functionality of this particular room in the home. We are not saying that this type of person does not seek beauty, far from it. In fact, modern kitchens can be at least as beautiful as traditional ones. Only, in a contemporary kitchen, functionality is the undisputed queen. In other words, here there is the quest for beauty combined with organisation and practicality of use.
So, what do modern kitchens look like? Here are some of their distinguishing features. In particular, a modern style kitchen: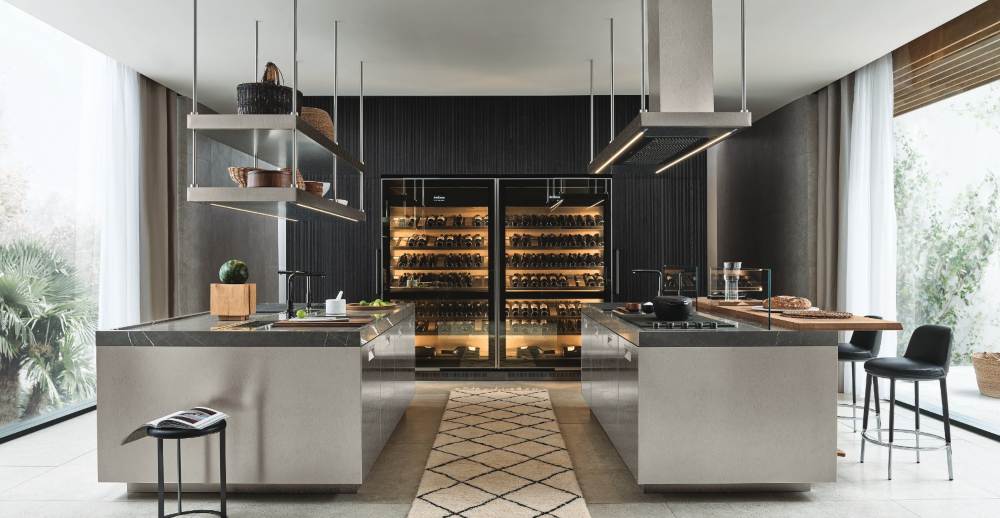 – Is an organised environment
Contemporary kitchens are designed to be smart and functional. Every design detail follows this philosophy, so that food can be stored and prepared in an organised, simple, quick way. This is also why modern style kitchens are almost always customised in every aspect. After all, it could only be that way. Think for example of sinks, which often appear to us as an easy element to select. In reality, they too have constraints to meet. And they are constraints that go far beyond stylistic ones. So, on our part, careful thought and tailor-made design is also required for the area intended to house the sink.
– It comes in a neutral colour
What is one of the trademarks of modern kitchens? The answer is easy: it is the use of neutral colours, in all their different shades. We refer for example to beige and cream, as well as white and grey, but also to shades of black. Sometimes, for some details or accessories, a slightly brighter, usually pastel colouring is preferred instead. The aim of such a counter-trend choice is to create contrast and give dynamism.
– Go for modern appliances
What do we mean specifically? A modern kitchen needs to be complemented by appliances made with the latest technology. This applies to all: the hob as well as the oven, the dishwasher as well as the fridge and freezer. And it also applies to accessories, such as knife racks, shelves, shelves for preparing different foods, and so on. In modern kitchens, built-in appliances are often preferred, to give an even greater sense of compactness and practicality, so that all food and cooking utensils are within easy reach.
– Handleless cabinets
Cabinets and cupboards are minimal. The doors have no handles and, more generally, are made with as little detail as possible. In other words, the watchword of modern kitchen design is simplicity! Another solution often adopted by interior design experts designing modern kitchens? Kitchen furniture and fittings are mostly flush with the ceiling. This decision is taken to avoid leaving gaps between the furniture itself and the ceiling, which can in some cases alter the symmetry of the room.
– It has adequate lighting
You might not think it, but the lighting in a kitchen also determines its success. We are not only talking about natural light, but also and especially artificial light, as the room needs to be fully functional – and safe – even when daylight is absent. In addition, light helps to show off the design of the kitchen. From this point of view, the most common solutions are LEDs and recessed spotlights, often positioned underneath cabinet tops or on the ceiling. This is an option that not only complements the kitchen and gives it a distinctly contemporary look, but also allows the elimination of classic chandeliers, thus saving space. It is not uncommon when LEDs and spotlights are not recessed but exposed. If this is the designer's choice, the body of such lamps is mostly made of metal. This consistently emphasises the modern soul of the kitchen.
Which modern kitchen to choose?
Ask an experienced interior designer.
We have been interior designers for over 50 years.
>> CONTACT US! <<<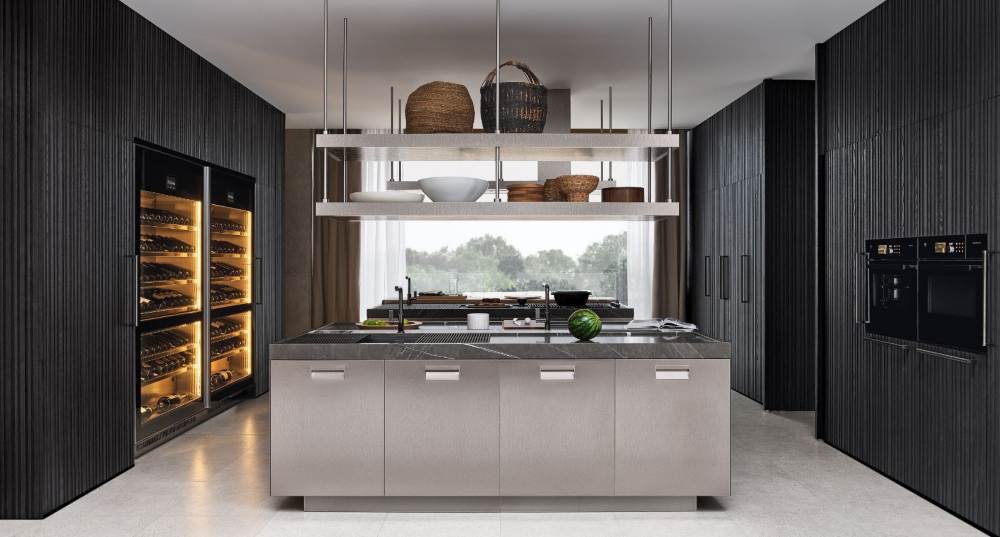 How do you choose modern kitchens? Here are the 3 basic tips!
If you have read this far, you are probably at the stage where you have decided that you need to buy a kitchen for your new home. Or you need to start renovating your current home, so you need to change the kitchen you already have. In either case, you are obviously interested in modern kitchens. You then need some tips to make the ideal choice in accordance with your specific needs.
Our guide to choosing a modern kitchen has been written especially for this purpose. That is, we want to give you some useful pointers so that you can think about it and make a decision that is best for you and your family. So here are our three truly indispensable tips for those who have to choose which contemporary kitchen to buy.
– Choose a supplier that offers you a turnkey project
The kitchen is one of the hearts of the home. However, the fact that modern kitchens are all about practicality and organisation should not mislead us. That is, they should not lead us to believe that they are easier to furnish than a classic kitchen. This is not the case. To this end, it is a good idea to rely on an experienced interior designer, who knows how to conduct every phase of the project, realisation, transport and installation with confidence and professionalism. So, you don't need many suppliers, but only one, who is, however, able to take care of relations with the various craftsmen who will be involved in the production of the kitchen and the delivery of the appliances. In a nutshell: you should rely on a single partner who can guarantee you a turnkey project.
– Decide on the shape of the kitchen according to your needs
Are linear kitchens or those with an equipped island better? Or those with a peninsula or corner kitchens ? It is not easy to give a valid answer for everyone in a handful of lines. In fact, the answer depends on many parameters, which vary from case to case. In any case, the common denominator of modern kitchens is practicality. Therefore, a linear kitchen may be the right choice, because everything is grouped along one surface. On the other hand, kitchens with an island can also be a perfect option in their own right, precisely because, in addition to their elegant and refined appearance, they allow you to move around easily and delineate specific work areas within the room. Lastly, kitchens with a peninsula fully meet the requirement of practicality, because the peninsula can be used both as a surface for preparing food and as a table where quick meals can be eaten. Simply add one or two stools to the sides of the peninsula itself.
– Pay attention to the choice of materials
Modern kitchens often have a great personality, because they have to transfer the perception of organisation, robustness and longevity to the beholder. Any ideas for achieving this effect? For example, we can recommend the use of stoneware doors, which have a very modern look, and the adoption of painted glass surfaces, which have great impact and give light to all the spaces around them. However, a safe choice – because it is perhaps the modern one par excellence – is steel, both for the kitchen furniture and its appliances.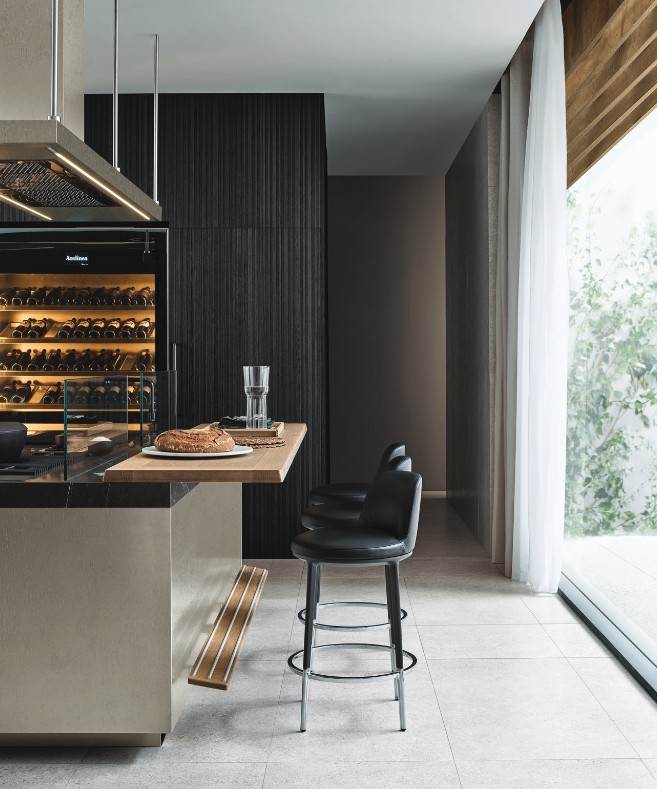 What materials are used in the creation of modern kitchens?
Modern kitchens are offered in a wide variety of materials. All of these aim to create a style that is both contemporary and functional. Here we will make a quick presentation of these materials – or at least the main ones – in order to show how numerous they are and how multifaceted their use is in the design of a modern kitchen.
We begin our review with stainless steel, which is widely used for appliances, sinks and work surfaces in general. The reason for its choice? We can identify it in its great resistance, as well as the fact that it is hygienic and has a clean and very modern appearance.
Not to be forgotten are granite and even quartz. These materials are most commonly used to create kitchen worktops. Why are they used? They are durable, scratch-resistant and can be made in a wide variety of colours and finishes.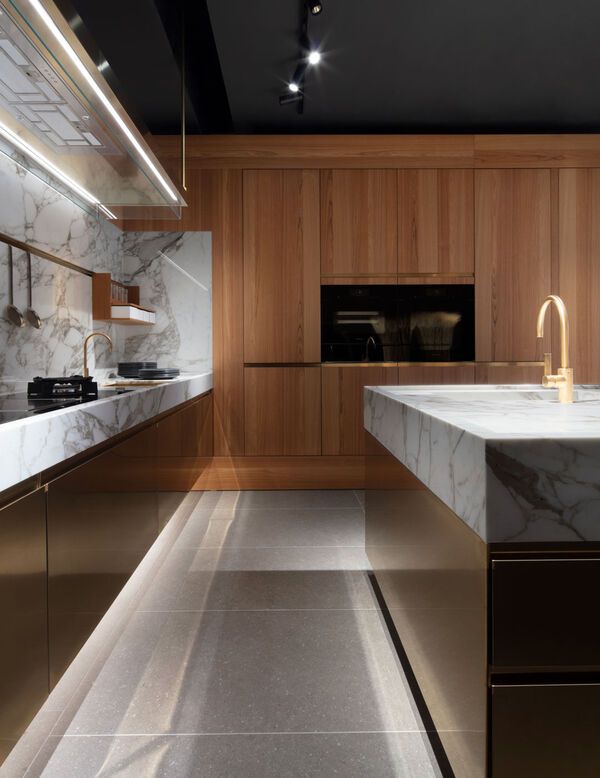 In modern kitchens, glass is also widely used. The latter is often used for the construction of worktops and splashback surfaces. In some interior designs, it is even used for cupboard doors. This material finds application due to the fact that it is easy to clean and its appearance is elegant and bright.
Then there is wood, which is sometimes used in floors, but more often in furniture and food preparation surfaces. Woods, such as oak, walnut and cherry, are the most commonly used in more modern kitchens. What about tiles instead? Tiles are typically used for the construction of floors and for finishing walls or portions of them. For example, they can come in ceramic, glass and even metal.
With what other materials can modern kitchens be created? Among the most widely used, aluminium must certainly be mentioned. Indeed, it is a material that is used in cladding, worktops and, of course, kitchen appliances. Why is it so popular among designers? The reason is that it is light, corrosion-resistant and has a thoroughly modern appearance.
Our list continues with marble. Perhaps the inclusion of marble in our list will come as a surprise to some, but we can guarantee that it is a material that, however luxurious, is not infrequently used for worktops and sometimes even kitchen floors. Again: why so successful? Marble undoubtedly looks elegant, although it requires a certain amount of care to preserve its great beauty.
And we come to concrete. Yes, you read that right! A bold choice, but one that in certain types of modern kitchens gives rise to a design of stunning contemporaneity. Specifically, concrete has become popular for worktops and floors. It can be coloured and polished in such a way as to show a truly unique appearance, which in some interior design projects gives rise to some remarkably beautiful achievements.
Lastly, we would like to mention composite materials. In particular, there are types that are so technologically advanced that they combine the advantages of different materials, such as wood and certain plastic matrix substances. The end result varies from kitchen to kitchen but, in essence, their use helps to give surfaces a distinctive look, making them also more durable and easier to clean.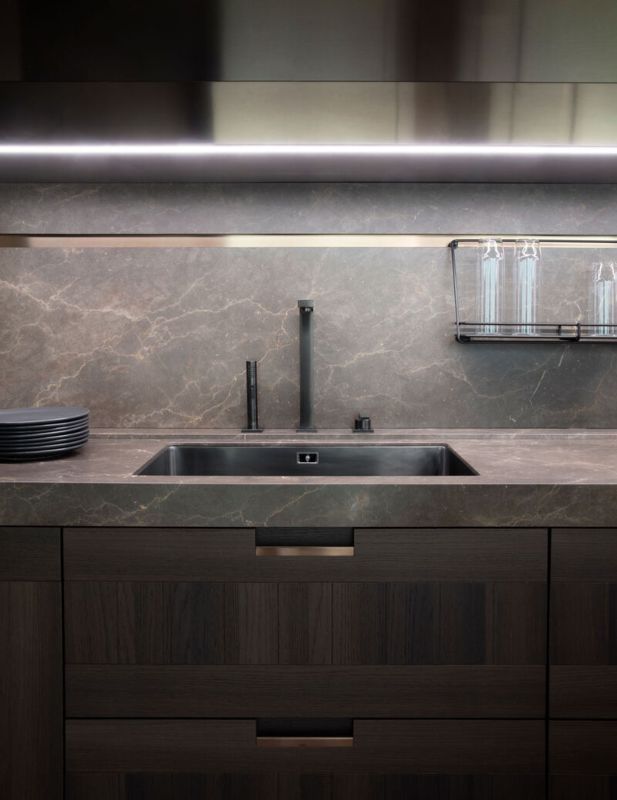 Any concluding remarks on the different types of materials with which modern kitchens can be offered? We would like to remind you that the choice of materials always depends on the style you want to give life to, the specific needs of each customer and the respect of the budget you have set. In most cases, it does not pay to focus on a single material. In this sense, the contemporary style kitchens that are often most successful are those that combine several materials, so as to achieve a unique look while safeguarding functionality.
Modern kitchens: how to make the choice?
Ask those who can best advise you.
We have been interior designers for over 50 years.
>> CONTACT US! <<<
"Italian interior design since 1968".
Il Piccolo is a luxury joinery, specialising in interior design and, specifically, in modern kitchens that furnish the world's most beautiful flats, lofts and villas. We are a recognised brand, a spokesman for made in Italy throughout the world.
For over 50 years, we have been serving the most demanding customers and the most innovative designers. We are reliable interpreters of the projects of architecture studios, which we work alongside as consultants on the latest in industrial design and as scouts for unique pieces of furniture, from modern antiques to contemporary art.
If our customer has to choose a modern kitchen, he will have a personal and direct relationship with us: this will give him the certainty of achieving his goals, meeting the tightest deadlines, and solving last-minute problems. The project leader, who is always one of the owners, will also take care of the logistics.
Each phase follows a precise path and is documented. From floor plans to prototyping, the best choices are made from the outset: materials, colours, wood finishes and polishes, stucco effects. By turning to us, you will therefore be assured of excellent customer care, which will follow you through each step of your room renovation project. CONTACT US