Il Piccolo Blog
Open closet: guide to the ideal choice for your bedroom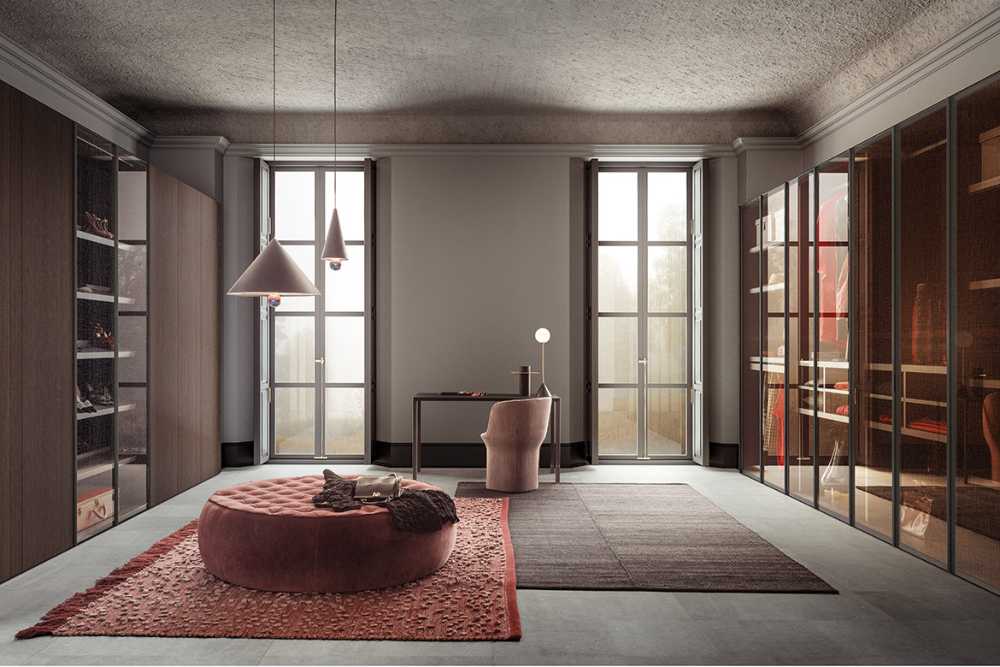 The open closet is a modern and functional alternative to the classic wardrobe with doors. In some ways, it can be considered a middle way between a classic wardrobe and a walk-in wardrobe.
It is therefore the ideal solution for those who wish to have a piece of furniture with an open structure in which to store their clothes, but do not have enough space or do not want to install a walk-in wardrobe separate from the bedroom.
Why furnish your room with an open closet?
An open closet can give personality and style to a bedroom with contemporary furniture that needs a touch of originality. In particular, the wardrobe has an essential structure and no doors. Consequently, the contents of shelves and hangers are left visible. In this way, what is usually hidden behind the doors is brought to the fore and itself becomes an additional element of the furniture.
Given their minimalist design, open closets are ideal for those who have chosen a Nordic or Scandinavian furnishing style. Since wardrobes without doors are generally made of a simple wooden frame, they also fit perfectly into bedrooms furnished in a natural, eco-friendly style.
In other words, those who choose to use an open closet can have a complete overview of all the clothes and accessories they own. This makes it easier to find the right outfit and reduces the time needed to decide what to wear for any given occasion.
On the other hand, because it has an essential and space-saving structure, an open closet may prove to be the right choice for furnishing small bedrooms that are reached by little natural light. Unlike a classic wardrobe with doors, a wardrobe without them lets light filter through its structure and makes the bedroom appear larger and brighter.
In addition to a stylistic choice, you may also decide to install an open closet in the bedroom when you want to benefit from the organisational advantages offered by a walk-in wardrobe, but do not have the space to make one. Or you do not want to create a separation between the wardrobe area and the rest of the room.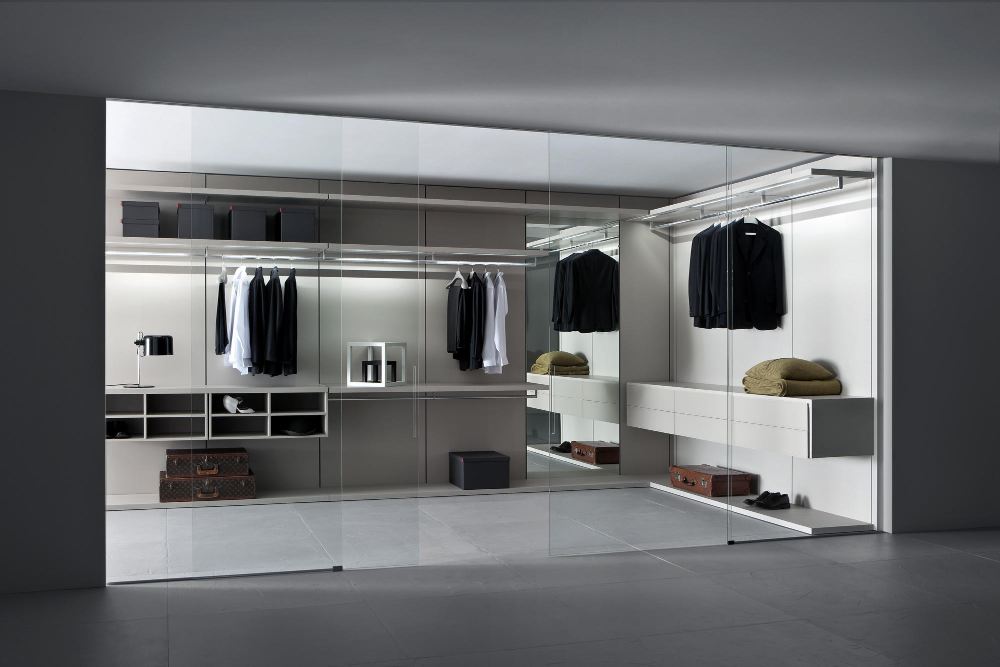 How to furnish your bedroom with an open closet?
Exposed wardrobes can complete the decor of any bedroom, whatever the style. However, there are cases in which such a furnishing solution is particularly brilliant. This is the case, for example, in small bedrooms or guest rooms.
In a small room, an open closet offers enough space to store clothing and accessories, with less clutter than a standard wardrobe, i.e. a piece of furniture that has hinged or sliding doors. In addition, the absence of doors and the lighter structure of the cabinet make the room more airy and bright. And this is a very important detail in a room of only a few square metres.
In guest rooms, on the other hand, an open closet is the right solution because it is spacious, practical to use and can adapt to all kinds of people. In particular, the functionality and versatility of the wardrobe allows it to adapt to short stays as well as longer ones.
When defining the furnishings of the bedroom, you may decide to give the visible wardrobe the starring role. In this case, you can opt for a wardrobe with an original structure or a coloured wardrobe. If, on the other hand, you want to emphasise other elements of the bedroom furniture, it is important to make sure that the design of the visible wardrobe is consistent with that of the bed, bedside tables or other accessories present.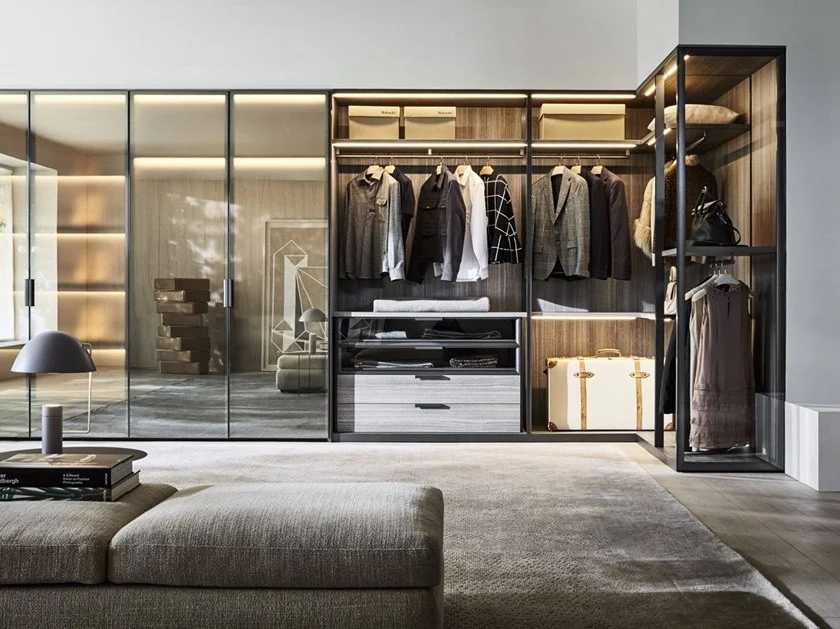 Which style should you choose for your open closet?
In most cases, the doorless wardrobe has a structure made entirely of wood. Various types of wood can be used for its construction: the most common among carpenters are oak, beech and fir. Wardrobes in natural wood tones fit perfectly into homes furnished in an eco-friendly and Nordic style, while painted wood models expand the range of possible compatible furnishing styles. From pastel to bright colours, everyone can find their ideal shade.
If you are thinking of installing an open closet in your bedroom, models made of wood and metal are also worth considering. The presence of a metal frame lightens the wardrobe structure even more and makes it ideal for rooms that are lofted and furnished in an industrial style.
In addition to everything we have said so far, we can say that those who like the open structure of the wardrobe, but do not want to renounce the presence of closed storage compartments, can decide to purchase or have made to measure a wardrobe with one or more compartments closed by glass. The glass in question may be transparent or have a matt finish.
Need to furnish your home or a single room?
Choose a top-notch woodworking shop.

We have over 50 years of experience!
Contact Us
Il Piccolo, a second generation family-run joinery, opens its own showroom in Lugano. With over 50 years of experience, Il Piccolo brings with it a wealth of technical and design knowledge of the highest level, thanks to the numerous interiors designed and furnished all over the world. In particular, Il Piccolo has a wealth of experience in the design and production of several corner wardrobe models. Finally, Il Piccolo represents the world's most prestigious furniture brands.
Our company designs, manufactures and sells the best of made-in-Italy interior design, following the customer from the design to the realisation, delivery and installation of the work, supplementing the process with a precise and professional assistance service. Looking for the ideal corner wardrobe for your room? CONTACT US!