Il Piccolo Blog
Outdoor chairs: what features do they have? How to make the right choice for your outdoor space?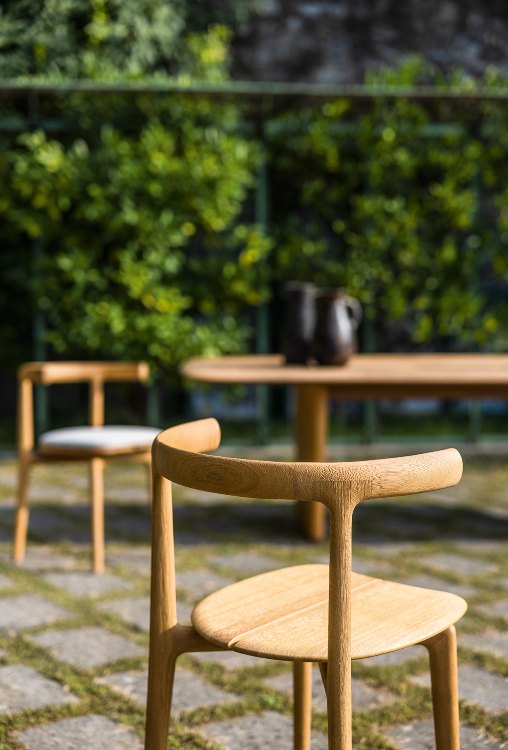 Being able to choose the perfect outdoor chairs for your garden or terrace allows you to create welcoming and refined spaces in which to enjoy time spent outdoors.
Thanks to the many stylistic options available, it is possible to create outdoor environments that are welcoming and beautiful to live in, whether one chooses functional chairs to create a relaxation area to share with the rest of the family or whether one focuses on design chairs.
How to furnish outdoor spaces with the right outdoor chairs?
When one decides to furnish the outdoor spaces of the home with outdoor chairs, there are two principal approaches to be followed: opt for functional chairs, with which to create a living/relaxation area outside the home, or choose design chairs, with an original and aesthetically refined style.
Functional chairs are ideal for creating a relaxing atmosphere outdoors. Reclining chairs with comfortable cushions or large lounge chairs, for example, offer the right level of comfort needed to be able to enjoy the garden. Combined with a low table or sofa, these chairs create the perfect seating area for informal conversation or reading a good book in the sunshine.
Those who wish to give their outdoor spaces a unique and original style may turn towards designer chairs. In this case, choosing models with bold shapes, made of innovative materials and in bright colours can add a touch of originality to outdoor furnishings. One may decide to purchase different models of chairs to place side by side or to create a group of identical chairs. In any case, the presence of designer outdoor chairs creates a focal point within the garden, with a unique style.
To complete the furnishings, garden chairs can be combined with other outdoor furniture, such as dining tables, benches or armchairs. Much also depends on the type of room to be furnished and the size of the space available.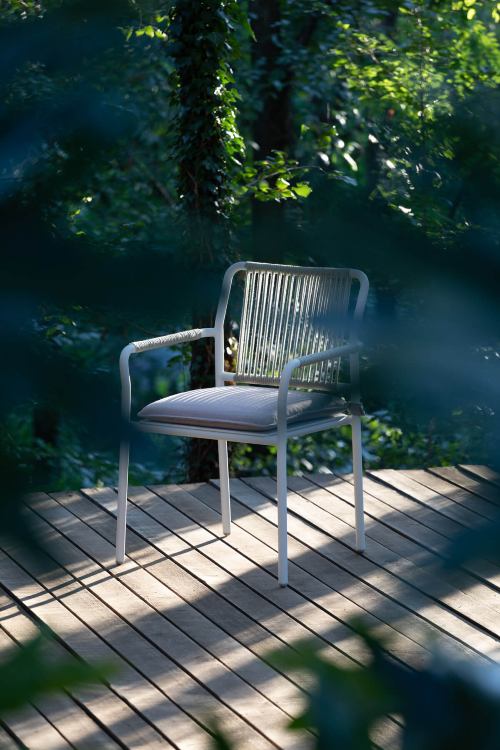 What are the materials and styles to draw inspiration from when choosing outdoor chairs?
In the furnishing of outdoor spaces, the choice of materials and styles of chairs assumes fundamental importance. From these choices, in fact, depend not only the aesthetic result, but also the durability of the furnishings.
If you want to transform your terrace or garden into a chic and sophisticated environment, steel chairs are an excellent solution. These models have an elegant and modern appearance, and, in addition, steel resists the weather well. The hardness of the metal can be softened by the use of high-quality cushions and fabric covers. Alternatively, consider designer outdoor chairs made of plastic or other innovative materials, perfect if you want to give the space a bold, contemporary style.
For more traditional and elegant outdoor spaces, wrought iron chairs are the most natural choice. These furnishing elements manage to give a classic look to the space and are distinguished by their romantic charm and the richness of the details of the craftsmanship. As is the case with steel chairs, wrought iron chairs can also be embellished with upholstered cushions, which provide additional comfort without compromising their characteristic appearance.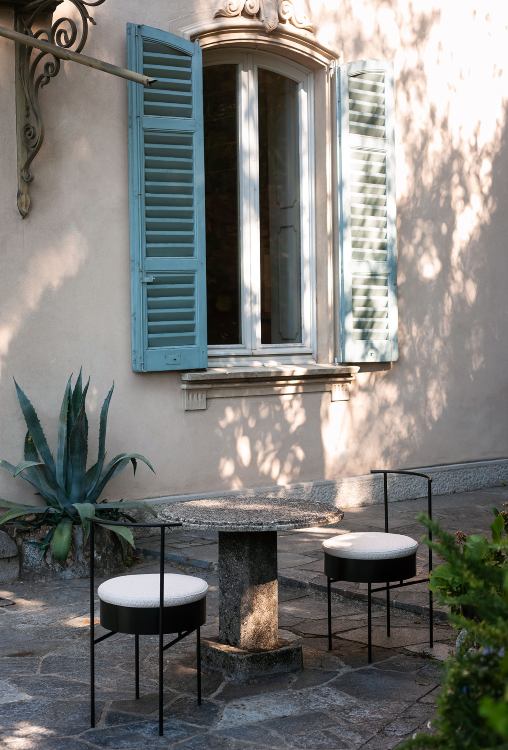 To be able to choose the most suitable materials and styles for the outdoor spaces of the home, it is essential to consider in what type of environment the chairs will be placed and whether they will be exposed to the elements. If the chairs are located in an open space and are subject to humidity and rain, you may consider resin models, for example, which are light, waterproof and easy to clean.
What to pay attention to when choosing outdoor chairs?
When choosing outdoor chairs, it is a good idea to evaluate the durability and resistance of the various models available. This aspect is also greatly influenced by the type of space to be furnished. The choice is in fact different if one must decorate a covered terrace, a large garden or a veranda that is spacious but exposed to wind and rain.
The materials considered most durable and safe for garden furniture are stainless steel, resin and teak. All of these provide an excellent degree of robustness and weather resistance.
The perfect outdoor chairs should also ensure consistency with the outdoor environment and the rest of the furniture. To be able to achieve this, it is advisable to choose chairs that are similar in appearance and style to other garden furniture.
Another point to consider is ease of maintenance and cleaning. Chairs with smooth, waterproof surfaces are easier to clean and require less maintenance over time. Materials such as resin, plastic and aluminium are excellent in this respect.
When furnishing smaller spaces, such as balconies or small patios, one can consider purchasing folding or stackable designer chairs. These models are practical, because they can be easily stowed away when not in use and occupy little space, and also permit an excellent result in terms of style.
Need to furnish your home or a single room?
Choose a top-notch woodworking shop.

We have over 50 years of experience!
Contact us!
Il Piccolo, a second generation family business, opens its showroom in Lugano. With over 50 years of experience, Il Piccolo brings with it a wealth of technical and design knowledge of the highest level, thanks to the many interiors designed and furnished around the world. In addition, Il Piccolo represents many of the best international luxury furniture brands. We design, manufacture and sell the best in design. Also with regard to La Cornue kitchens, we follow the customer from the design to the realisation of the project, integrating the whole process with a precise and professional service.CONTACT US