Il Piccolo Blog
Shiny kitchen: what is it? How does it fit in with the style of a house?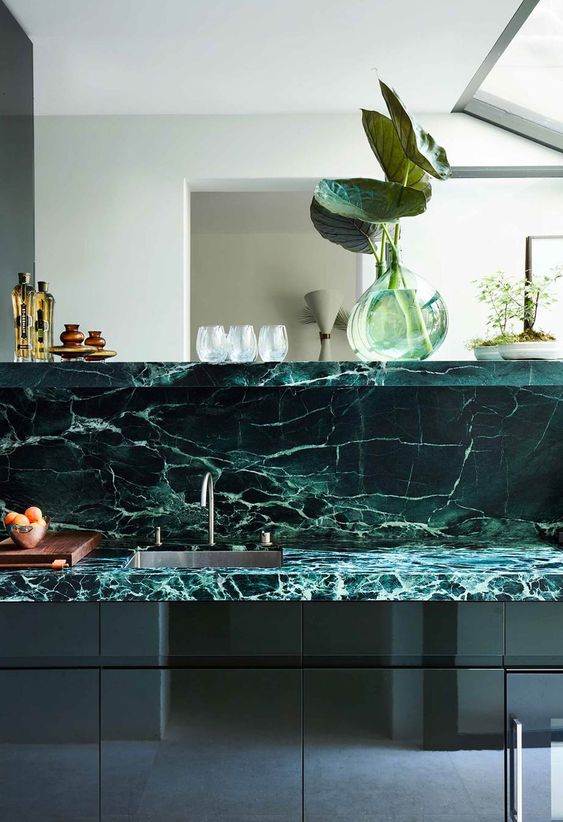 What is a Shiny kitchen? And what furniture and materials make it up? For those who have decided to install contemporary style furniture , designing such a kitchen is a good idea to make the most of the natural light in the room and to give the room an elegant look.
In fact, furniture with a high-gloss finish is a rather natural choice when you have opted for a kitchen model with a modern design, but it can also give a unique touch to kitchens with traditional lines. Let's find out why.
What are the distinguishing features of a Shiny kitchen?
Shiny kitchens stand out at first glance due to the shiny, reflective finish of their furniture. This type of finish is often used when one wants to make the room appear larger and more spacious. In this sense, it is very useful to choose light-coloured furniture: white, beige and cream-coloured are all good options, as they can optically increase the space of the kitchen.
A kitchen with a high-gloss finish and a dark colour, which can range from black to grey , on the other hand, is very suitable when you want to emphasise the elegant and sophisticated character of the room.
Using a glossy paint or reflective finish on furniture is also a great way to bring out the contrast between the modern, sophisticated look of the kitchen and the more traditional look of other elements in the space, such as the dining table or chairs.
Whoever is in charge of the interior design project can decide to give all the components of the kitchen a glossy finish or to combine glossy elements with others with a matt finish. You can take advantage of the alternation of these glossy and matt elements to draw particular attention to some of the Shiny kitchen furniture or to create an original and customised décor.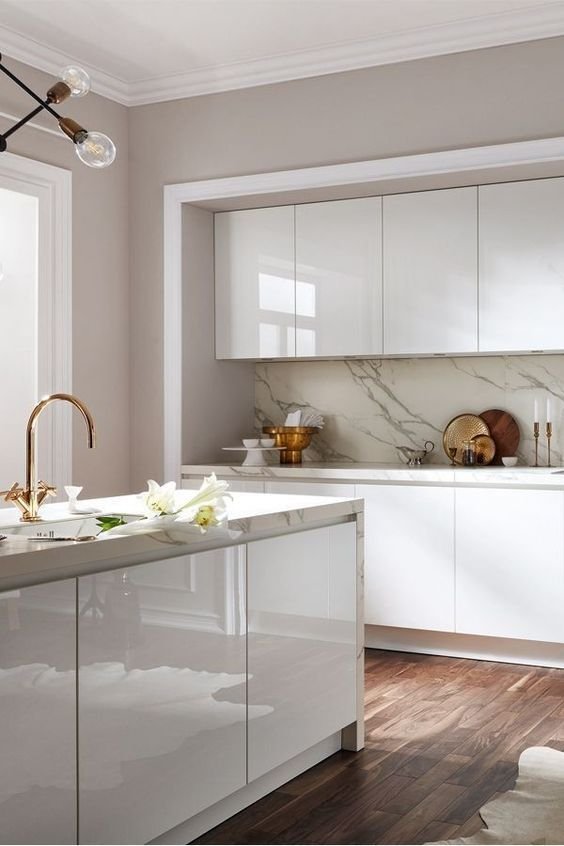 What are the advantages and disadvantages of Shiny kitchen furniture?
One of the most appreciated features of a Glossy kitchen is the elegant and refined appearance of its furniture. It is also a type of kitchen that is easy to clean and does not require special maintenance.
In fact, thanks to its glossy finish, the kitchen creates original plays of light and shadow, and in small or poorly lit rooms, this can be a winning solution to make the space appear larger.
Alongside the many positive aspects, there are also a couple of disadvantages that can arise from the decision to choose Shiny kitchen furniture. Firstly, there is the risk that the glossy finish will highlight any imperfections in the furniture. Scratches that may be created through daily use of the Shiny kitchen or dents would be very visible, especially in corners of the house exposed to the gaze of passers-by.
Furthermore, when the kitchen is made up of many different elements, it can be complicated to find a balance between the glossy and matt elements. In order to be sure of achieving a good result, it is therefore essential to have the involvement of a person who is an expert in interior design, who can give suggestions and advice on the best materials to use and the most suitable configurations to enhance the room.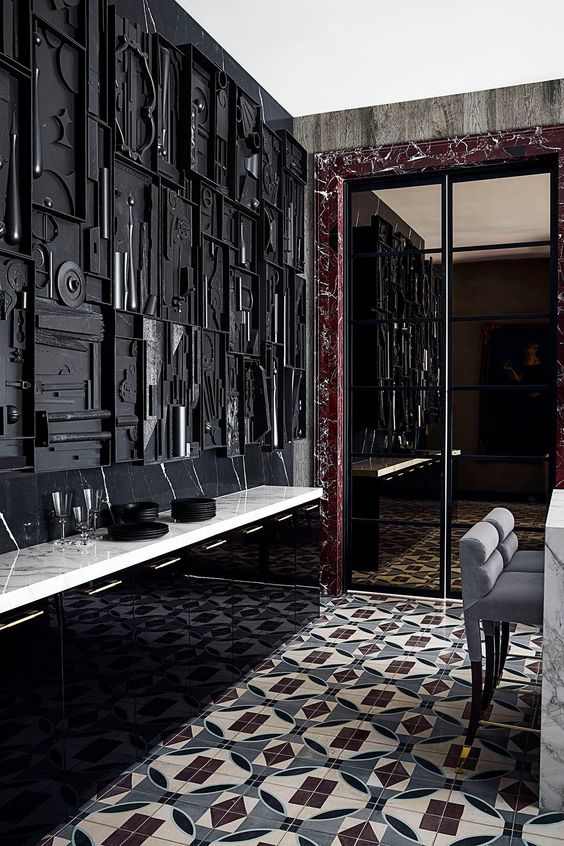 How to furnish a kitchen with glossy furniture?
Depending on how it is designed, a Shiny kitchen can be used to enhance the elegance of the room or to make it appear brighter and more brilliant. In the first case, it is advisable to install high-gloss furniture in a room where the walls and floors are made of a matt material or in dark colours. Conversely, if you want to create a bright kitchen, it is a good idea to install the furniture in a room where there is a polished marble floor and the walls are light.
What about the colour of the furniture to be used for the Shiny kitchen? The latter is influenced by personal taste and the structure of the room. In spaces furnished in a contemporary style, it is common practice to include furniture with light colours and simple lines. Furniture with a high-gloss finish can then be complemented with other elements that have a shiny appearance, such as stainless steel worktops, glass cabinets and marble or ceramic wall tiles.
Another useful tip. Furniture with a high-gloss finish is a valid option both when installing a kitchen with a linear configuration and when deciding to install a kitchen with a central island or peninsula.
However, it is the details that make the difference and ensure a customised result. Those who want to convey a minimalist message can choose polished cabinets without handles. On the other hand, those who want to give the Glossy kitchen an original look can opt for worked handles or handles in a contrasting colour.
One last tip. Lighting also plays a key role. Indeed, the decor of a Shiny kitchen can change its face with the use of pendant lamps, spotlights or lights integrated into the furniture itself.
Need to furnish your home or a single room?
Choose a top-notch woodworking shop.

We have over 50 years of experience!
Contact us!
Il Piccolo, a second generation family-run joinery, opens its own showroom in Lugano. With over 50 years of experience, Il Piccolo brings with it a wealth of technical and design knowledge of the highest level, thanks to the numerous interiors designed and furnished all over the world. In particular, Il Piccolo has a wealth of experience in the design and production of several corner wardrobe models. Finally, Il Piccolo represents the world's most prestigious furniture brands.
Our company designs, manufactures and sells the best of made-in-Italy interior design, following the customer from the design to the realisation, delivery and installation of the work, supplementing the process with a precise and professional assistance service. Looking for the ideal corner wardrobe for your room? CONTACT