Il Piccolo Blog
Sofa L form : how to choose the right model for your home? [Complete guide].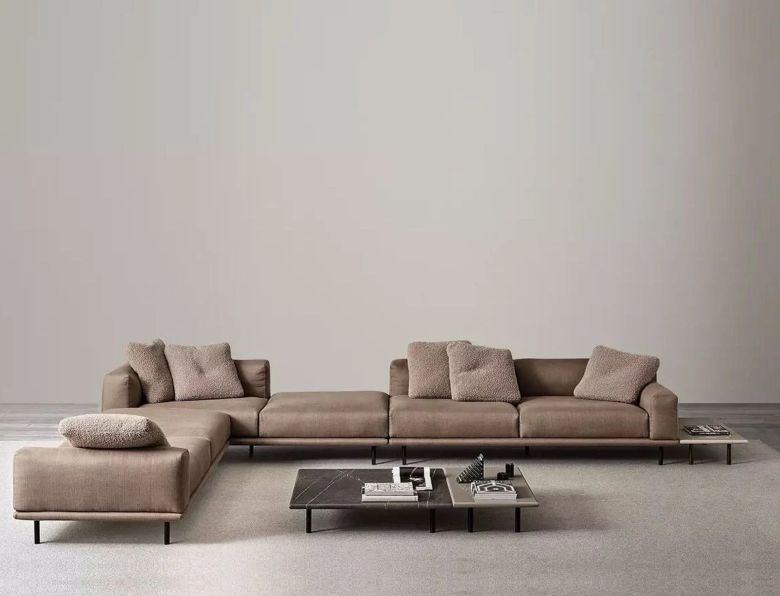 Thanks to its characteristic design and decorative capacity, an Sofa L form can give a very special look to any living room in any home.
While we often think of the sofa as the classic, usually imposing, linear-shaped piece of furniture, in recent years, in the case of both modern and more antiquated interior design, the angular solution is very much in fashion. The Sofa L form , whether small or extra-large, for families with many members or who are used to having many guests, is a versatile idea with great aesthetic impact.
What is more, besides being aesthetically interesting, this type of furniture is able to adapt to the most diverse contexts, and this is especially true when it is Made in Italy . Let us therefore get to know the Sofa L shape better, with this guide that talks about its characteristics and helps us choose it.
What are the advantages of an Sofa L form ?
Sofas L form are highly appreciated for their remarkable decorative capacity. In general, they are large models that can visually fill even the largest spaces in the home.
Moreover, thanks to their distinctive shape, they are able to add a touch of elegance and style to domestic spaces. With their unique shape, they can become focal points in the living room, giving the room a modern and even refined look.
The benefits of an Sofa L shape do not end with aesthetics and design. In fact, such a sofa is also very comfortable. In most cases, Sofas L form offer spacious and deep seating over their entire surface area, with the area that houses the peninsula or chaise longue becoming perfect for stretching the legs.
In particular, an Sofa L form is the ideal solution if one is looking for a furniture model that allows the owner to relax in total comfort. And this is indeed the case: the versatility of this furnishing solution allows one both to relax after a day's work and to spend time with family – or friends – in pleasant relaxation.
If you are considering the purchase of an Sofa L form , you must also consider the advantage of buying a modular model. In fact, instead of opting for a sofa with a fixed structure, when you choose a modular sofa you can change the arrangement of the different components of the furniture at any time. And this allows you to find the most suitable configuration, time after time.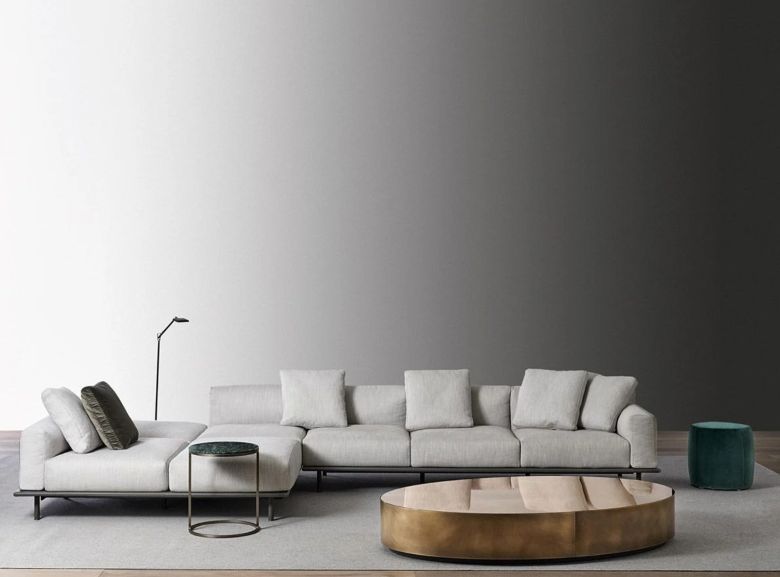 Why choose an Sofa L form and not two linear ones? It's a question of greater conviviality!
Since it became popular, the piece of furniture featured in this article has become a must, both in terms of comfort and conviviality and as a matter of design, since it proves to be the right choice for both large and small spaces. An original variant with great personality is the curved corner sofa, which stands out for its soft lines and deep seat.
Let us deal with this in detail. When we speak of an Sofa L form , we mean a piece of furniture that is developed in two 'parts' perpendicular to each other, in a single structure. What is the difference with envisaging, at an angle to each other, two linear sofas?
Certainly, a single solution brings a great lounge feeling, of confidence, of chatting, of shared time. It is therefore perfect for those who desire an intimate and cosy atmosphere, thanks to the fact that people will be facing each other and not side by side, thus favouring conversations between them.
How to furnish with an Sofa L form ?
Furnishing with Sofa L form offers many options and allows interior designers to transform the living room into an extremely cosy and elegant space.
One must bear in mind that this particular category of sofas generally has an imposing structure, which makes it the absolute star of the living room furniture. Depending on the size of the room and the interior design decisions made, one may therefore decide to place the sofa against the wall or detached from the walls, leaving sufficient space for people to pass through.
The most classic arrangement involves placing the Sofa L shape close to the wall at an angle. This solution helps the shape of the furniture stand out and makes the room look clean and tidy.
In large and spacious living rooms, one can consider placing the Sofa L form more or less in the centre of the room. This configuration allows better space management and invites more people to sit on the furniture, so that it is easier to converse between seated people.
If such a sofa is to be included in the furniture, the idea of a peninsula seat or chaise longue may be considered. Ideas to consider include choosing a special upholstery for this area of the sofa, and adding special cushions in contrasting colours.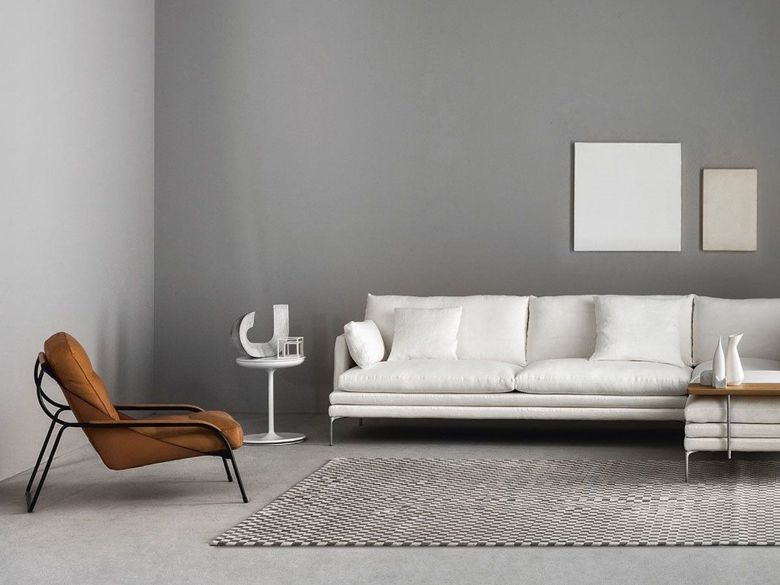 Our top tips on how to choose an Sofa L form
The search for the perfect Sofa L shape requires the analysis of several aspects, which are essentially linked to the interior design choices made in the home and the atmosphere you want to create in the home environment.
First of all, you have to consider what style you want to give the space. In this sense, you can opt for a sofa with a minimalist style, which is characterised by clean and simple lines and is therefore perfect for modern environments. Alternatively, you can decide to buy a sofa with luxurious details, such as metal feet or decorative stitching, which will certainly add a touch of elegance and will be perfect for creating a more refined ambience.
In addition to the style of the sofa, it is essential to consider the material the furniture is made of and upholstered in. High-quality models use a wooden frame and comfortable synthetic upholstery that is durable, comfortable and ergonomic.
As for the outer covering, one can consider leather sofas, which are elegant and comfortable, or fabric sofas, which are more sustainable and have a more modern look.
As far as colours are concerned, it is essential to take into account the surrounding décor and balance the nuances. Sofa L form in neutral colours, such as white, grey and beige, are versatile and suit many different furnishing styles. If you have chosen very neutral colours for the furniture, you can still take advantage of the Sofa L shape to add an accent of colour by opting for a piece of furniture with slightly stronger fabric or leather tones.
One last suggestion? As you have by now understood, the Sofa L shape is great for those who want seating for several people, or for those who want to be comfortable with plenty of space. This piece of furniture can be combined with armchairs, small armchairs or other linear solutions, but on its own it is an absolute star in the living room. A perfect complement to go with it? Choose a coffee table for your living room! Our advice is to position it in such a way that everyone can reach to place glasses, plates or other objects that need support on it.
Need to furnish your home or a single room?
Choose a top-notch woodworking shop.

We have over 50 years of experience!
Contact us!
Il Piccolo, a second generation family business, opens its showroom in Lugano. With over 50 years of experience, Il Piccolo brings with it a wealth of technical and design knowledge of the highest level, thanks to the many interiors designed and furnished around the world. In addition, Il Piccolo represents many of the best international luxury furniture brands. We design, manufacture and sell the best in design. Also with regard to La Cornue kitchens, we follow the customer from the design to the realisation of the project, integrating the whole process with a precise and professional service.CONTACT US