Il Piccolo Blog
Swivel armchair chair, a new trend for dynamic and total relaxation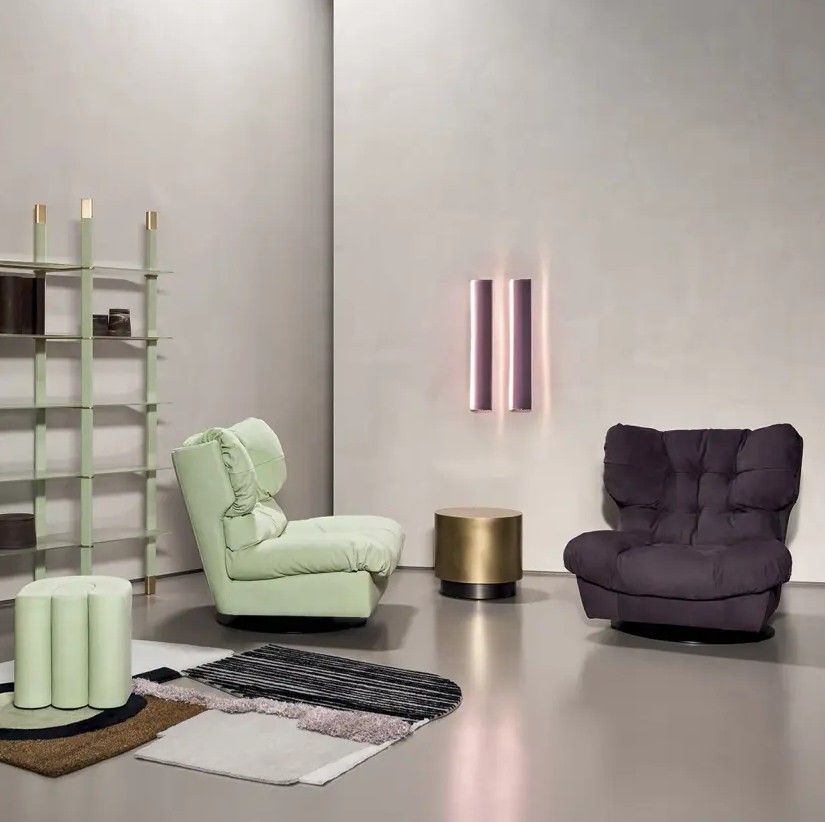 With swivel armchair chairs, a different way of furnishing the living room
If you want to furnish your living room in an original and slightly different way, without resorting to the classic sofa (although the various shapes and forms, starting with corner sofas, allow you to break away from tradition and make your living room unique) or to armchairs proper, or in addition to them for a varied and dynamic space, a good alternative is the swivel armchair chair.
It is one of the most popular pieces of furniture in interior design in recent times, thanks to its ability to combine comfort and design.
The advantages of a swivel chair
These are in fact the two essential prerogatives when it comes to sofas, chairs in general or armchairs. The swivel armchair chair for the living room is very comfortable and stylish, it also allows you to experience the space in a flexible and dynamic way, thanks to the rotation allowed, and moreover, because of the way it is shaped, it often takes up less space than a traditional, fixed armchair.
All kinds of systems can be adopted for greater comfort, and the range of choices in colours, shapes and materials is vast.
With a swivel armchair chair, the living room can be experienced flexibly
The swivel mechanism used to be especially popular for office chairs, but in recent years it is increasingly becoming a must for living room armchairs. Such armchairs allow the user to swivel on themselves, usually through the full 360 degrees allowed, thus allowing the person sitting there to be able to turn around, watching the television one moment, for example, and the next the person sitting on the other side of the room, without having to stand up or having to make movements with their neck.
As you can see, having a swivel armchair chair instead of the usual static one goes towards a modern, dynamic and multifunctional conception of the home, where in a single open space you have spaces for dining, others for conversation, others for relaxation and maybe even some for work.
The base is the secret of the swivel chair's lightness
The swivel armchair chair rests on a base with a central swivel foot, usually square, round or star-shaped. One might think that it is not guaranteed to be as stable as a fixed one, but this is not the case, precisely because of the shape of the base. On the contrary, it is transformed into something extremely light, both visually and practically, allowing it to be suitable even for small spaces.
Depending on the interior design with which the room is furnished, you can have base units that are low to the ground and wide, perfect for a classic environment, or others that are tall and functional, to be placed in a modern context, elaborate or simple.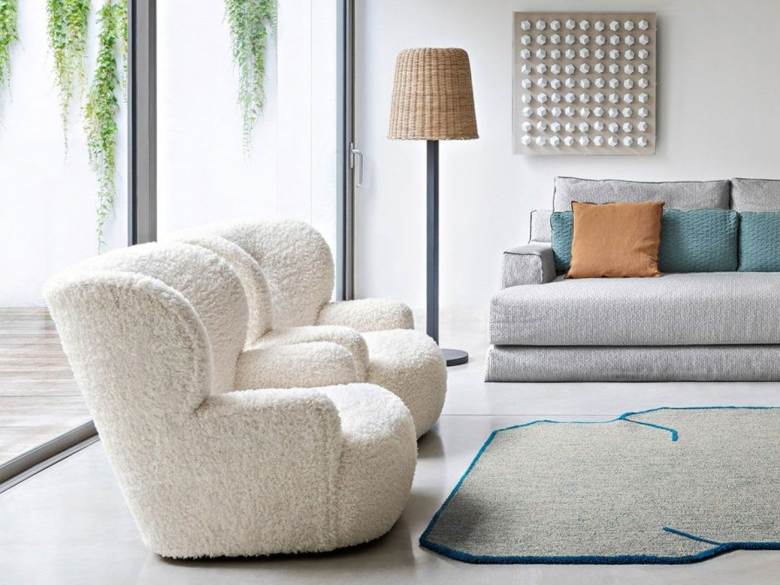 Materials and colours? Vast choice for swivel chairs
As far as shapes and materials are concerned, the same principles apply as when choosing a sofa or a fixed armchair, i.e. that they adapt to any type of furnishing, with more imposing and rounded shapes for an opulent and important living room, or more discreet and geometric shapes for a minimalist and contemporary living room.
As for the materials of the swivel armchair chair, they range from wooden structures, solid, resistant and perfect for transmitting domestic warmth, to more modern and light metal or steel, with ergonomic seats on which to remain comfortably for many hours.
Upholstery ranges from fabric, starting with linen and cotton, to leather, which is well suited to any context bringing elegance, to special solutions such as silk and damask, in all the colours you want, from sober to bright.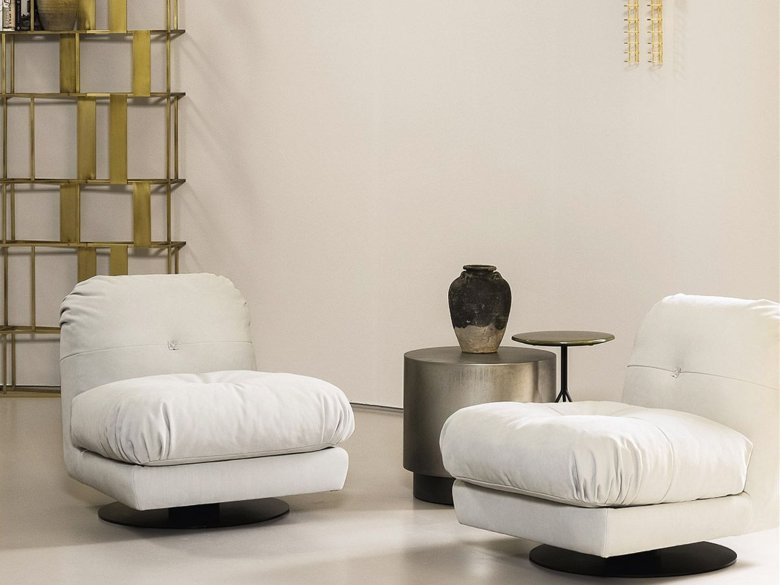 How to increase the comfort of the armchair, with relaxation and 'lift' mechanisms
A swivel armchair chair can have a high or low backrest, have armrests or not. There are models that recline both the backrest and the footrest, and some even use a mechanism known as 'lift', which tilts the armchair forward when you are standing up, allowing a near-vertical rise, excellent for those who find it difficult to get up.
Need to furnish your home or a single room?
Choose a top-notch woodworking shop.

We have over 50 years of experience!
Contact us!
Il Piccolo, a second generation family business, opens its showroom in Lugano. With over 50 years of experience, Il Piccolo brings with it a wealth of technical and design knowledge of the highest level, thanks to the many interiors designed and furnished around the world. In addition, Il Piccolo represents many of the best international luxury furniture brands. We design, manufacture and sell the best in design. Also with regard to La Cornue kitchens, we follow the customer from the design to the realisation of the project, integrating the whole process with a precise and professional service.CONTACT US