Il Piccolo Blog
Wardrobe cabinet: what is it? How to choose the best model for your interior design project?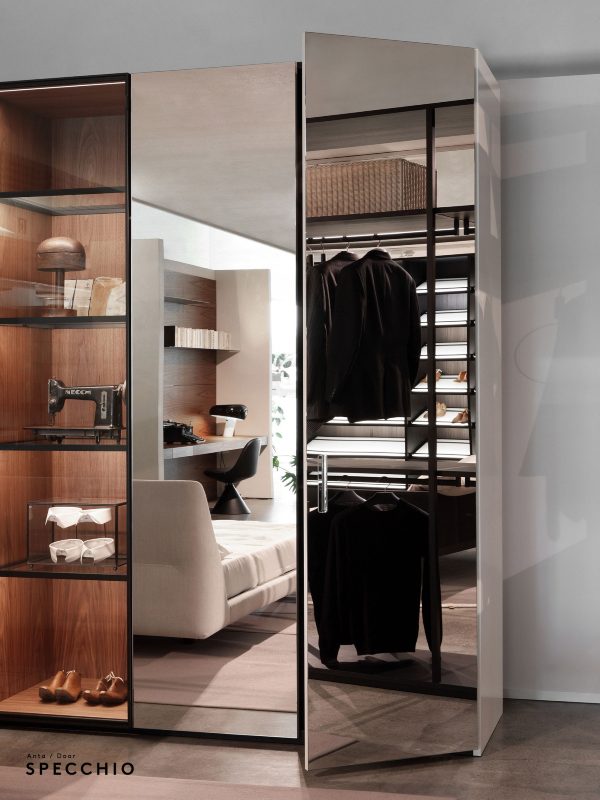 What is a wardrobe cabinet? And how do you choose the most suitable model for your furnishing needs? Let's say right away that this type of wardrobe is an exceptional option for those who wish to optimise space and organise their clothes efficiently.
How so? Wardrobes are very practical and equally versatile, and are advantageous in many contexts. Last but not least, they are able to adapt to many different furnishing styles.
What are all the advantages of a wardrobe cabinet?
The main advantage of wardrobes is the possibility to make the most of the available space in the home. In addition to the bedroom , in fact, these interesting and useful pieces of furniture can also be placed in other rooms of the house, which makes the locations more productive and well-organised.
Versatility is another strong point of a wardrobe cabinet. In addition to being able to use wardrobes that are available in a wide range of sizes, materials and styles, it is also possible to use made-to-measure solutions, so that the perfect model can be found for each room in the house.
With the help of an experienced interior designer, it is possible to customise all models and, consequently, find the solution that perfectly meets everyone's needs. For example, if you have spaces of a particular size, you can choose to order a made-to-measure wardrobe with a height that reaches up to the ceiling or with a greater depth than standard.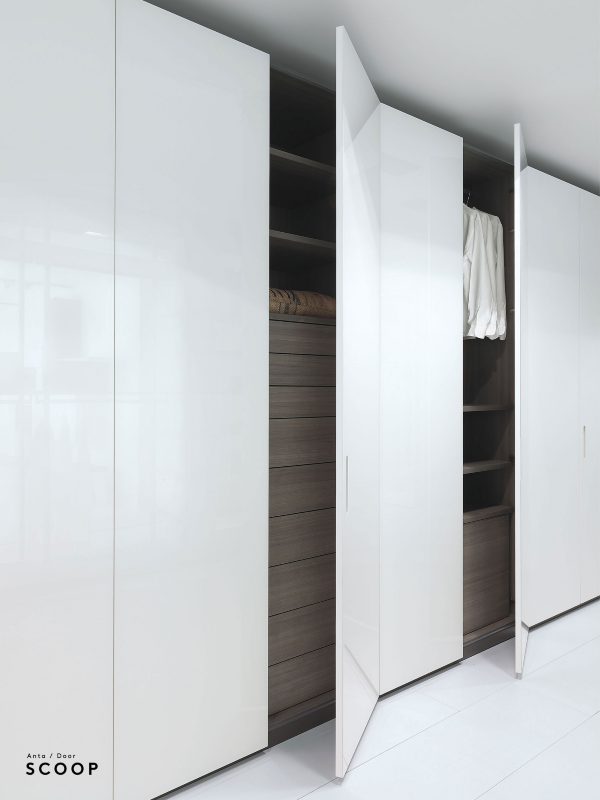 That's not all. The versatility of wardrobe cabinet is also expressed in terms of interior organisation. Thanks to the use of adjustable shelves, drawers and spaces in which to hang clothes, clothes can be organised conveniently and conveniently, avoiding the clutter of clothes scattered around the house and rationalising the management of the family wardrobe .
Since they are very versatile, convenient and flexible furniture solutions, wardrobe cabinet can truly adapt to the specific needs of each individual, but also to each category of home.
In which spaces in the home can wardrobes be placed?
As we stated earlier, wardrobes are extremely versatile pieces of furniture that can be placed in different spaces in the home. Depending on the room in which they are located, these pieces of furniture will respond to a particular need, while maintaining their functionality and aesthetic care.
Let us now take a few practical examples. One of the spaces in the home where it is most common to find a wardrobe cabinet is the entrance hall. Here, the main objective is to create an environment that is both cosy and functional. When placed at the entrance of the home, wardrobes can be designed with hangers for storing jackets and coats, to which shelves are added for storing shoes and drawers for accessories. This choice not only organises clothes efficiently, but also gives the space character, welcoming guests with a certain style.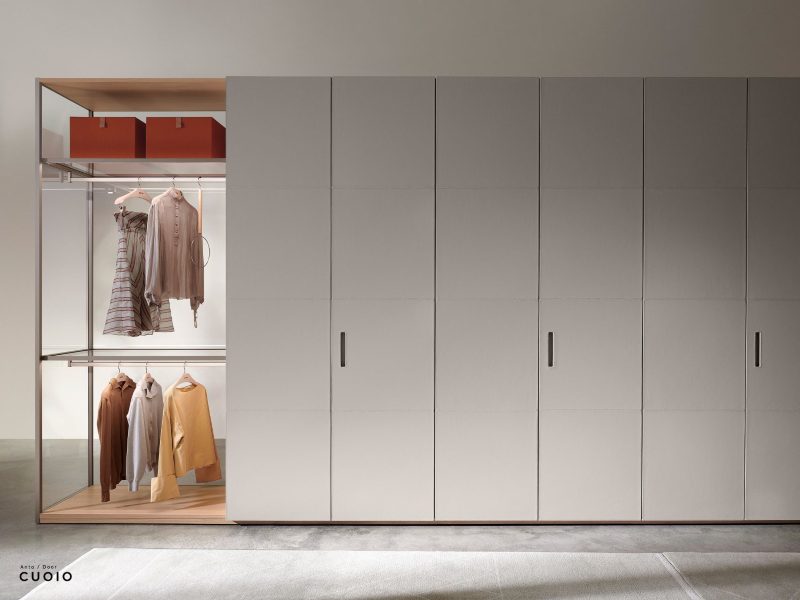 Wardrobes can also find space in hallways and under-floor compartments. In these spaces of the home, they prove to be a formidable solution, allowing you to make the most of the available space. Thanks to customised solutions, these often neglected spaces in the home can finally be transformed into functional and well-organised areas. Indeed, through careful planning, extremely functional areas can be created in which clothes, shoes and various objects can be neatly stored, thus helping to keep the home in perfect order.
Finally, the space in which the wardrobe cabinet simply cannot be missing is the bedroom. If in the wardrobes in the entrance hall the focus is above all on cosiness and for those in the corridors it is on practicality, in the bedroom the main objective is to find the perfect balance between the need to keep one's clothes tidy and the need to create a space with a distinctive style.
Wardrobes intended to complete the bedroom furniture can easily be customised. How? By resorting to modular or made-to-measure solutions.
What styles can be chosen for wardrobes?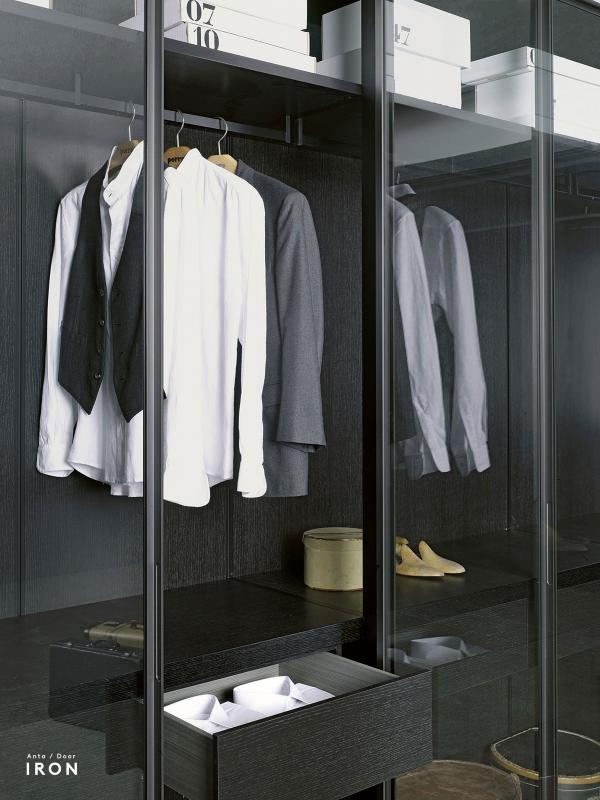 When it comes to choosing a style for a wardrobe cabinet, there are many options to consider. Some of the most interesting options to consider include:
– minimal wardrobes. These are the best choice for homes furnished in a modern style. These wardrobes have clean, simple lines, and contribute to giving the home an uncluttered and essential look. Nordic wardrobes, for example, fall into this category. They are made of wood in natural colours and have an essential structure;
– modern-style wardrobes. This type of furniture is perfect when there is a need to create a functional and organised space, and when the priority is on organisation and tidiness. Available in a wide range of materials and finishes, they adapt to the most diverse contexts;
– classic style wardrobes. Those who prefer to give their home an elegant and traditional look can opt for a wardrobe cabinet in a traditional style. Characterised by the use of high-quality materials, sophisticated decorative details and a warm, refined look, this type of furniture adds a touch of class to any bedroom.
Need to furnish your home or a single room?
Choose a top-notch woodworking shop.

We have over 50 years of experience!
Contact us!
Il Piccolo, a second generation family business, opens its showroom in Lugano. With over 50 years of experience, Il Piccolo brings with it a wealth of technical and design knowledge of the highest level, thanks to the many interiors designed and furnished around the world. In addition, Il Piccolo represents many of the best international luxury furniture brands. We design, manufacture and sell the best in design. Also with regard to La Cornue kitchens, we follow the customer from the design to the realisation of the project, integrating the whole process with a precise and professional service.CONTACT US