Il Piccolo Blog
Wardrobe hall: what are the different options for its placement?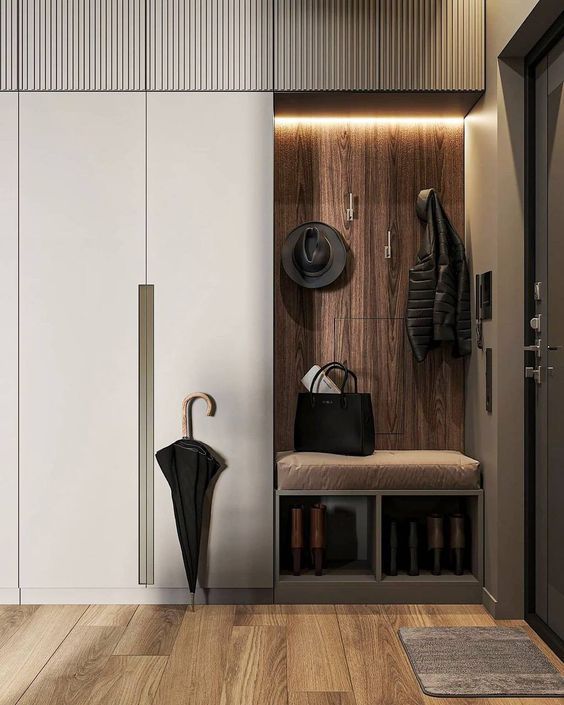 Placing an wardrobe hall must meet needs that are both practical and functional. What are these needs? Let us think, for example, of having a space in which to store coats and bags to use when leaving the house. However, there are also aesthetic needs to be met, because a piece of furniture in that location in the home allows a space that is not always so easy to decorate to be furnished in a graceful way.
In short: when it comes to choosing what kind of wardrobe hall to buy, there are numerous considerations to be made. And they all have to do with both the space available and the structure of the cabinet itself.
What type of wardrobe hall to choose?
In order to choose the right wardrobe hall, it is important to carefully analyse the space available and understand what functionality you need. There are several possibilities to choose from, and it is useful to take them all into consideration so that you know which one is right for your home:
· Hinged door wardrobes
Hinged door wardrobes are the most classic choice of all. They can fit into any kind of space and can be more or less spacious, depending on how many items you need to store. This solution is especially ideal for spacious entrances and open-plan areas, because there is enough space to open the doors and store objects inside without obstructing the passage of people.
· Sliding door wardrobes
In shallow entrances, wardrobes with sliding doors are the most suitable solution. In this case, the cabinet space is reduced, but you do not have to give up having a spacious and functional wardrobe in which to store coats, overcoats, bags, umbrellas and so on.
· Wardrobes with shoe rack
Another interesting option to consider are wardrobes with a shoe rack. This solution is ideal especially for those who want their entrance hall to be functional and well organised.
Cabinets with mirrors are a versatile and functional solution. They are suitable for all types of hallways and are particularly suitable for increasing the brightness of dark, cramped spaces. As well as providing a good amount of storage space, these solutions also offer the opportunity to check one's appearance before leaving, something not to be underestimated.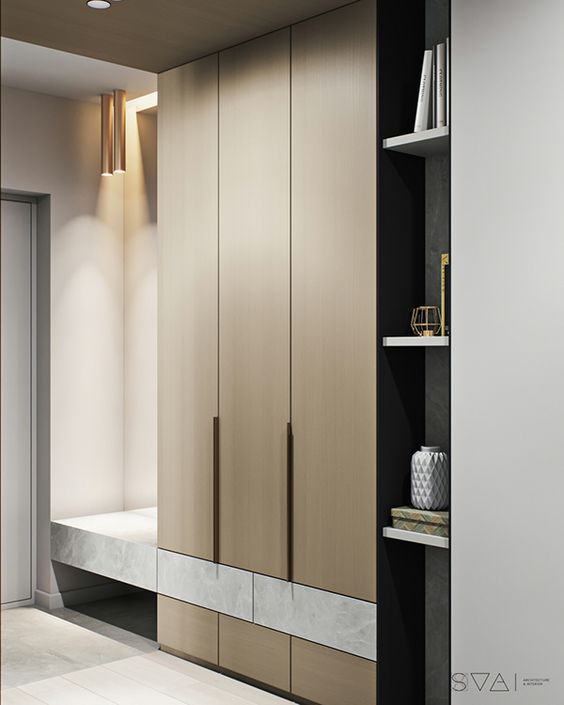 What needs to be considered when deciding to buy a wardrobe hall?
As mentioned, there are several considerations to be made when choosing a wardrobe hall. These considerations go beyond choosing the most suitable type of wardrobe.
The available space is the first aspect to be carefully evaluated. In fact, measuring the area that will be occupied by the cupboard gives you a precise idea of the maximum dimensions the cupboard will be able to have.
Defining the desired dimensions for the cabinet helps to get a rough idea of how the entrance will look once the furniture is complete. To find the ideal model, you need to consider the height, width and depth of the cabinet, based on the space available and the type and quantity of objects to be stored inside. In particular, when defining the dimensions of the wardrobe, it is necessary to take into account that it is not necessary to fill all the available space but that, on the contrary, if you fit too large a wardrobe you risk creating a suffocating effect.
In addition to the size of the space, it is also important to check its brightness. To give an example, a dark entrance hall can be made more welcoming by designing a good lighting system, which will be supported by the use of wardrobes in light colours and with mirrored doors. On the other hand, in a brightly lit hallway there is more freedom of action, since dark, saturated coloured wardrobes or wardrobes without external mirrors can also be used.
Which style to choose for the wardrobe hall?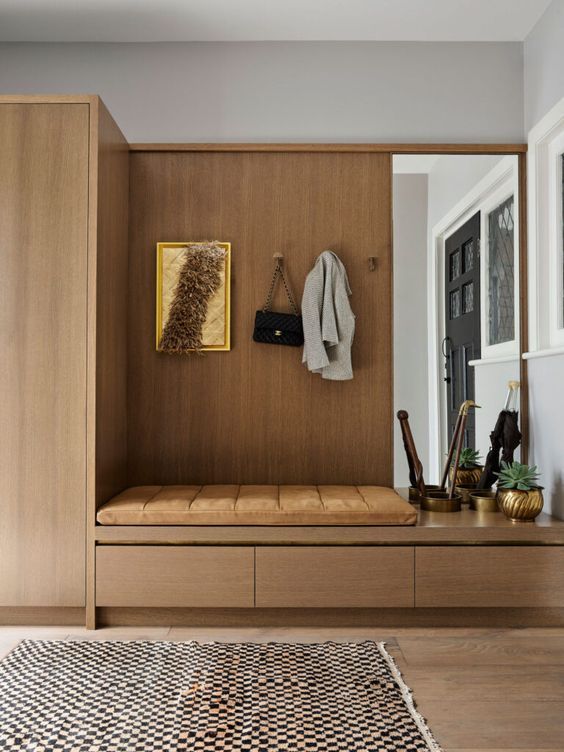 The wardrobe hall is the furniture element that most characterises this space and, consequently, choosing the right style for this piece of furniture can make all the difference. Since the entrance is a kind of calling card of the home, the style of the cupboard should reflect and anticipate in some way the general décor of the home.
In traditionally furnished homes, the most natural solution for the entrance is a wooden cupboard in a natural colour. A solid wood cabinet, perhaps with carved or moulded details, will give a traditional and warm touch to the entrance and accompany guests to discover the rest of the house.
Those who have chosen to furnish their homes with furniture with modern lines, on the other hand, can opt for cabinets in light colours such as white, grey or beige. Choosing a model with a few metal details, such as handles and hinges, emphasises the contemporary character of the furniture and helps to create a clean, minimalist look.
Designer or custom-made wardrobes are the best solution for those who want a truly unique and original entrance. Both of these options allow you to customise both the appearance and the structure of the wardrobe hall to suit your personal taste and needs.
Need to furnish your home or a single room?
Choose a top-notch woodworking shop.

We have over 50 years of experience!
Contact us!
Il Piccolo, a second generation family business, opens its showroom in Lugano. With over 50 years of experience, Il Piccolo brings with it a wealth of technical and design knowledge of the highest level, thanks to the many interiors designed and furnished around the world. In addition, Il Piccolo represents many of the best international luxury furniture brands. We design, manufacture and sell the best in design. Also with regard to La Cornue kitchens, we follow the customer from the design to the realisation of the project, integrating the whole process with a precise and professional service.CONTACT US