Il Piccolo Blog
Bathroom design modern: where to start? What are the best tips?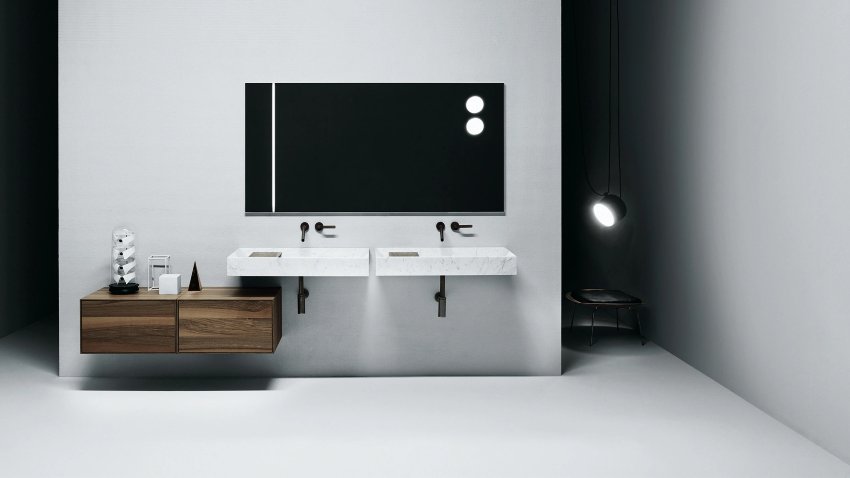 There are many key aspects to consider when bathroom design modern. For the result to be functional and well-balanced, it is necessary to plan carefully and have a clear vision of the finished project.
This post from Il Piccolo is a real step-by-step guide to modern bathroom design that will accompany you in making all the best choices, so that you leave nothing to chance and do not make any big mistakes. Let's start right away with the tips!
What to evaluate when bathroom design modern?
The first thing to evaluate when bathroom design modern is the size of the room. If you have limited space, you need to find creative solutions to make appropriate use of every available space. If, on the other hand, you are fortunate enough to have a spacious and airy room, you should organise the space by minimising the presence of superfluous furniture elements and, at the same time, favouring the use of compact, wall-hung furniture.
In a modern bathroom, functionality goes hand in hand with aesthetics. During the design phase, one should carefully consider how the location will be used on a daily basis by those living in the house. If you are designing a bathroom that will be used by a large family, for example, you will need to consider the needs of all members. In this case, it becomes essential to provide enough storage space to organise towels, body care products and cosmetics for the whole family.
Style and colours are also crucial when bathroom design modern. In this sense, it is advisable to opt for a neutral and tendentially light colour palette, such as white, grey or beige. To give the space some personality, you can add accents by means of bolder shades, which will dress up the furniture elements or accessories. Always keep in mind that essentiality and minimalism are hallmarks of modern bathrooms, so keep the lines clean and simple.
What elements should never be missing when bathroom design modern?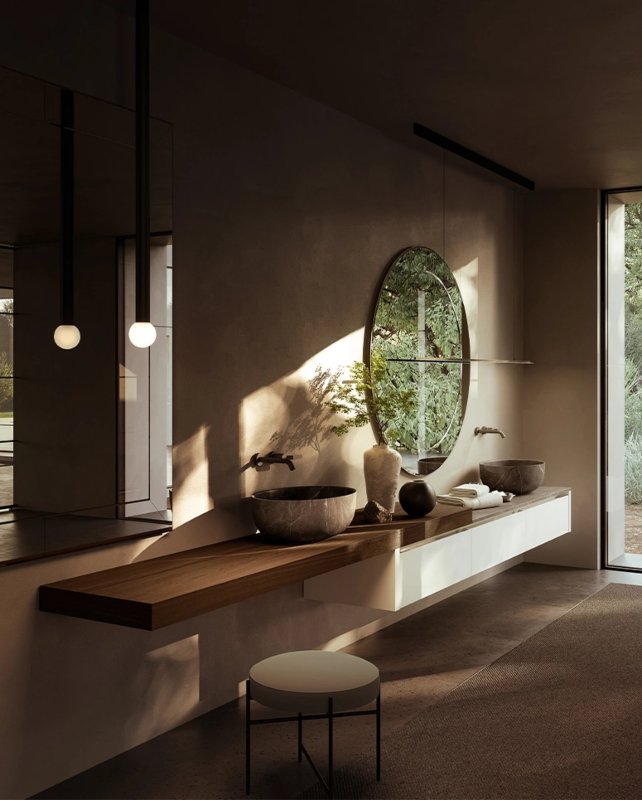 One of the most distinctive aspects of a modern bathroom is the use of wall-hung or flush toilets. Installing this type of toilet and bidet makes cleaning much easier and allows for a more hygienic and safe bathroom. In addition, these options give a clean and spacious look to the room, contributing to the sense of minimalism that is typical of more contemporary designer bathrooms.
Other elements that characterise modern bathrooms include floor-level shower cubicles and walk-in showers. In both cases, when designing, one chooses to eliminate the traditional raised edge of the shower cubicle, opting for a tray that provides continuity between the floor and the shower area. This solution not only gives the room an elegant look, but is also safer and easier to clean.
Although it often takes a back seat, lighting is actually crucial in creating the right atmosphere when bathroom design modern. The best way to ensure a good amount of light and minimal energy consumption is to use LED spotlights and bulbs. You can use these lights for general lighting in the room, add spotlights at specific points in the bathroom or integrate them into mirrors or under furniture to create a relaxing ambient light.
It doesn't end there. For an aesthetically elegant and pleasing result, the choice of sanitary ware and wall covering materials to be installed in the bathroom plays a key role. Since the ultimate goal is to create an essential and practical space, it is preferable to go for materials such as ceramic, natural stone, stainless steel and glass.
Some ideas and hints for designing a modern style bathroom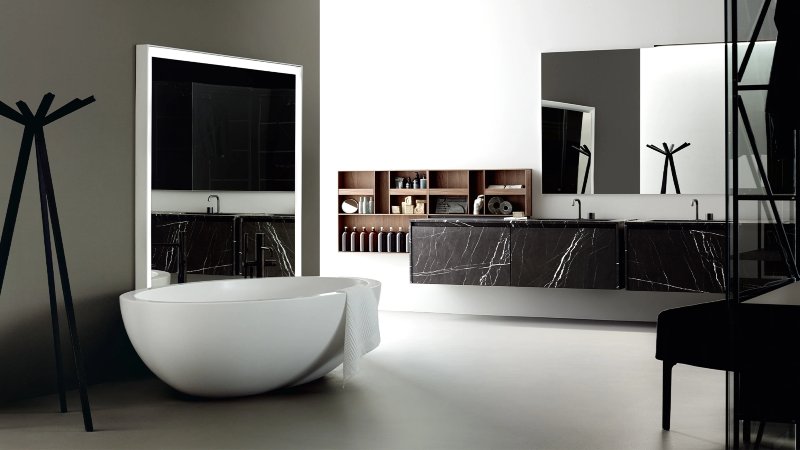 We have already mentioned that simplicity and balance are the principles to refer to when bathroom design modern. Just by reducing superfluous decorative elements to a minimum and choosing sanitary fittings and accessories with clean lines a good result can be achieved.
As far as furniture and accessories are concerned, models with a simple and elegant design are also to be preferred. To make the bathroom more functional, a wall-mounted under-basin unit can be added. Equipped with doors or drawers without handles, it fits in perfectly with this style and offers plenty of space to organise the products used by the whole family.
Another tip? If you want to lighten the atmosphere of the room, it can be useful to insert glass elements. These range from the classic panels used to insulate the shower cubicle to shelves and counter tops also made of glass, offered in glossy, satin or matt versions.
Sometimes, modern bathrooms can appear a little cold. Those who do not want to run this risk and wish to warm up the atmosphere without having to overturn the furnishing choices made can simply add a few decorations or accessories. In this sense, when it comes to bathroom design modern, even natural wood elements and a few plants are enough to give colour and warmth to the space.
Need to furnish your home or a single room?
Choose a top-notch woodworking shop.

We have over 50 years of experience!
Contact us!
Il Piccolo, a second generation family business, opens its showroom in Lugano. With over 50 years of experience, Il Piccolo brings with it a wealth of technical and design knowledge of the highest level, thanks to the many interiors designed and furnished around the world. In addition, Il Piccolo represents many of the best international luxury furniture brands. We design, manufacture and sell the best in design. Also with regard to La Cornue kitchens, we follow the customer from the design to the realisation of the project, integrating the whole process with a precise and professional service.CONTACT US