Il Piccolo Blog
Tips for entrance decoration for home: simple and functional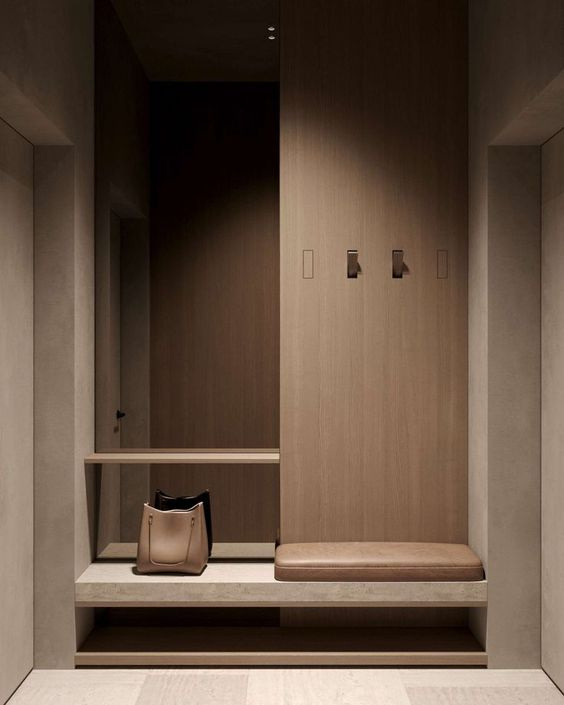 Why the entrance is important
More and more attention is being paid over the years to the effect created by the interior design of one's home. This is why interior designers are increasingly being called in with contract projects. Since nothing is really overlooked, even how to furnish the entrance of the home becomes a point to focus on.
The entrance is in fact a potentially anonymous part of the flat, because people do not usually stop there, they only pass through it on their way to other rooms. At the same time, it is true that it is a kind of business card, the first impression that guests will have, so it is necessary to take care of it in the same way as other spaces.
Beware of clutter when choosing how to entrance decoration for home
When deciding how to entrance decoration for home, you cannot overlook the fact that in addition to aesthetics you need to look at functionality. In fact, usually when one enters one's own home or a guest's home, the first gesture one makes is to take off one's jacket and put it away, together with one's keys, bags and wallet. There must therefore be one or more pieces of furniture where they can be placed or stored, so that they can be easily found when you leave. And the same must apply to shoes: there is nothing that gives an impression of disorder more than finding pairs of shoes casually left in the entrance, perhaps even dirty with dirt!
The first piece of furniture to choose for your entrance is a wardrobe, which could also include a shoe rack. What is important is that there is space to hang jackets, then for the rest you can try to fit as many things in there as possible that cannot find space elsewhere. Space-saving solutions such as corner cupboards are therefore welcome. Be careful, however, to take into account the size of the entrance itself, because too bulky wardrobes and furniture give a sense of oppression, which is not good for a business card!
If you prefer, for jackets you can add a coat rack or hang coat hangers on the wall. Don't improvise, however: there are also many versions of these on the market and they should be taken to match the style of the entrance and the whole house.
The style of the entrance hall follows the style of the house
For storing small objects such as mobile phones and wallets, a low console or shelf is recommended when deciding how to entrance decoration for home. A notepad with a pen, for example, can also be left here (back in the day, one would have said it was the right space for a landline phone…).
The entrance hall is an integral part of the house, so it should be furnished according to the style of the house. If the flat is modern and minimalist, the area where one enters must also be so, the discourse is similar if we are talking about a classic environment. It is best to choose the material of the furniture as a consequence of the material most commonly used in the home. Cabinets can be made of wood or metal, and the colours should also follow the trend of the rest of the flat.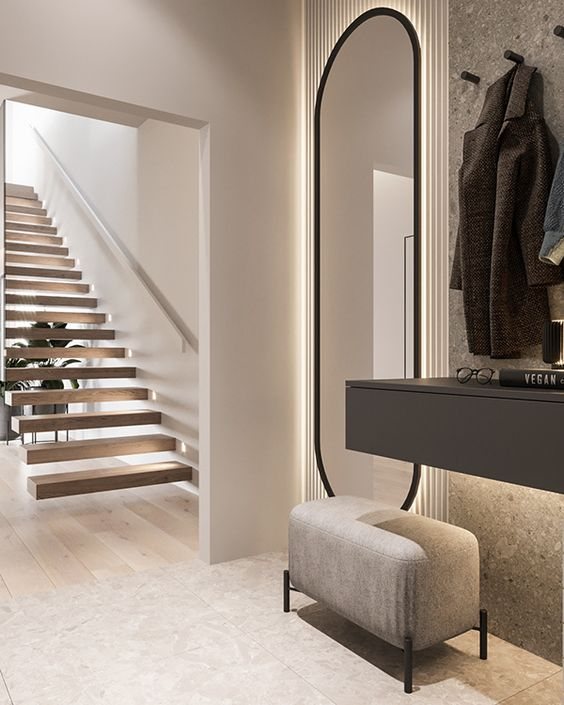 Place a mirror, perfect for giving depth
A furnishing accessory to consider when choosing how to entrance decoration for home is a mirror. Let simplicity prevail. If there is space, full-wall mirrors are perfect to give a feeling of greater depth to the room, especially if it is small. For those who love art and have the possibility, a sculpture or artistic object gives personality to the entrance.
How to entrance decoration for home with lights
A detail not to be underestimated is the lighting. If there is natural lighting, from a window, it is better, but otherwise the simplest and most effective solution is to opt for lighting from above, with spotlights or LEDs. A chandelier is a very elegant and refined solution but it is fine if the entrance is very large and high. You can play with a lighting system that cannot be seen, with LED strips hidden behind cupboards and furniture. But the entrance does not have to be dark!
Need to furnish your home or a single room?
Choose a top-notch woodworking shop.

We have over 50 years of experience!
Contact Us
Il Piccolo, a second generation family-run joinery, opens its own showroom in Lugano. With over 50 years of experience, Il Piccolo brings with it a wealth of technical and design knowledge of the highest level, thanks to the numerous interiors designed and furnished all over the world. In particular, Il Piccolo has a wealth of experience in the design and production of several corner wardrobe models. Finally, Il Piccolo represents the world's most prestigious furniture brands.
Our company designs, manufactures and sells the best of made-in-Italy interior design, following the customer from the design to the realisation, delivery and installation of the work, supplementing the process with a precise and professional assistance service. Looking for the ideal corner wardrobe for your room? CONTACT