Il Piccolo Blog
Furnishing studios functional and complete  is possible, here's how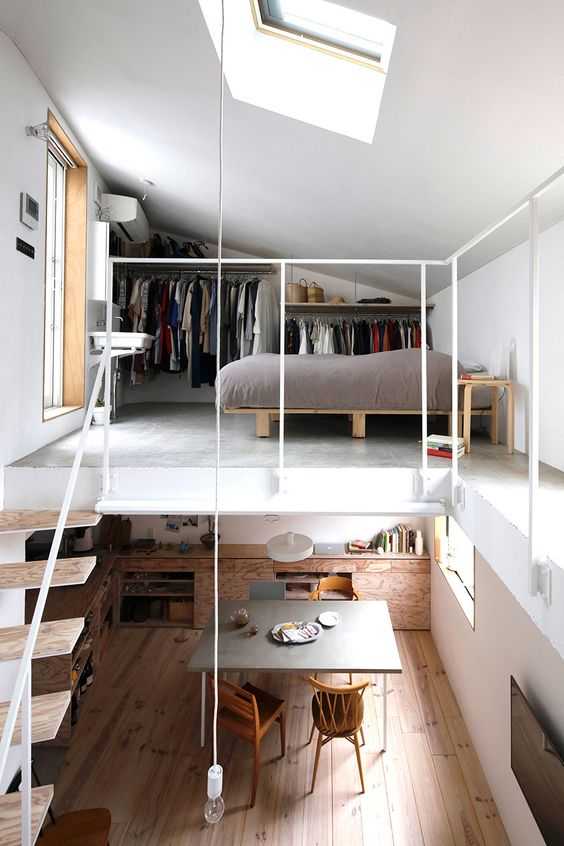 The challenges of furnishing a studio apartment
A studio flat is by definition a flat consisting of a single room that is used to perform all the functions that are normally divided between various spaces: living room, kitchen, dining room, bedroom, study. It is also usually characterised by its small size. Managing to make the most of the little space available to have everything you want makes furnishing studios an interesting and stimulating challenge for interior designers: it is possible, with the right shrewdness, to create authentic jewels of design and practicality.
To furnish studio apartments focus on needs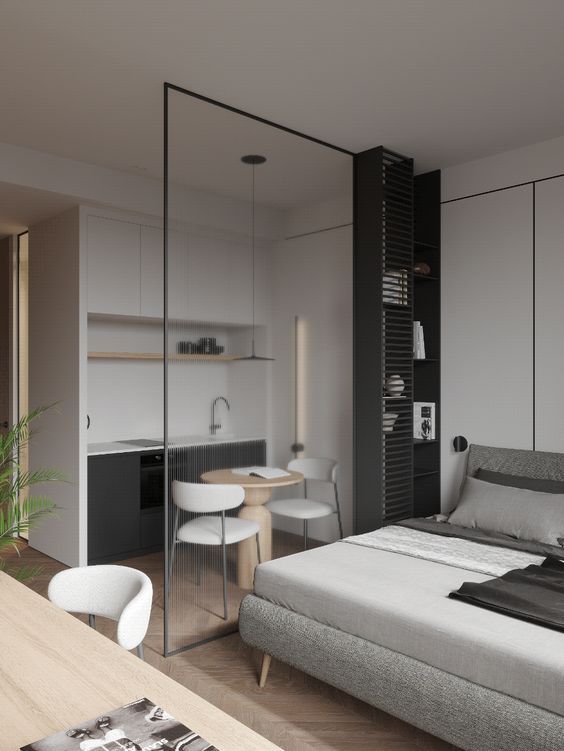 When dealing with small spaces, you often have to surrender to the fact that you will not be able to have whatever furniture comes to mind but that you will have to make a selection. It will have to be made on the basis of one's own needs. Each person must understand what they really need, which area of the house they consider most important and which they want to devote most attention to, choosing to sacrifice something else. But there are plenty of space-saving solutions that help you make the most of your studio apartment, making it functional and complete with everything, such as foldaway furniture that transforms.
Compact mini kitchens are designed for studio apartments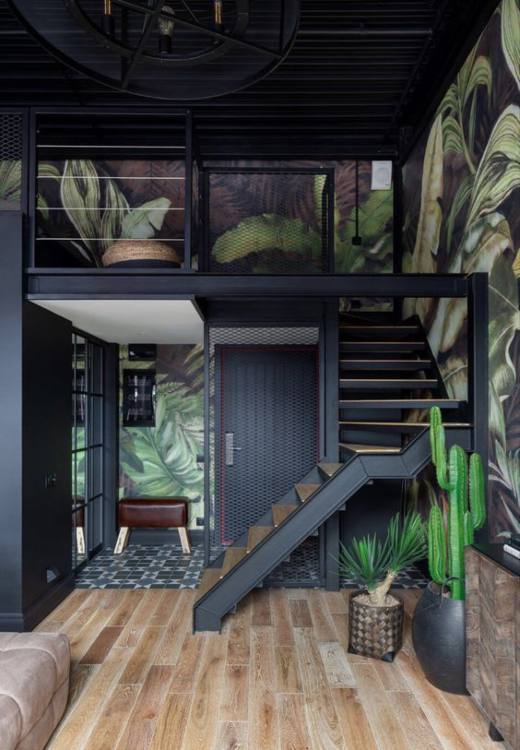 For example, as far as kitchens for furnishing studios are concerned, mini kitchens are perfect. They are organised to occupy very little space and develop as vertically as possible. They are built around the main elements that cannot be missing, from the refrigerator to the sink to the hob, which in many cases will have to be limited to a couple of plates. To store utensils and food in compact kitchens, cupboards will be set up, inside which one can play with swivelling and concealed elements to try to have more available space. A table or counter island will be used. The kitchen island is a way to make space dynamic, useful when space is limited.
How to divide up areas in a studio apartment
Some people do not like having a single space that encompasses all the functions of the home and prefer to have one room for eating, one for sleeping and one for studying. When it comes to furnishing studios, you can however, if you wish, divide the various spaces by means of partitions, made of various materials. Double-sided furniture is an excellent technique for separating areas of the studio apartment and making the most of the space: there are double-sided wardrobes and bookcases that subdivide the space in a dynamic and creative way and allow you to store clothes, books and accessories. Be careful not to overdo it to avoid creating a suffocating environment.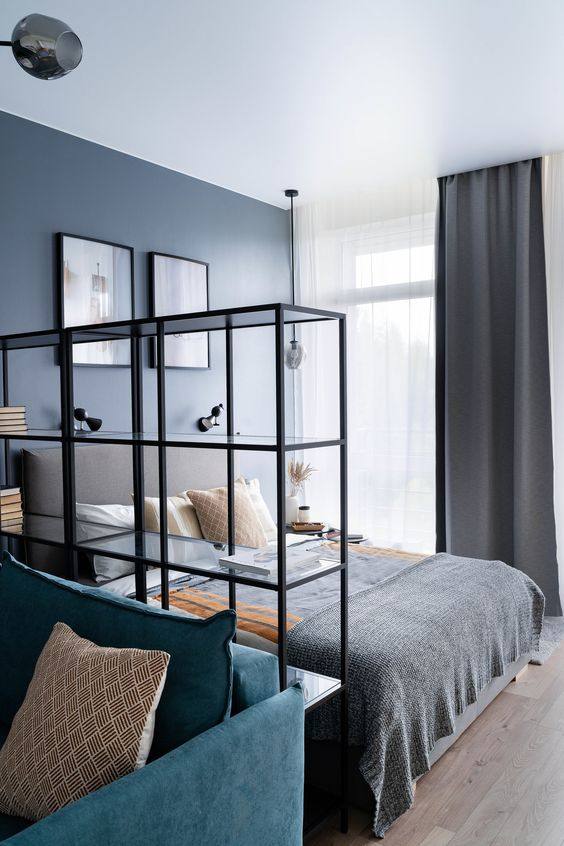 Other space-saving solutions for the studio apartment
You always need space for clothes. In a studio apartment you are unlikely to find space for a large wardrobe, you can remedy this with a storage unit under the bed. And if the square footage is so small that you have to choose between a bed and a sofa, when furnishing studios it is useful to think of a really comfortable extendable sofa, which during the day serves as a sofa and then at night turns into a sofa bed where you can sleep.
A solution that is well suited when furnishing studios are mezzanines, which create additional space for sleeping areas or to make room for wardrobes and cupboards. Obviously, the ceiling must be high enough to allow this. In any case, when the square footage is small, made-to-measure furniture is recommended, as it will not waste an inch. When the room is modern, wall-hung furniture can be a winning idea that still saves space.
Ideal colours for furnishing studios
Soft colours, from white to pastel shades, are more suitable for a studio apartment than dark colours. The former will make it seem more airy, the latter smaller and almost suffocating. Care should also be taken to ensure good general lighting, using both natural and artificial light.
Need to furnish your home or a single room?
Choose a top-notch woodworking shop.

We have over 50 years of experience!
Contact us!
Il Piccolo, a second generation family business, opens its showroom in Lugano. With over 50 years of experience, Il Piccolo brings with it a wealth of technical and design knowledge of the highest level, thanks to the many interiors designed and furnished around the world. In addition, Il Piccolo represents many of the best international luxury furniture brands. We design, manufacture and sell the best in design. Also with regard to La Cornue kitchens, we follow the customer from the design to the realisation of the project, integrating the whole process with a precise and professional service.CONTACT US