Il Piccolo Blog
Kitchen cupboard: how to make the best choice for your needs?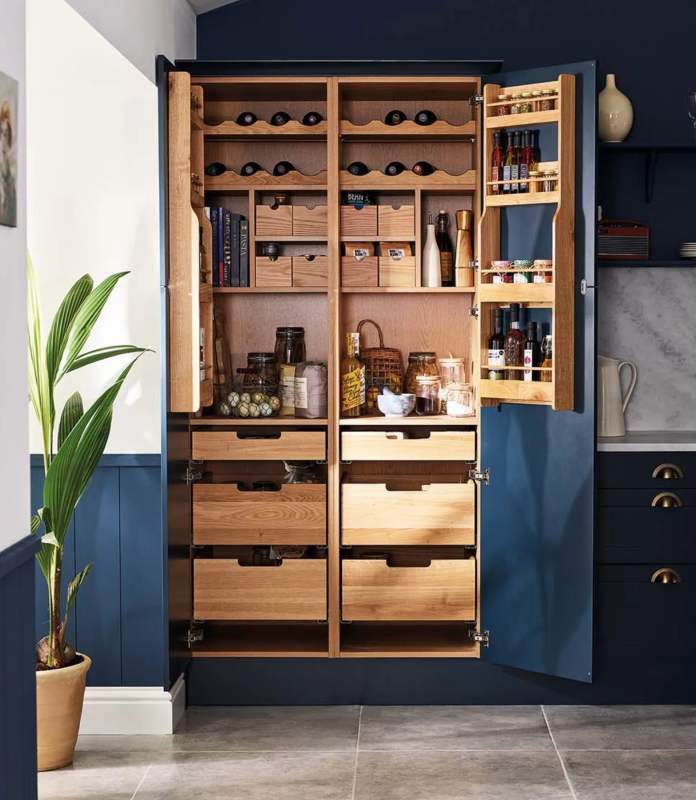 The kitchen cupboard is a central element of the room and can characterise the room in a truly unique way.
From this point of view, the choices offered by interior design are numerous and all allow you to obtain a unique result that is capable of combining functionality and style.
What are the requirements that the kitchen cupboard must meet?
In order to be able to correctly choose what look to give the kitchen cupboard, it is necessary to start by considering what needs to be fulfilled.
Firstly, it is necessary to ask how much space is needed. A person living alone will probably need to store less food and fewer utensils than a large family, and this must be taken into account when designing the kitchen. On the other hand, a person who is passionate about cooking and baking will probably need a larder cupboard, while someone who usually relies on ready meals bought from the supermarket will find it sufficient to turn a kitchen cupboard into a larder.
In addition to understanding what use is made of the kitchen, it is also useful to focus on what look you want to give the room. If you want a bare, essential-looking room, you can think of a kitchen without wall units and allocate drawers or cabinets resting on the floor as a pantry. If the kitchen design revolves around a central island , on the other hand, you can design the larder integrated into the island or in its immediate vicinity.
For optimal organisation, it is also important to consider what kind of products you intend to store in the larder. Those who use a lot of spices or packaged foods will find it useful to have a larder with height-adjustable shelves, for example, while those who need to store pots, pans and utensils will need a larder with drawers and storage compartments of different sizes.
What type of Kitchen cupboard to choose according to the style of the kitchen?
The look of the kitchen larder is inextricably linked to that of the kitchen. The style chosen for this room has a profound influence not only on the aesthetics of the larder unit, but also on its position and functionality.
In kitchens inspired by the classic style, it is common to find a larder unit made of wood, either integrated within the kitchen structure or housed in an independent cabinet. Pantries of this type are often made of inlaid wood and can also be embellished with glass doors.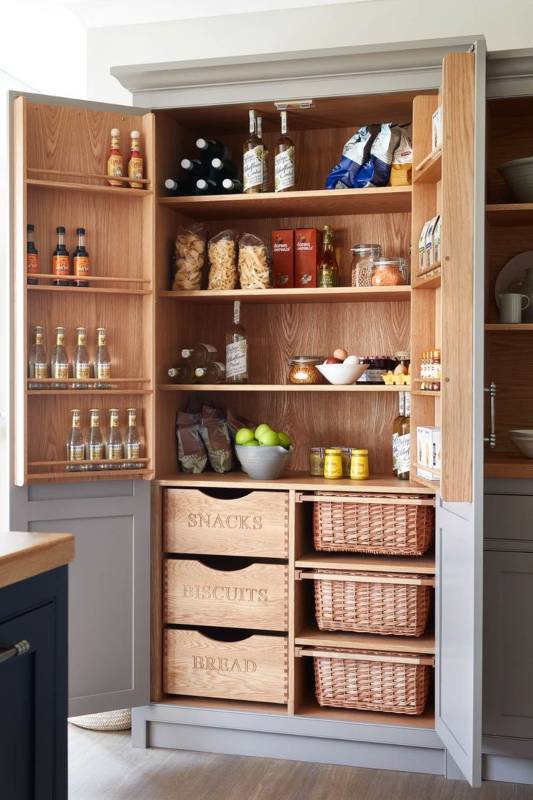 In a modern kitchen , pantries are characterised by more essential lines and the use of contemporary materials. In terms of design, too, we move away from tradition and look for the solution that makes best use of the available space. Depending on how the kitchen is structured, for example, you could opt for a built-in concealed larder unit or a larder unit integrated into the island.
If you want to create a design kitchen with a bold and innovative style, a surprising choice could be an open pantry with visible shelves. This option offers the opportunity to uniquely enhance the ingredients used in the kitchen and emphasise the artistic appearance of spice pots, designer crockery and exotic ingredients. These elements, from simple items used in the kitchen and often hidden from view, become a major decorative element. Another option to consider for an original and futuristic décor is a kitchen cupboard equipped with sliding glass or metal doors.
What are the different options to consider when choosing a kitchen cupboard?
When choosing a kitchen cupboard, there are several options to consider carefully so as to ensure a functional and harmonious ambience at all times. With regard to materials, solid wood is a classic choice that lends warmth and rustic charm to the kitchen, while metal is ideal for a modern, industrial style.
The colours of the pantry should harmonise with the overall ambience. For small or dimly lit kitchens, it is preferable to opt for light, neutral colours to visually expand the space. For a bolder style, on the other hand, it is advisable to choose bright colours or dark tones, to be balanced carefully to avoid weighing down the room.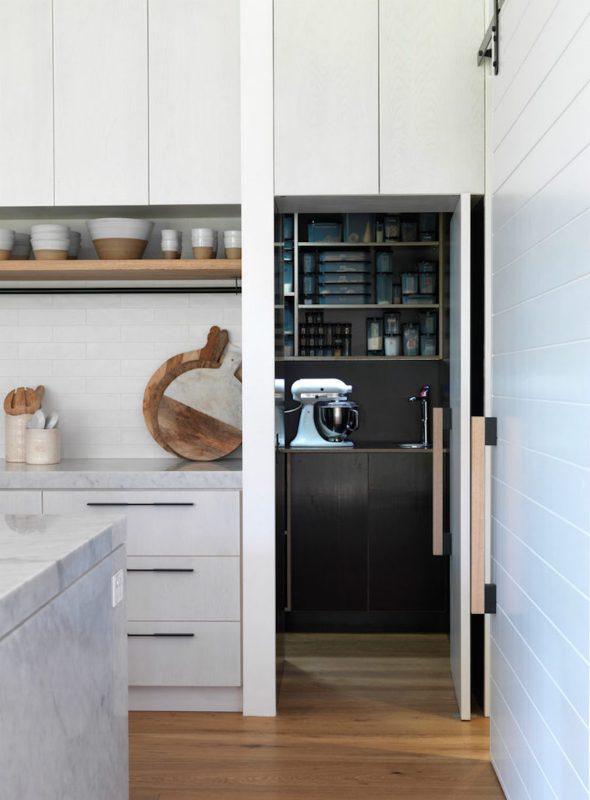 Pantry units are a very practical modern furnishing solution. Thanks to their height, they make maximum use of the vertical space in the kitchen, allowing a large quantity of products to be stored. They can be completed with retractable or sliding doors and integrate perfectly with various types of furniture styles.
Another option to consider carefully are modular pantries. This solution is especially successful when flexible furniture is required. Specifically, the larder unit can be enriched with various elements. We refer, for example, to drawers, baskets and adjustable shelves, so that you can create the customised configuration that best suits your needs. After all, this versatility allows you to organise the space in the best possible way, adapting it to the size of all the various objects to be stored.
Need to furnish your home or a single room?
Choose a top-notch woodworking shop.

We have over 50 years of experience!
Contact us!
Il Piccolo, a second generation family business, opens its showroom in Lugano. With over 50 years of experience, Il Piccolo brings with it a wealth of technical and design knowledge of the highest level, thanks to the many interiors designed and furnished around the world. In addition, Il Piccolo represents many of the best international luxury furniture brands. We design, manufacture and sell the best in design. Also with regard to La Cornue kitchens, we follow the customer from the design to the realisation of the project, integrating the whole process with a precise and professional service.CONTACT US