Il Piccolo Blog
Kitchen without cabinets: what does it look like? How to choose the right model for your needs?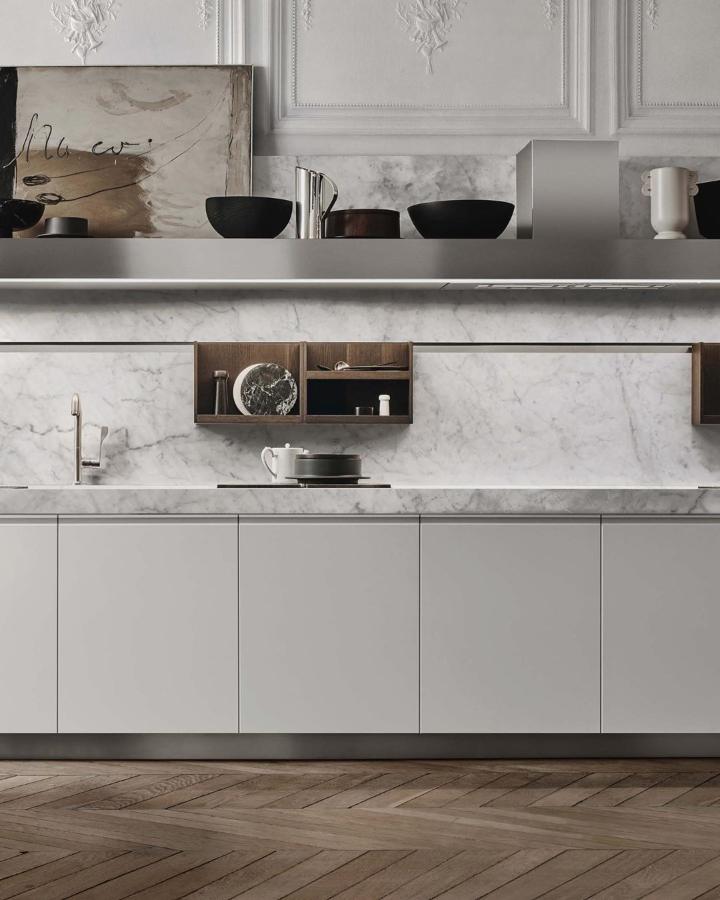 Installing a kitchen without cabinets is one of the fastest growing trends at the moment. On the other hand, this modern furnishing solution has several advantages and is an excellent stratagem for installing a fully functional kitchen in small spaces or where it is not possible to fix wall units to the walls.
Through the use of columns, drawers and concealed cupboards, the different kitchen utensils can be perfectly organised, leaving the wall free. The result is a space with a minimal, neat décor and a tidy, bright room.
What do kitchens without wall cabinets look like?
In a kitchen without cabinets, the space is organised in an original way, distributing the different objects between base and tall units, without resorting to hanging elements on the walls.
The most common configuration for a kitchen of this type is linear: in this case, the kitchen is composed only of elements resting on the floor, complemented if necessary by the presence of shelves or additional countertops.
In more spacious kitchens, you can also resort to a corner configuration or, if you prefer a modern style, an island or peninsula configuration. The furniture that forms the base of the kitchen in most cases rests on the floor, but you can also decide to design a suspended kitchen or just add a few elements suspended from the floor.
One of the most obvious differences between a traditional kitchen and a kitchen without cabinets is the absence of a hood above the cooker. However, this does not mean that the hood is necessarily absent: there are in fact several excellent hoods that are integrated on the cooker top.
A kitchen that dispenses with wall units proves to be an excellent choice in various contexts. One of the spaces in which kitchens of this type best fulfil their potential are open-plan environments. Especially if the kitchen and living room are an extension of each other, the absence of wall units gives a feeling of continuity to the furniture that lightens the space and ensures a very elegant result.
The design of a kitchen without cabinets can also be used successfully when the room in which the kitchen is to be created has an unusual structure. The typical example is a room with low ceilings, such as in the case of a kitchen with a loft or an attic. In these situations, instead of deciding to install a kitchen with customised, full-height wall units, you can choose to eliminate the wall units and give the room a lighter, more minimal structure. A similar argument can also be made if there are windows or elements that could get in the way of installing wall units.
Why should you choose a kitchen without cabinets?
In addition to making the kitchen appear tidier and more minimalist, the configuration without wall cabinets makes it easier to manage the room on a daily basis. The fact that there are fewer surfaces to clean speeds up cleaning and makes it easier to keep the room tidy.
Leaving the upper part of the walls free also makes the room appear more airy and brighter. It also gives a greater sense of freshness than a traditional kitchen.
Choosing a kitchen without cabinets also speeds up the work of architects and interior designers, who can design the room's furnishings more quickly and adopt innovative and original solutions to meet the needs and expectations of their clients.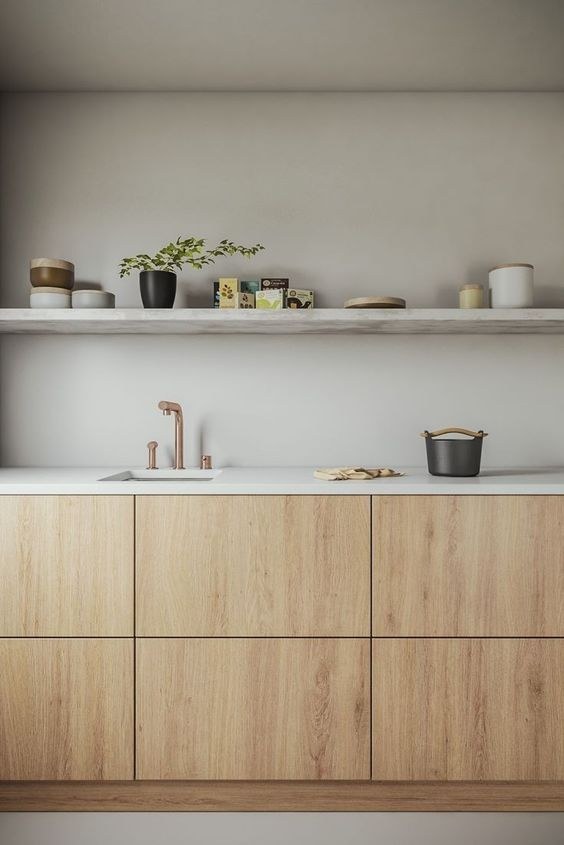 Some tips for designing a kitchen without cabinets that is both beautiful and pleasant to use
In order to be able to design a kitchen without cabinets that is both aesthetically pleasing and perfectly functional, it is necessary to fully understand the characteristics of the room and the needs of the clients. From this point of view, it is possible to organise the space with more or less drawers, storage compartments and supports to which utensils of various kinds can be attached.
In addition to defining the number and arrangement of kitchen furniture, it is also essential to select the most suitable materials and colours for the project. Although it is true that those who choose a kitchen without cabinets have a predilection for modern interior design styles, no one forbids furnishing a kitchen of this type with furniture with traditional lines.
Alongside wooden furniture, surfaces in natural stone, such as marble and granite, or in innovative materials, such as technical ceramics, can be used. In all cases, these materials are durable, safe and easy to clean.
In addition to the choice of materials, those responsible for furnishing kitchens without wall cabinets can also give the room a unique and special touch by using colours and various decorative elements. For example, a light kitchen is great for brightening up the space, while coloured or dark cabinets give the room an elegant and sophisticated look.
Any other suggestions? Those who want a kitchen without cabinets in a clean and minimal version can decide to leave the wall completely empty. Those who, on the other hand, want to make it more original and personalised can choose to add one or more shelves or bars to which knives, utensils or all other everyday objects can be fixed.
Need to furnish your home or a single room?
Choose a top-notch woodworking shop.

We have over 50 years of experience!
Contact Us
Il Piccolo, a second generation family-run joinery, opens its own showroom in Lugano. With over 50 years of experience, Il Piccolo brings with it a wealth of technical and design knowledge of the highest level, thanks to the numerous interiors designed and furnished all over the world. In particular, Il Piccolo has a wealth of experience in the design and production of several corner wardrobe models. Finally, Il Piccolo represents the world's most prestigious furniture brands.
Our company designs, manufactures and sells the best of made-in-Italy interior design, following the customer from the design to the realisation, delivery and installation of the work, supplementing the process with a precise and professional assistance service. Looking for the ideal corner wardrobe for your room? CONTACT