Il Piccolo Blog
Clean, harmonious and elegant, some tips on how to create light modern kitchens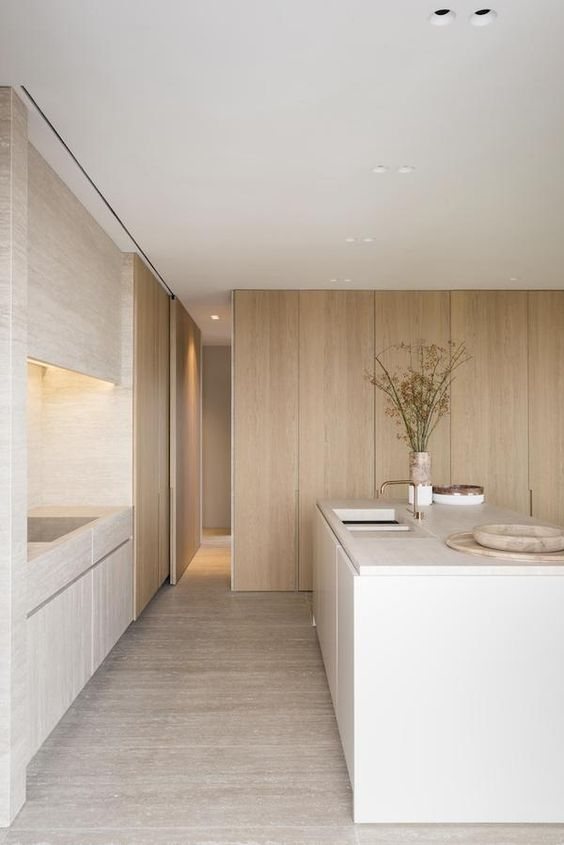 A colour likes and conveys a message
A colour can be chosen from the gut, according to one's personal taste that leads one to prefer one rather than another without any real reason, or according to the energy they emanate and their meaning. Over the years, more and more research has been done into what is behind each colour, and this also applies to furniture: for example, red kitchens are a particular choice to be made only if you see it in line with your personality, they are not for everyone.
For kitchens in different eras, white or in any case light colours were often preferred because they bring a feeling of brightness and cleanliness, and it is no coincidence that light modern kitchens are still very popular.
Light modern kitchens coloured, two-coloured or single-coloured as recommended by modern interior design
In modern interior design for kitchens, whether one chooses bold colours such as those listed or goes for a more common but not un-elegant or valuable decision such as black or white, one-colour or two-colour is preferred. With this in mind, one can move on to deciding which light colour to use and how to match it.
Why light colours are always liked for kitchens, modern or not
But why are light modern kitchens always popular? If white, which is still used in many styles, from shabby to Nordic, has often been preferred throughout history, it is because it brings with it a feeling of cleanliness, airiness, serenity and harmony that are strongly sought after in a room like this.
It has the advantage of enlarging unimportant spaces, making them seem larger, while dark colours tend to shrink and are therefore not suitable for small spaces, and enhances large ones. That said, if you want light in your kitchen, you don't necessarily have to choose white.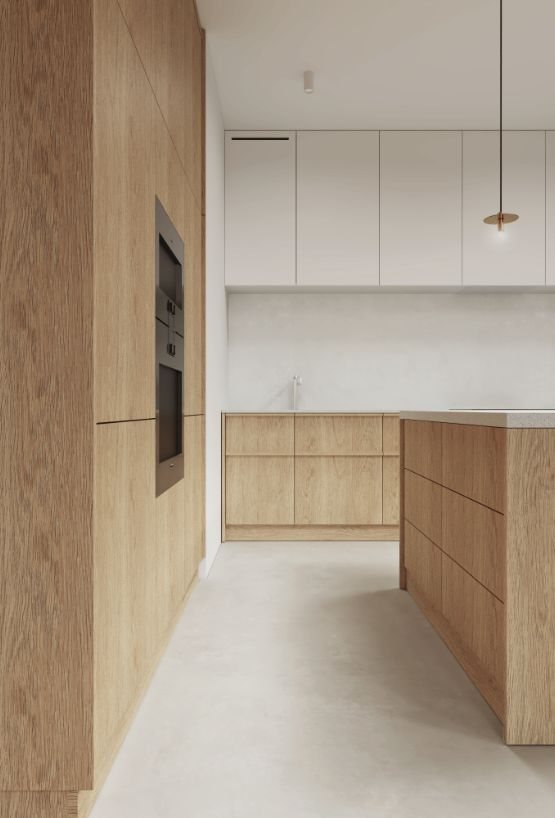 If you don't like total white, here's how to create classy light modern kitchens
If an all-white kitchen looks too much, you see it as unimaginative (it is not, if carefully finished), you can combine it with other colours. For example, black, which in a clever play of contrasts, but not only. To soften the effect of white, a good tip is to combine different tops with the extremely light kitchen, or to insert wall units in another colour, or to use fantasy in the wall separating the top from the wall units.
What colour to choose besides white? When the desire is to have light modern kitchens, without particularly dark inserts, you can play with soft greys, taupe, browns, for modern, simple and linear contexts. Combining light colours with white adds perhaps less movement and less fantasy than when using strong, bold colours, but at the same time creates a relaxing and harmonious environment, essential and elegant precisely in its simplicity.
The role of wood in a light modern kitchen
In order to create original light modern kitchens that combine modernity with tradition, a winning idea is also to include parts in natural wood. In fact, this is a material that, although typical of the classic style, is also often used in modern kitchens because it lends warmth to the home. A very refined and harmonious choice is to use it in the kitchen, partly by leaving it natural and partly by painting it white. Beware, however, that in this case the wood must have a soft and delicate colour, not the strong colour of the rough woods of the country tradition! It can interact with more modern materials such as Fenix.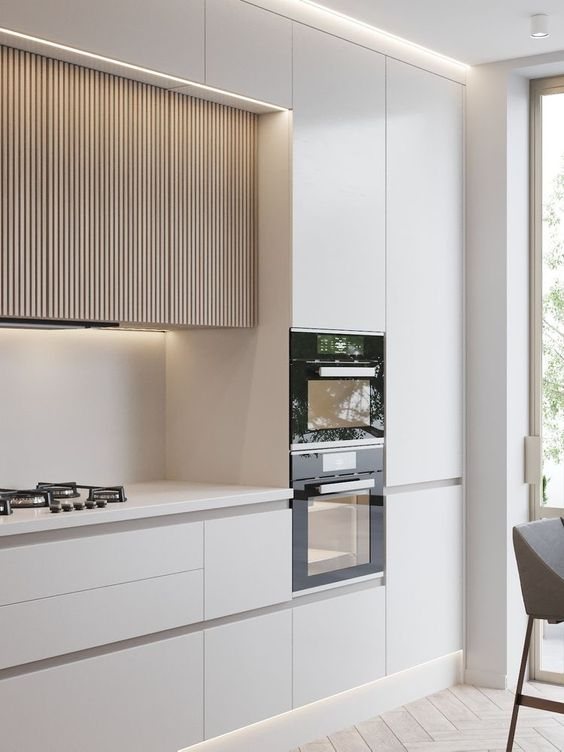 Pastel colours in light modern kitchens. Usually not used, but…
When choosing light colours for your kitchens, keep in mind that in modern interior design, pastel colours are generally not part of the palette. They are in fact typical and characteristic of the classic. If, however, you want to introduce a colour such as a soft pink, light blue or greenish hue in combination with white, light grey or natural wood, you will obtain an unusual and delicate combination that breaks the mould a little and creates a unique ambience that is outside the norm but in good taste.
Need to furnish your home or a single room?
Choose a top-notch woodworking shop.

We have over 50 years of experience!
Contact us!
Il Piccolo, a second generation family business, opens its showroom in Lugano. With over 50 years of experience, Il Piccolo brings with it a wealth of technical and design knowledge of the highest level, thanks to the many interiors designed and furnished around the world. In addition, Il Piccolo represents many of the best international luxury furniture brands. We design, manufacture and sell the best in design. Also with regard to La Cornue kitchens, we follow the customer from the design to the realisation of the project, integrating the whole process with a precise and professional service.CONTACT US