Il Piccolo Blog
Class, sobriety and harmony: the results of furnishing a modern classic living rooms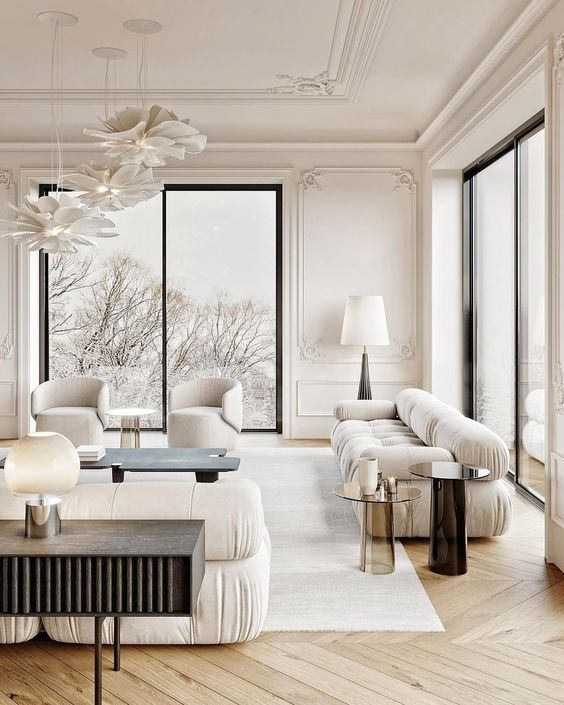 Classic modern, a style of its own
It is often thought that the terms classic and modern are in opposition, especially when it comes to furnishing. If a house follows the classic style, it cannot also be modern, and opting instead for something modern, classicism has no place. In reality, this is not the case at all. Furnishing a home and furnishing a modern classic living rooms is not simply the choice of a mixture of styles but a style in itself.
It knows how to combine the merits of each style and the result leads to a whole characterised by a strong and unique identity. It is essential, however, to find the right blend between the harmony and symmetry of classicism and the essentialism and linearity of modernism. The past is best integrated into the present. Furnishing a living room in the classic modern style is therefore a game of balances and wisdom, but what will emerge will be a unique room, full of personality, capable of reproducing a sense of depth. Essential is that the room be very bright.
When you want to furnish modern classics, start with the sofa
But in practice, how do you furnish a living room that is classic modern? Obviously by mixing classically inspired furniture and accessories with more modern ones: the whole must appear balanced and characterised by sober lines. The furniture is aesthetically beautiful but also functional. You can start with the sofa, which in any style has always been the focal point of the room. Choose an imposing solution, perhaps even modular, but one that can be the focal and central point of the room. In this case, it is better to have something with the classic, slightly rounded, soft shapes; ultra-modern solutions such as double-sided sofas do not fit. If you prefer, you can replace the sofa with armchairs.
Fireplace, curtains and wainscoting to furnish a modern classic living rooms
To make the atmosphere warmer, a fireplace would fit in perfectly. For those who do not have the possibility of having it directly in the masonry, there are modern and practical solutions such as wall units that have incorporated a fireplace, even a bio-fireplace if you prefer: the touch of class is there in any case, and it can unite classic and modern.
When deciding to furnish a modern classic living rooms, it is often the details that make the difference. On the walls, for example, Venetian stuccoes create a perfect aura, as do any frescoes on possibly high ceilings. Alternatively, boiseries can be applied. Carefully chosen paintings also create the right atmosphere, and a must-have accessory is a large mirror, surrounded by a classic gilded frame, which gives depth to the entire room. Also perfect for a modern classic living rooms is a carpet with a classic pattern: that is, with traditional decorations, which are usually curvilinear or geometric. The same applies to curtains, which are not only used to cover the windows but should add personality to the whole.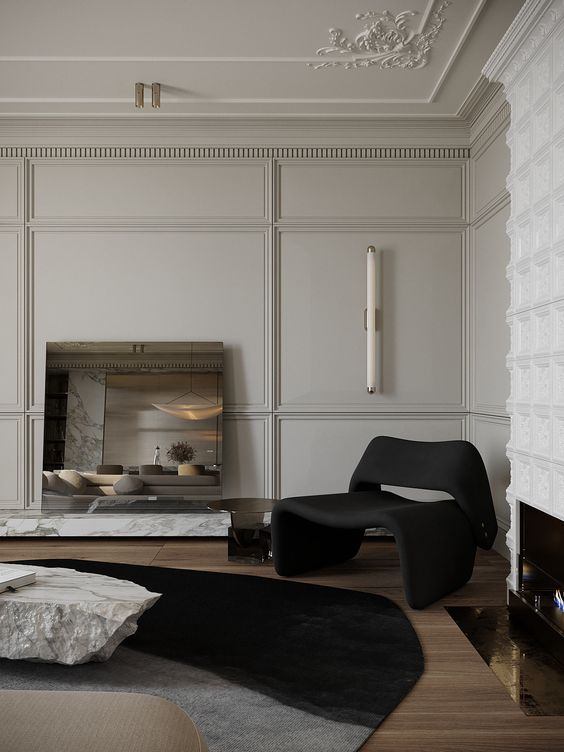 The materials of the classic modern style: wood and marble above all
The classic modern style has specific characteristics with regard to materials and colours. Those who want to furnish a modern classic living rooms will particularly focus on wood and marble, two materials that find their place in every style and are perfectly suited to a classy living room. Wood can be found in tables and chairs, but also in boiserie decorations covering the walls. The ideal floor for this kind of living room is parquet, preferably in a light, bright and delicate shade. Marble, elegant by definition, can find its place in Venetian stuccoes but can also be used to embellish tables and coffee tables.
With regard to colours for furnishing modern classic living rooms(but also the rest of the house), light and enveloping colours are preferable. Aim for white, but not only white: earthy and neutral tones, such as grey, are liked.
Remember that the whole must be extremely bright, thanks also to a modern lighting system, perhaps with chandeliers that can add an extra touch of class: opting for colours that take away light is not good. 
Need to furnish your home or a single room?
Choose a top-notch woodworking shop.

We have over 50 years of experience!
Contact Us
Il Piccolo, a second generation family-run joinery, opens its own showroom in Lugano. With over 50 years of experience, Il Piccolo brings with it a wealth of technical and design knowledge of the highest level, thanks to the numerous interiors designed and furnished all over the world. In particular, Il Piccolo has a wealth of experience in the design and production of several corner wardrobe models. Finally, Il Piccolo represents the world's most prestigious furniture brands.
Our company designs, manufactures and sells the best of made-in-Italy interior design, following the customer from the design to the realisation, delivery and installation of the work, supplementing the process with a precise and professional assistance service. Looking for the ideal corner wardrobe for your room? CONTACT