Il Piccolo Blog
The many merits of modern corner kitchens , rational.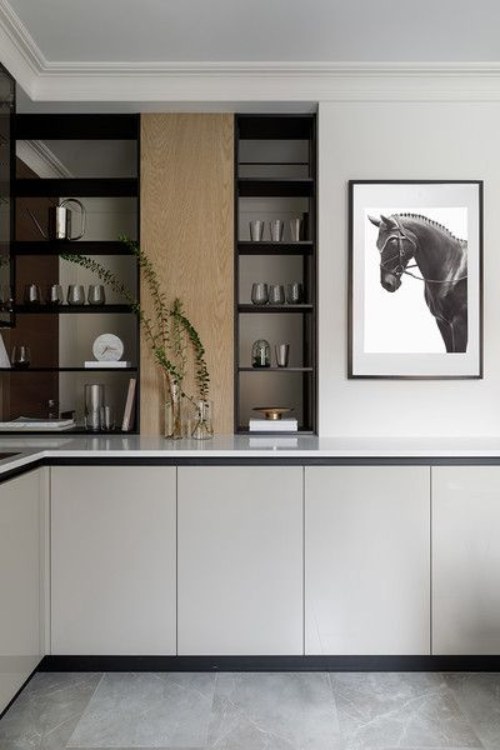 What to consider when thinking about the kitchen
When designing a kitchen, whether in a new house or undergoing renovation, it is necessary to think about how to arrange the elements, based on the available space (as well as details such as the water connections and electricity sockets already arranged) and the concept you want to give it.
Particularly if we are talking about modern flats, we need to consider whether we are dealing with separate rooms, as was the traditional conception, or with an open space involving living room and kitchen. Whatever the conformation, modern corner kitchens are a dynamic and functional possibility, as well as having various aesthetic and ergonomic merits.
Modern corner kitchens are developed on two walls
Corner kitchens are a conformation that suits every context, for both modern kitchens  and classic kitchens. It makes the most of small ones, allowing you to have everything in little space and not wasting a single centimetre, and enhances large ones with its design.
To realise it, it is necessary to have free, where to place the various elements, two walls separated by a corner, whether they are of different or equal size. It is therefore an arrangement that is suitable for all types of flat, even for those who want to introduce a peninsula, whether to serve as a cooker or table space or a snack top.
How to best position the space, enhancing the ergonomic magic triangle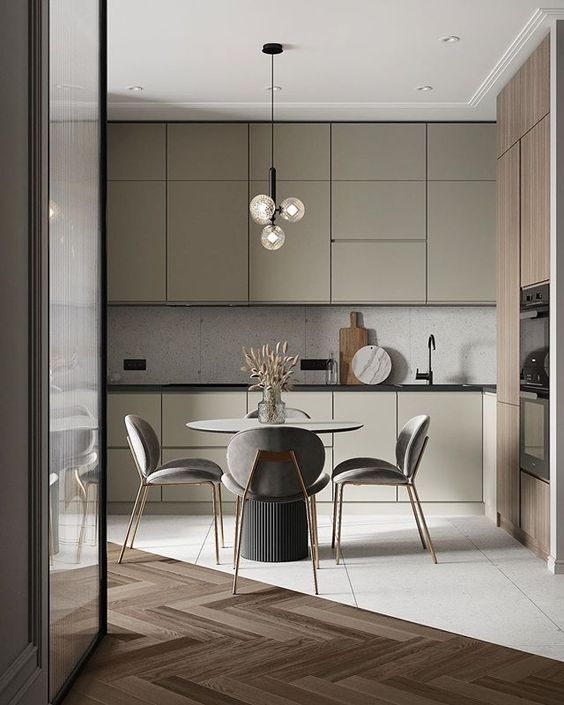 Modern corner kitchens occupy two walls and therefore have two parts perpendicular to each other. This is the ideal shape to place a table, rectangular or square, which will fit perfectly into the space. How best to position the various elements to exploit and enhance the corner shape? In reality there are no fixed rules. Bear in mind, but this always applies when talking about kitchens, that ergonomics would like the main points, i.e. hob, sink and fridge, to be located along a triangle, to allow as few abrupt movements as possible with the back.
It is easy to see how modern corner kitchens are perfect in this respect! You can place the main elements, the sink or the plates on the two walls, so that everything fits within a few centimetres, or you can favour a more linear arrangement on one of the two sides.
Space-saving solutions for the corner kitchen
It has been said that a corner layout is ideal for small contexts. In that case, it is necessary to think of some space-saving solutions that make it possible to exploit every centimetre of modern corner kitchens, for example by arranging refrigerator or oven columns to be developed in height and base units that are equipped with concealed cupboards, drawers, baskets, doors designed not to steal space by opening and pivoting elements to be able to store tools and provisions.
The relationship between the modern concept of essentiality and the corner shape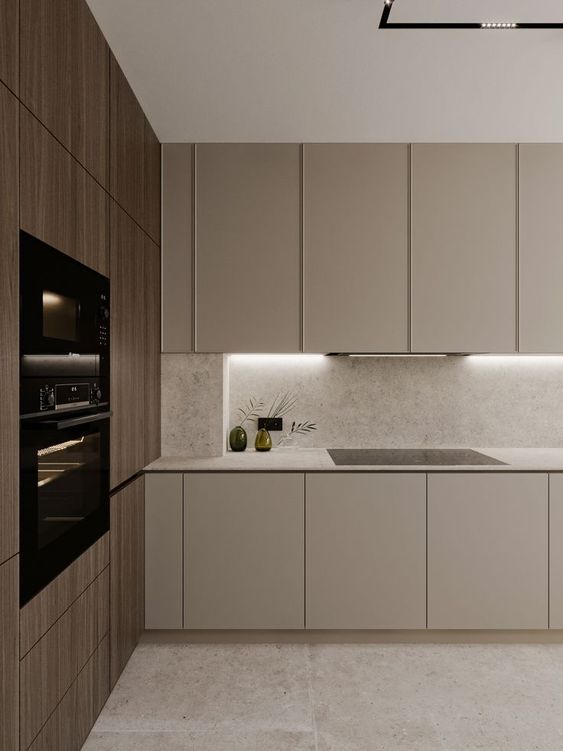 If it is true that modern kitchens are characterised by minimalist and clean lines, it is easy to understand how corner kitchens are able to emphasise a geometric, rational and functional concept. Modern corner kitchens are designed to be absolutely minimalist, without handles, for example, as opposed to classic kitchens, and with few wall cabinets. All elements, from utensils to food, should be as concealed as possible, stored in the various cupboards. The watchword is essentiality.
Materials and colours for unique Modern corner kitchens
As far as materials are concerned, there is a vast choice: from classic wood, which fits well into any context, starting from rustic ones where it gives colours to Nordic and shabby up to modern ones, to steel, which was once used in chefs' kitchens and has now been cleared through customs also for home kitchens that recall professional standards, up to Fenix and combinations of them.
White never goes out of fashion, black must be inserted carefully, especially if the room is small and therefore risks shrinking it even further, bright and vivid colours are liked, for particular and significant choices, such as red. You can choose between matt and glossy, depending on your taste.
Need to furnish your home or a single room?
Choose a top-notch woodworking shop.

We have over 50 years of experience!
Contact us!
Il Piccolo, a second generation family business, opens its showroom in Lugano. With over 50 years of experience, Il Piccolo brings with it a wealth of technical and design knowledge of the highest level, thanks to the many interiors designed and furnished around the world. In addition, Il Piccolo represents many of the best international luxury furniture brands. We design, manufacture and sell the best in design. Also with regard to La Cornue kitchens, we follow the customer from the design to the realisation of the project, integrating the whole process with a precise and professional service.CONTACT US