Il Piccolo Blog
Modern wallpaper gives walls a unique personality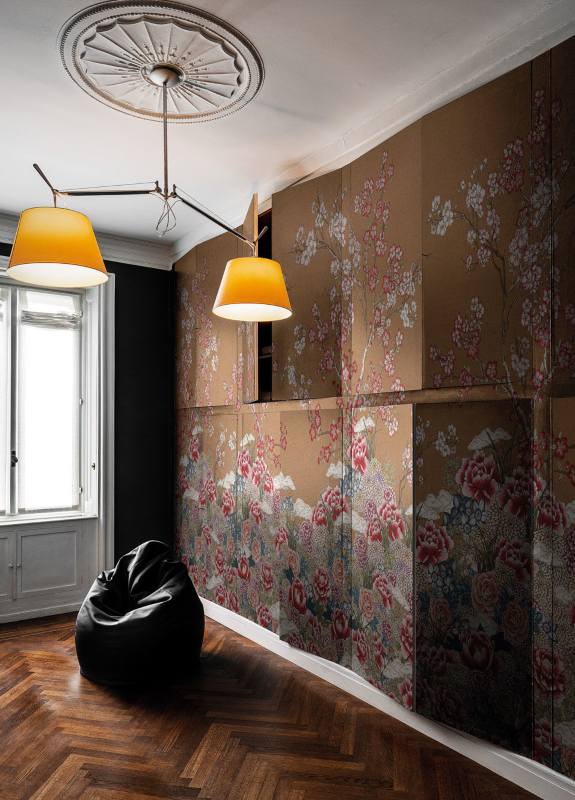 Wallpaper an ancient method? Not so
When one thinks of wallpaper, one's thoughts turn to the bedroom wall coverings of days gone by, which would seem to fit into more modern surroundings. In reality, this is a mistake.
This system of wall decoration has never gone out of fashion, thanks to its multiple functions and versatility: it is suitable for every type of room, from the bedroom to the living room to hallways and even entrances, capable of giving an extra touch to an otherwise perhaps somewhat anonymous room and also covering any wall defects.
Modern wallpaper is a perfect solution with great personality that should definitely be considered, for any type of environment, from minimalist to luxurious.
What is modern wallpaper
Years ago, the starting point was cellulose, but today the most popular substrates, with an eye on the environment, a detail that is very important in contemporary sustainability trends, are vinyl, TNT and fibreglass, which are easier to remove and easier to clean, as well as resistant to moisture. And the patterns? Modern and jaunty!
The various materials for modern wallpaper
Those who choose vinyl opt for a paper created with a PVC top layer, on which the decorative motif is printed. The advantages are that it is durable and easy to clean. Modern wallpaper made of TNT, i.e. non-woven fabric, is a covering made of artificial fibres with a more or less structured surface, possibly finished with a vinyl surface.
Even more modern is fibreglass, which is perfect for damp or even poorly ventilated rooms such as kitchens and bathrooms, because it is water-repellent and even suitable for outdoor areas such as perimeter walls, balconies or terraces. In short, you are light years away from the old fabric coverings, which can of course be reproduced if you wish.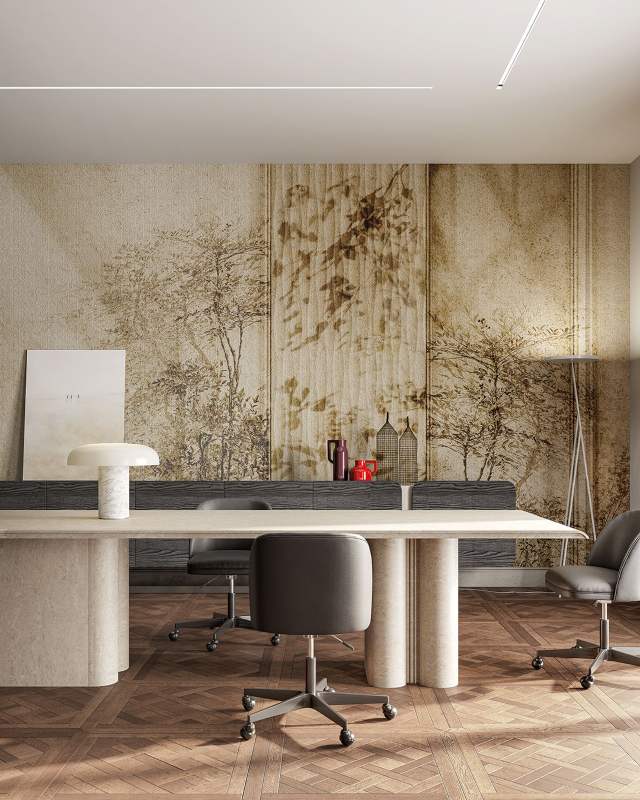 How walls change with modern wallpaper
What makes the difference when it comes to modern wallpaper is not just the substrate but the prints and patterns. Opting for one or more walls covered with wallpaper means giving the walls a personality of their own, making them the protagonists of the environment and not just a mere structural or furniture support. It is a unique and decisive way to decorate using walls, which themselves become design complements, without even needing to support furniture to make them interesting and original.
From geometric to floral patterns, which patterns to choose for your modern wallpaper
How to choose patterns? In recent years, bold and eye-catching trends with intricate patterns and vivid colours have been gaining popularity. One option that is perfect with a modern interior design but at the same time also works well to make a more classic one particular and unique is geometric patterns: squares, rectangles, rhombuses, you can let your imagination run wild, picking up on the lines of the room where the modern wallpaper is being laid if you wish.
Derived from the past, the floral texture is also back in vogue, extremely versatile and able to adapt gracefully to any environment. You can opt for very bright, bright colours and strong contrasts, or choose something less flashy with pastel shades and less strong contrasts, both within the design and with the surroundings: it depends on how much personality you want to give the wall. However, never overdo it and do not forget that colours that are too dark weigh down the whole context.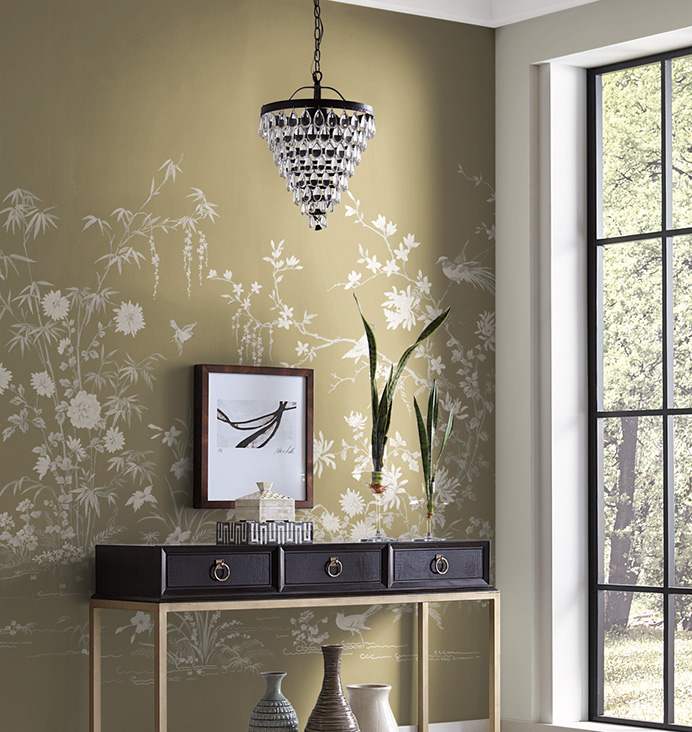 And for those who are not satisfied? Customised textures and 3D games
Thanks to computer work, it is possible to create a customised modern wallpaper, reproducing particular motifs: from city drawings to animals, for example, even images dear to the commissioner. Another contemporary and absolutely fine option is that with 3D motifs, which add depth and light effects to the entire room.
Need to furnish your home or a single room?
Choose a top-notch woodworking shop.

We have over 50 years of experience!
Contact us!
Il Piccolo, a second generation family business, opens its showroom in Lugano. With over 50 years of experience, Il Piccolo brings with it a wealth of technical and design knowledge of the highest level, thanks to the many interiors designed and furnished around the world. In addition, Il Piccolo represents many of the best international luxury furniture brands. We design, manufacture and sell the best in design. Also with regard to La Cornue kitchens, we follow the customer from the design to the realisation of the project, integrating the whole process with a precise and professional service.CONTACT US