Il Piccolo Blog
Combinations and tips for attractive modern white and black kitchens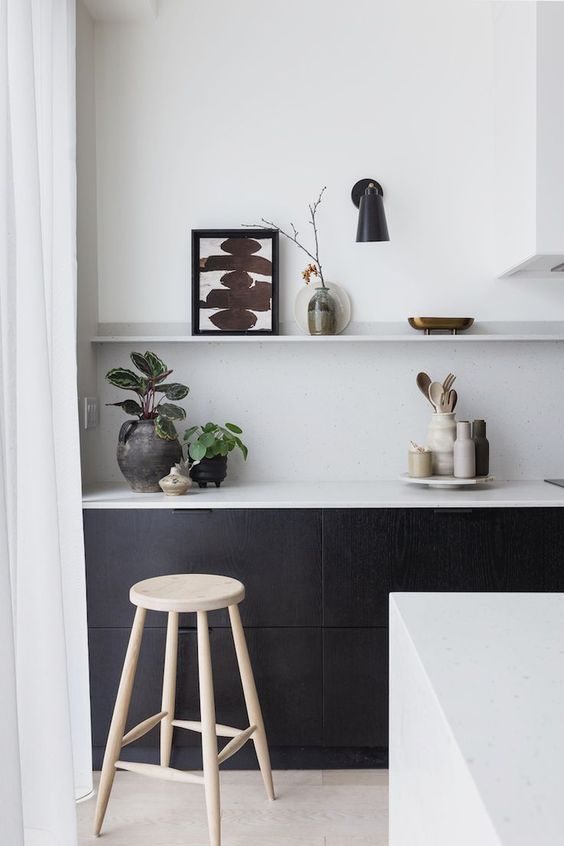 The evolution of kitchen colours
Traditional kitchens have often been favoured in shades of white, synonymous with airiness and purity par excellence, with variations related to pastel colours, while in rustic settings the colour of raw wood has always prevailed.
White is still widespread in various styles, think of shabby, and in both classic and modern contexts, but different colours have made their way in, starting with bold ones such as, for example, red, or black for a very special choice. Interior design for modern kitchens focuses on single-colour or two-colour: in this area, a particular and refined option is the black and white modern kitchen.
The merits of modern white and black kitchens
If it has already been said of white that it is a colour associated with cleanliness and brightness, black is a decidedly more unusual but increasingly popular choice. Opting for total black is challenging, because you have to balance the light as well as possible to avoid an overly dark and suffocating effect, and it is not suitable for small square metres, because, unlike white, it shrinks. Combining the two colours combines the best features of both, resulting in a modern, minimalist and elegant ambience.
Cabinets of one colour, worktops of another – the easiest choice for two-colour black and white kitchens
How, however, can the various furniture and accessories be combined in modern white and black kitchens? The simplest way to achieve a two-tone black and white kitchen is to choose virtually all the elements in white by adding a black top, or do the opposite, making the worktop white and the rest black.
In the first case, you will have a sort of dark band that will give strength and personality to the block where the food is prepared, in the second the dark colour will be diluted by the light one and made particularly bright (but be careful not to favour a lighting system that focuses on it, because the risk is to have a spot that is too bright compared to a dark environment, not a beautiful effect).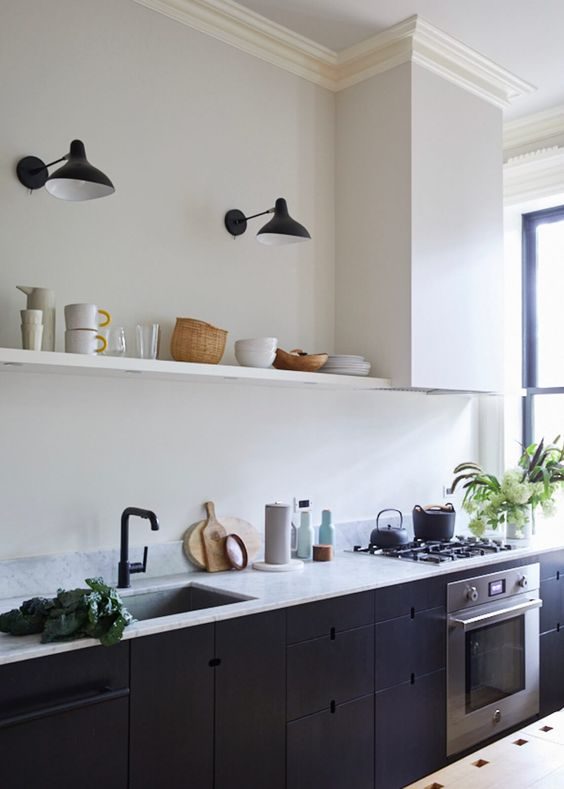 Other possibilities for creating modern white and black kitchens, from wall units to accessories
Of course you can play with your imagination, creatively alternating the two colours in modern white and black kitchens: you can put black wall units in a white kitchen, or vice versa, or the island counter can be white in a black context and the other way around. In a white kitchen, you can paint the part separating the top from the wall units black, the same can be done with white if the main colour is black. It is also possible to choose one of the two colours and insert the other only in certain accessory elements, such as handles, if there are any, or trim, or decorative accessories. One can think, in fact, of black crockery in a white kitchen or white utensils in a black context.
Playing with floor and walls in modern white and black kitchens is truly original
A particular and original choice is that of the floor alternating black and white, perhaps with a geometric pattern or even having the wall between the worktop and the wall units with an optical effect combining black and white. A black kitchen can have white walls, floor or both, and vice versa.
Matt or glossy? A combination of the two, to continue the contrasts
In short, the possibilities are many. Bringing modern white and black kitchens to life is a fascinating game that can create unique, personalised and elegant contexts. Another detail that is not secondary is to decide between matt and glossy: one of the two colours can be matt and the other glossy, in a continuous game of contrasts.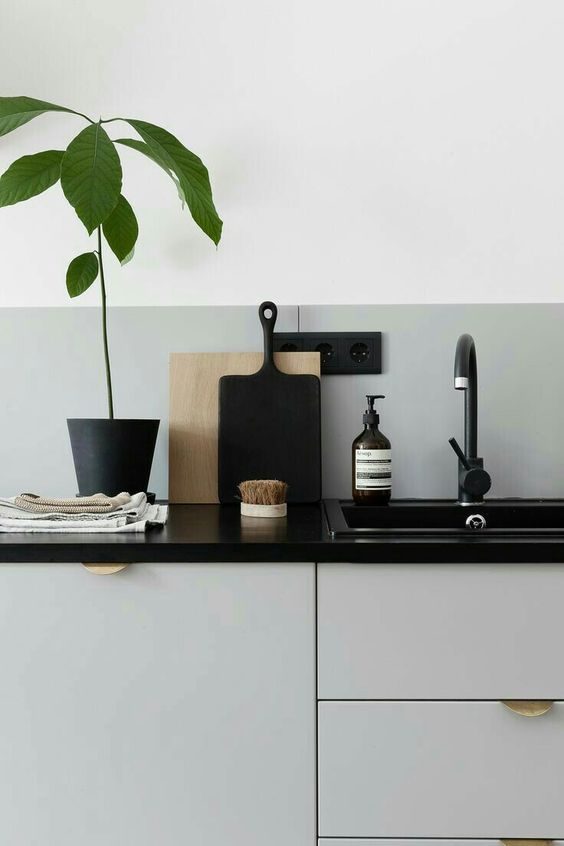 The role of materials in a black and white kitchen. To tone it down, wood can be inserted
As far as materials are concerned, there is really great freedom. It can be single alone, from wood to steel or Fenix, or combinations, with elements in glass, quartz or marble, which give unparalleled touches of value. To dilute the strength of modern white and black kitchens, a third colour can be added, that of a natural wood that is not too dark.
Need to furnish your home or a single room?
Choose a top-notch woodworking shop.

We have over 50 years of experience!
Contact us!
Il Piccolo, a second generation family business, opens its showroom in Lugano. With over 50 years of experience, Il Piccolo brings with it a wealth of technical and design knowledge of the highest level, thanks to the many interiors designed and furnished around the world. In addition, Il Piccolo represents many of the best international luxury furniture brands. We design, manufacture and sell the best in design. Also with regard to La Cornue kitchens, we follow the customer from the design to the realisation of the project, integrating the whole process with a precise and professional service.CONTACT US