Il Piccolo Blog
Why a modern wooden kitchen is a winning choice!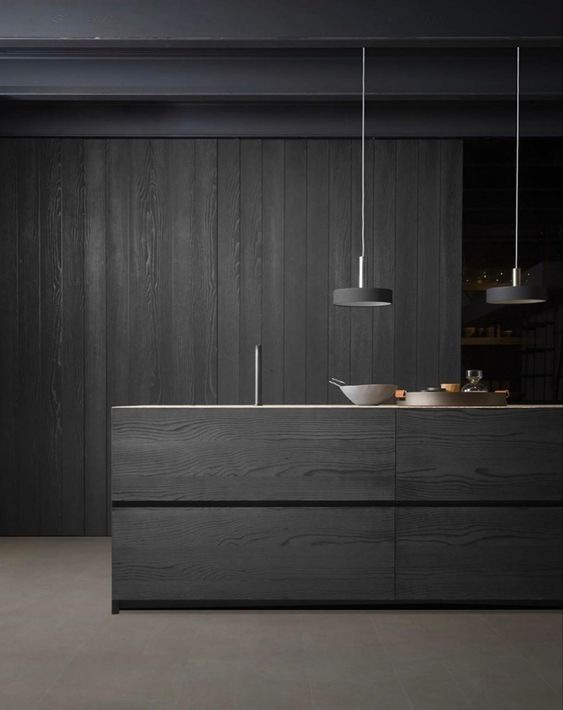 The characteristics of wood, suitable not only for the classic!
Versatile, light, with an undeniable and priceless sense of domestic warmth that no other material, no matter how modern and well-maintained, can confer. There are many reasons why choosing a modern wooden kitchen is a perfect decision for any type of flat.
Often the common idea is that wood is a material that rhymes with the classic style, where the grand kitchens of yesteryear are reproduced. In reality we are dealing with a material that adapts perfectly to any type of style, including modern and contemporary, with small adjustments such as varnishing. Moreover, the trends of recent years in interior design speak of a renewed focus on ecology and a preference for materials that are eco-friendly: what is more so than wood, which is recyclable, eco-friendly and natural? There is also an increase in the number of people choosing a modern wooden kitchen, either coloured or taking advantage of the natural colour.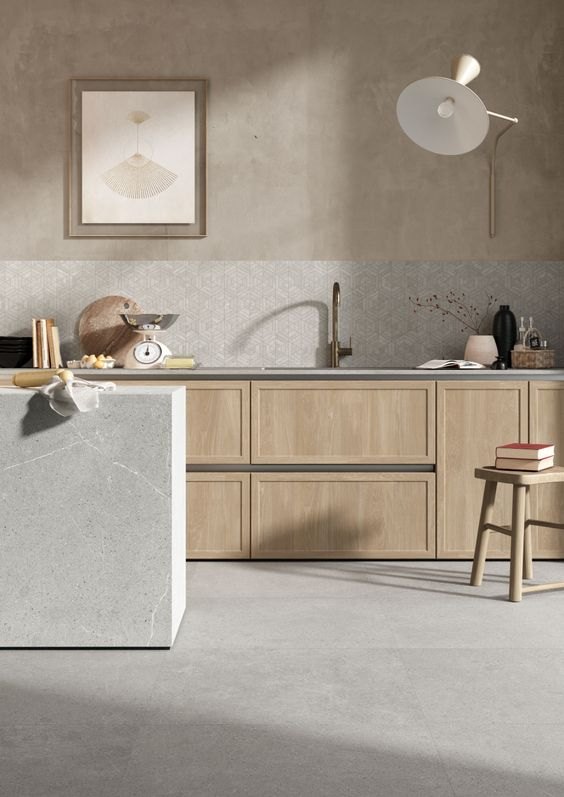 A modern wooden kitchen is linear, simple and equipped with every comfort
The first question to answer is: what are the characteristics of a modern kitchen? It is able to combine design and practicality, to be cosy and pleasing to the eye but at the same time functional. It is equipped by any number of modern appliances, often integrated in an advanced home automation system. There are, for example, state-of-the-art induction plates, with retractable hoods, excellent for eliminating odours without being seen, there are adjustable ovens, push/pull sinks capable of lowering and disappearing. In short, the philosophy is to equip oneself with every possible comfort to be able to cook with ease, without flaunting it. Indeed, if it is hidden inside furniture or concealed, even better. Unlike the classical kitchen, in fact, the modern kitchen does not use pots, plates and various objects as furnishings. In the classic concept they are an integral part of the room, in the modern one they are not.
If you choose a modern wooden kitchen, you will tend to have the surfaces as free as possible. It is no coincidence that solutions without handles, which in classicism were an extra design touch, are becoming increasingly popular.
For made-to-measure modern kitchens there are craftsmen, like us
Wood is, as mentioned, a material that fits perfectly into any style of kitchen. It is resistant over time, adaptable to different spaces (for particular sizes, one can ask for custom-made kitchens from craftsmen, a service that we at Piccolo Sagl offer).
A modern kitchen is therefore extremely linear and harmonious in its lines. It is often organised with an island, where the hob can find space or which can be used as a countertop for eating. The corner shape is also liked because it allows good use of the available space.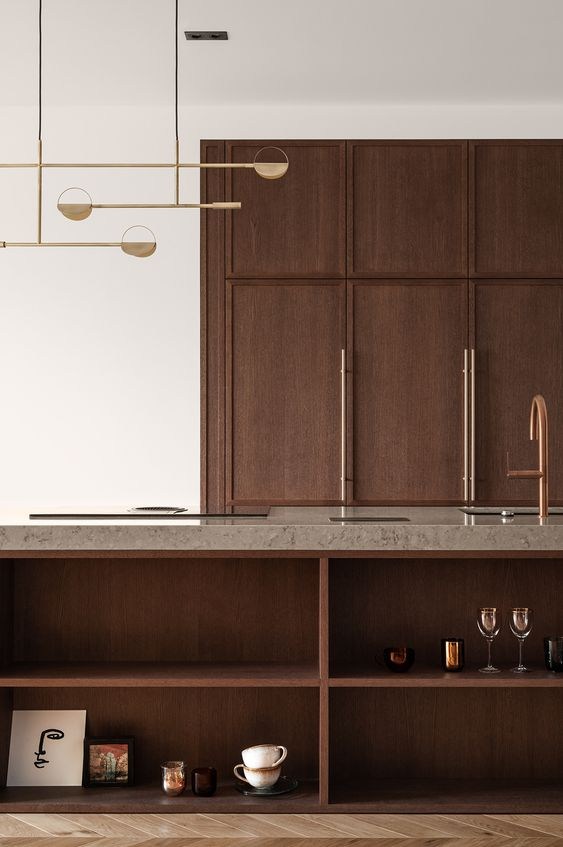 Colours and types of material for a modern wooden kitchen
What type of wood should you choose for your modern kitchen? Here too, the possibilities are many: ranging from oak (though more suitable for imposing and classic models) to ash, from birch which is very elastic and therefore highly adaptable to solid fir for an elegant solution. The colouring can make the difference. A modern kitchen made of wood is often lacquered and given a glossy finish, which makes it brighter and definitely sets it apart from more classic kitchens. It goes without saying that careful cleaning will be necessary to ensure the gloss!
Trends for modern kitchens speak of single-colour choices: white, black or with strong, bold colours such as red, but also of the combination of two colours. In this case, those who want to be daring can opt for black and white, for example, or tone down the red tones with white. A trend that is very much in vogue lately, winking at the Scandinavian philosophy, is the modern wooden kitchen in its natural colour, perhaps combined with white or even red.
Need to furnish your home or a single room?
Choose a top-notch woodworking shop.

We have over 50 years of experience!
Contact Us
Il Piccolo, a second generation family-run joinery, opens its own showroom in Lugano. With over 50 years of experience, Il Piccolo brings with it a wealth of technical and design knowledge of the highest level, thanks to the numerous interiors designed and furnished all over the world. In particular, Il Piccolo has a wealth of experience in the design and production of several corner wardrobe models. Finally, Il Piccolo represents the world's most prestigious furniture brands.
Our company designs, manufactures and sells the best of made-in-Italy interior design, following the customer from the design to the realisation, delivery and installation of the work, supplementing the process with a precise and professional assistance service. Looking for the ideal corner wardrobe for your room? CONTACT