Il Piccolo Blog
Outdoor armchair: what does it look like? How to choose the right model for your outdoor space?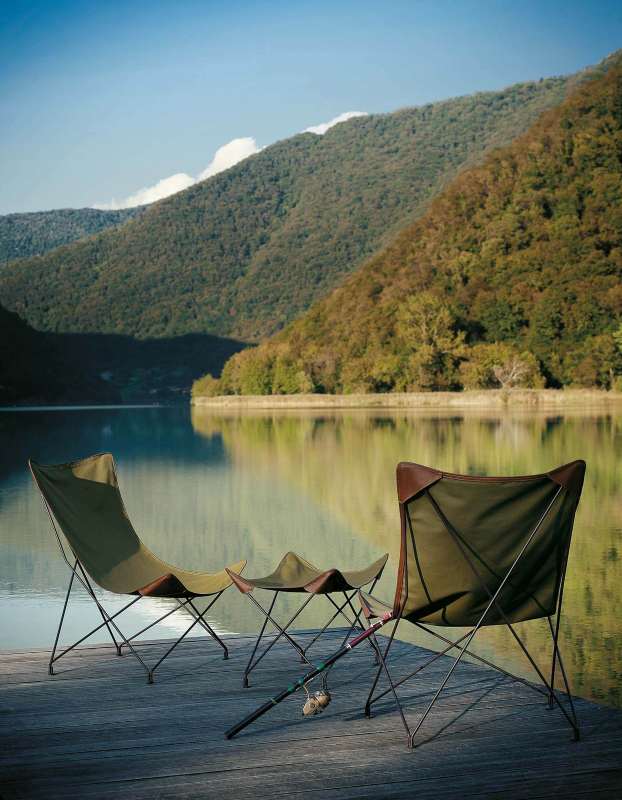 After talking about outdoor chairs and outdoor chaise lounges , we continue our journey into the world of outdoor furniture. We do so by putting the spotlight on the outdoor chair, an element that plays an absolutely fundamental role.
Indeed, depending on the type of space to be furnished, this piece of furniture can complement the décor by adding comfort to the environment or even become the main protagonist of the space.
What are the characteristics of an outdoor armchair?
Outdoor armchair can take on various aspects and perform various functions. Regardless of the specifics of the individual model, however, an outdoor armchair is above all comfortable. Specifically, the armchair ideally designed for outdoor spaces should offer maximum comfort and should allow you to relax in the open air without sacrificing well-being.
Durability is another very important characteristic for this furniture. Since outdoor armchair is exposed to the elements and, in particular, to sunlight, you need to choose models made of materials that are resistant to UV rays, but also to wind and rain.
Another piece of advice. When choosing an outdoor chair, it is also necessary to check that it integrates harmoniously with the rest of the outdoor furniture. Especially if you are planning the furnishing of a large space, such as a garden or patio, it is a good idea to ensure that the armchair is coherent with the other elements of the furnishings and that, as a whole, these objects reflect the style you have chosen to give the space.
The last point to consider, but no less important, is the coherence between the chosen armchair model and its surroundings. The outdoor armchair should not clash or seem out of place in the context in which it is placed, but should blend harmoniously with the surrounding nature or architecture, whether it is a balcony in the city or a garden in the countryside.
How to choose an outdoor chair?
Choosing the perfect outdoor chair requires careful planning and a whole series of considerations regarding functionality and aesthetics.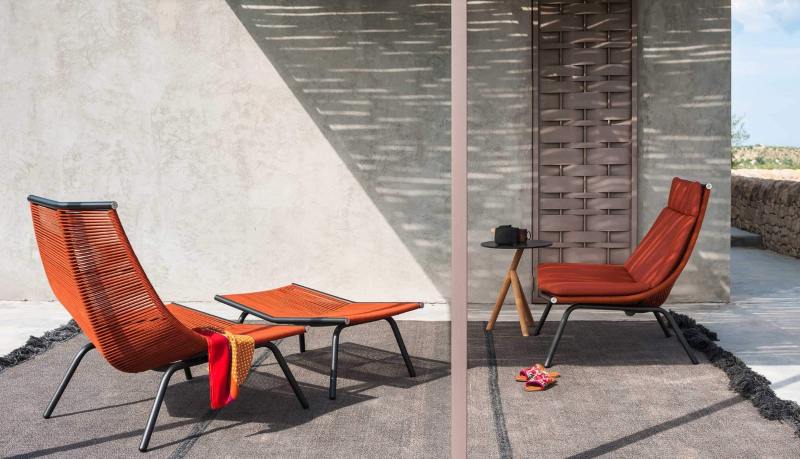 First, you have to analyse in detail the type of space you want to furnish. In a small balcony, for example, one could opt for a compact armchair that does not take up too much space and has an understated appearance. In a large garden, on the other hand, one can opt for larger armchairs with an original or striking design.
In addition to the size of the armchair in relation to the space, it is also a priority to consider what practical needs to be fulfilled. If the armchair serves essentially as a place to relax, consider models with soft upholstery, those with a reclining backrest, or those with a matching pouf to rest your feet on. If, on the other hand, you have in mind to use armchairs to create a sort of outdoor living room, it is preferable to choose large and cosy armchairs or a complete set composed of sofas, coffee tables and chairs.
The style and material of outdoor armchair are other important aspects to consider. In choosing the right material, the location of the furniture also plays a role. If you need to furnish a covered outdoor space, such as a canopy or gazebo, you will have more freedom in the choice of materials. You will be able to range, for example, from wood to rattan and metal or plastic models. If, on the other hand, the armchair will be exposed to direct sunlight and bad weather, it will be preferable to focus on materials that can withstand these conditions, such as teak wood or metals such as steel and aluminium.
How to make the most of outdoor seating in outdoor furniture?
Once the characteristics that the ideal outdoor armchair should have have have been identified, it is time to move on to the design of the furniture to be placed in the outdoor spaces of the home, aiming to make them stand out to the maximum and to create a space that is welcoming and also functional.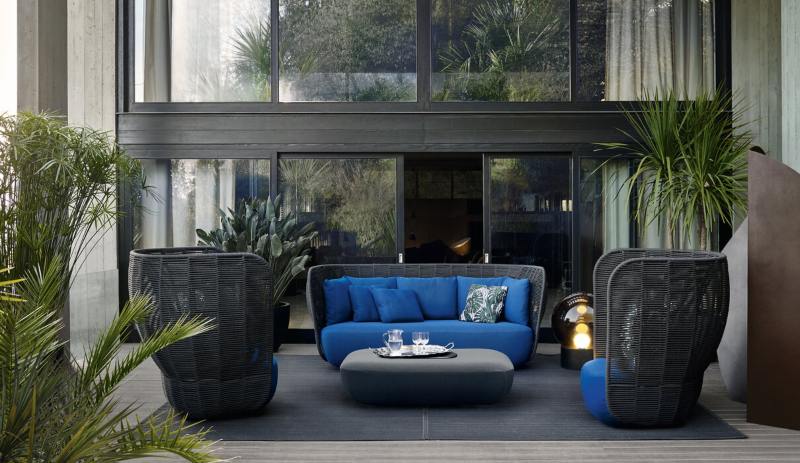 A simple but effective idea to create an intimate and comfortable outdoor space involves the creation of a small relaxing space, consisting of one or two outdoor armchair, which can be coordinated with a small table or a tabletop. To warm up the atmosphere and make the space more personalised, coloured cushions can be added, perhaps taking up the shades used in the indoor furnishings.
If the space to be furnished is large, you can consider creating an outdoor lounge complete with sofas, tables and chairs. In the warm months, this space is perfect for gathering with the family or spending time with friends. Again, you can create an ambience that reflects your style by adding details such as decorations to be placed on the sofas and coffee tables. Or you can provide colourful cushions and textiles to embellish the outdoor seating.
To conclude our guide to the choice of this furniture, we can say that outdoor armchair is also an excellent solution to complete the decoration of a gazebo. It is also good to place them along the edge of a swimming pool, to relax between dips.
Need to furnish your home or a single room?
Choose a top-notch woodworking shop.

We have over 50 years of experience!
Contact us!
Il Piccolo, a second generation family business, opens its showroom in Lugano. With over 50 years of experience, Il Piccolo brings with it a wealth of technical and design knowledge of the highest level, thanks to the many interiors designed and furnished around the world. In addition, Il Piccolo represents many of the best international luxury furniture brands. We design, manufacture and sell the best in design. Also with regard to La Cornue kitchens, we follow the customer from the design to the realisation of the project, integrating the whole process with a precise and professional service.CONTACT US