Il Piccolo Blog
The Sofa U form: how to choose the right model for your furnishing style?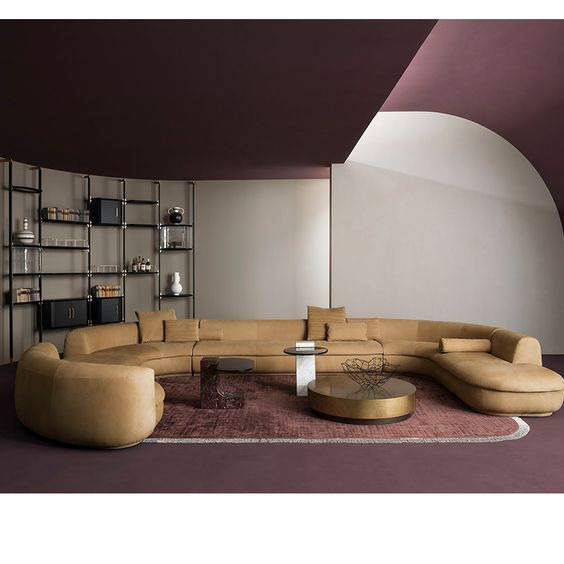 A Sofa U form is certainly a smart choice. It is for those who wish to furnish their home with a type of sofa that is not only comfortable, but at the same time creates a sense of closeness and cohesion between the people sitting on it.
Thanks to the characteristic design of these sofas, people can sit across from each other and engage in discussion more easily than is usually possible with traditional sofas.
Why is it a good idea to choose a Sofa U form?
A great advantage of Sofa U shaps is their ability to utilise space. This solution proves to be the right one in particular when furnishing large rooms with an open plan structure. In such spaces, a sofa with a linear structure , even if it has several seats, leaves a lot of free space and the risk is that the end result will be bare. On the contrary, a Sofa U shape visually fills the room and creates a naturally collected relaxation area.
Sofa U form can be successfully placed in the centre of the living room, or in an area of the room where they mark the separation between the living and dining areas or the kitchen. In the latter case, the sofa helps to define the different functions of rooms and allows for the precise characterisation of spaces in lofts and open spaces where there is a lack of physical separation of rooms.
It must also be considered that Sofa U shapes are able to enhance the furniture elements placed in their centre very well. Ideally, this is a coffee or tea table. In this case, the horseshoe design of the sofa frames the table, making it stand out, provided that the style and design of the two elements are consistent with each other.
The versatility of Sofa U form is also expressed in terms of the lines that can be assumed by the sofa. While sofas with straight lines work very well in classical contexts, in more modern furnishings one can consider installing a sofa with soft, curved lines, more welcoming and with an original design .
Finally, thanks to the availability of modular solutions and modular structures, it is possible to find the optimal configuration for each space and possibly modify the sofa structure over time based on the needs of the moment.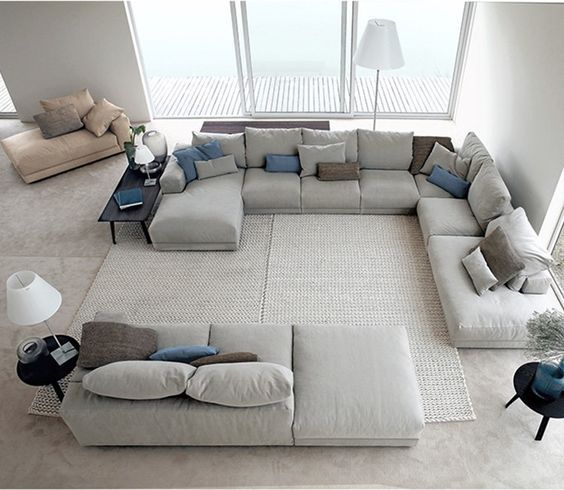 How can the Sofa U form be used in the furnishing of your home?
The use of a Sofa U shapes in the furnishing of your home requires careful planning and, above all, checking that the available space is adequate to accommodate such a piece of furniture. We have already mentioned that this type of sofa is ideal for spacious environments such as lofts or open-plan rooms, environments in which it can fully express its functionality and in which its distinctive style can stand out.
A rather common placement of the Sofa U form is against the wall. This arrangement allows a large relaxation area in the room and is a good solution if the available space is not particularly large. Alternatively, you can decide to position the sofa detached from the wall and arranged towards the centre of the room. This choice gives the furniture a bolder look and turns it into the focal point of the room. For the result to be pleasing, it is good that there is sufficient space on all sides of the sofa to facilitate passage and to give the room breathing space.
A designer coffee table can be placed in front of the Sofa U form. When interior design choices are made carefully, the lines of the sofa and coffee table reinforce each other and create a beautiful, coherent and elegant whole.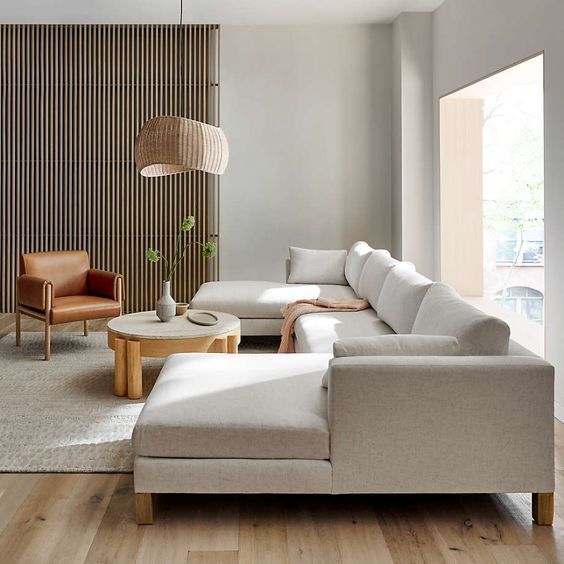 Best tips for those who want to furnish their home with a Sofa U form?
We can undoubtedly say that furnishing your home with a Sofa U form requires great attention to detail and, at the same time, careful planning. Here, then, are some useful tips for getting the most out of furnishing with this type of sofa.
Firstly, when choosing a Sofa shape U , it is advisable to choose upholstery in solid or neutral colours. Since this type of furniture has an imposing structure, it is preferable to avoid bright colours or elaborate upholstery, which would risk weighing down the atmosphere of the room. Shades such as grey, beige or white are safe choices that easily fit in with any furnishing style.
For an optimal result, it is also a good idea to combine the Sofa U shape with other surrounding furniture elements. A well-positioned coffee table, matching armchairs and a rug delimiting the relaxation area create a harmonious and cosy ambience.
Need to furnish your home or a single room?
Choose a top-notch woodworking shop.

We have over 50 years of experience!
Contact us!
Il Piccolo, a second generation family business, opens its showroom in Lugano. With over 50 years of experience, Il Piccolo brings with it a wealth of technical and design knowledge of the highest level, thanks to the many interiors designed and furnished around the world. In addition, Il Piccolo represents many of the best international luxury furniture brands. We design, manufacture and sell the best in design. Also with regard to La Cornue kitchens, we follow the customer from the design to the realisation of the project, integrating the whole process with a precise and professional service.CONTACT US