Il Piccolo Blog
TV furniture: how to choose the ideal model depending on the room and furnishing style?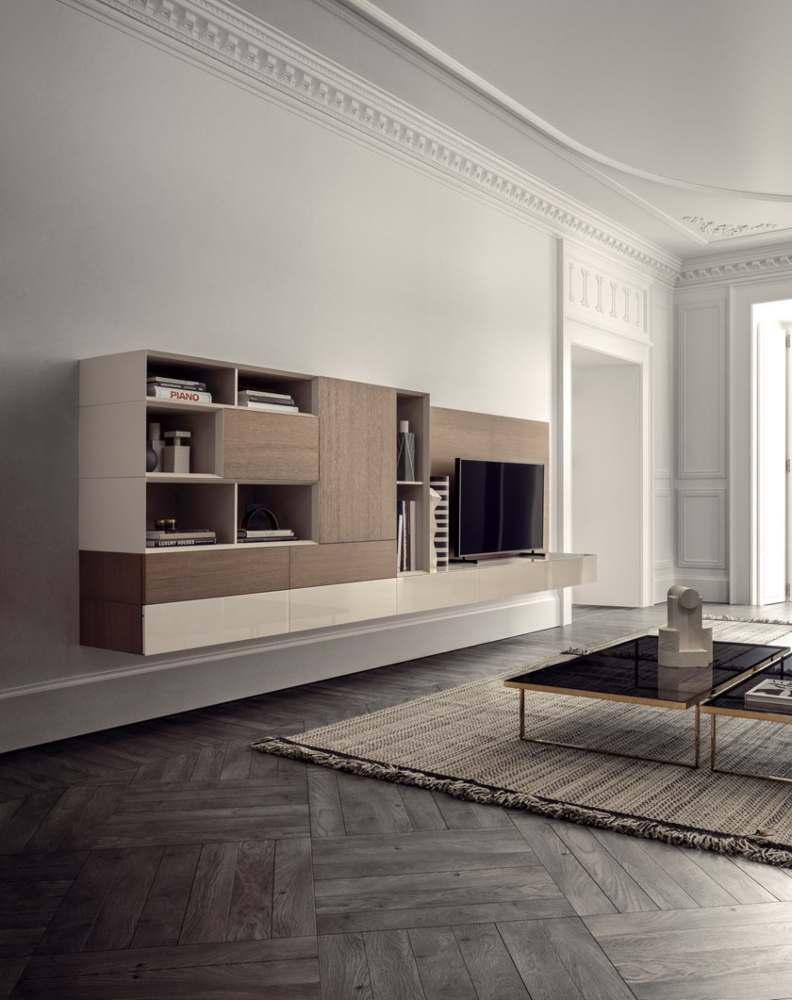 A TV furniture can furnish a living room or lounge with personality, creating a small, comfortable oasis where the family can gather to watch television and take a pleasant break in front of the screen.
A piece of furniture of this type is a clever solution for creating both a space for the TV and an area in which to organise and store various objects. Let's take a closer look at why this is so, thanks also to some practical examples.
What are the reasons for choosing a TV furniture?
Equipping oneself with a TV furniture is a necessity for anyone who wants to have a nicely furnished living room or lounge. Specifically, a TV cabinet has the added advantage of offering more space to hold film divas and video games, but also other objects such as board games, books or photographs.
Between customised and non-customised solutions, tall furniture is now available in the most diverse furniture styles. This facilitates the choice of those who have to furnish, allowing them to customise the space with furnishing objects that are inspired by classic styles or that flaunt a more contemporary design.
Tall TV stand furniture can have a structure similar to that of the console tables used to furnish the entrance area, or they can have a more essential and modern look. Also from the point of view of functionality, the options are numerous. They range from TV furniture that offers simple shelves to true modular structures that can be transformed into multifunctional walls.
Which style should you choose for your TV furniture?
Depending on the look you want to give the room, you can choose TV furniture made of wood, metal or with design plastic inserts, glass or crystal. The options are therefore manifold.
Since the furnishing possibilities offered by a TV cabinet are so many, what practical advice can be given? Let us give a few examples. Smaller cabinets can simply be placed on the floor or, if you want to give the room a more minimalist look, they can be fixed to the wall. Indeed, a wall-mounted TV furniture is always a contemporary solution that enhances the clean design and allows the room to be furnished in a very original way.
Even those who have opted for a TV cabinet with a more important structure, enriched for example with drawers, storage compartments and shelves, can choose whether to place the cabinet on the floor or fix it to the wall. This is also to make it more stable and secure.
Tall TV stands in modern style generally have a compact construction and, in some cases, are also equipped with integrated lights, which give the stand an original and modern look.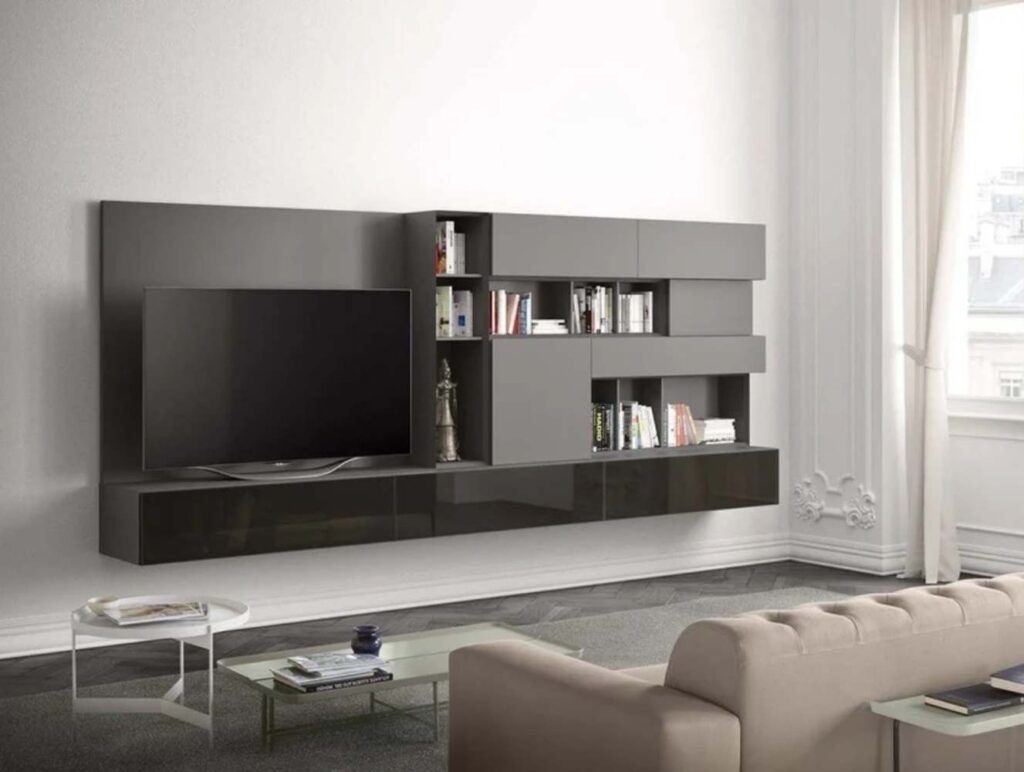 How best to furnish a room with a tall TV stand?
When you decide to furnish your room with a tall TV stand, you must ensure that the height of the furniture is proportionate to the height of the TV set. Once placed on the shelf, the TV should be clearly visible from various points in the room and should ideally be at the same eye level as the people in the house.
There is more. The choice of TV furniture is closely linked to the style you want to give the room. Those who wish to make choices that emphasise practicality can turn to tall furniture that can be used as both TV stands and multifunctional walls. These solutions, ideal in a context furnished in contemporary style, can integrate modules that act as bookcases, modules composed of closed compartments, shelves and drawers of different heights and dimensions.
Those who enjoy a more traditional atmosphere can choose a TV furniture that recalls period consoles. Solutions of this type play on the contrast between the classic look of the furniture and the modernity of the TV. Thus, in just a few centimetres, they enclose a concentration of design.
The style of the TV furniture also depends on the room of the house in which you decide to place the television. Typically, the space reserved for the TV is the living area, whether it is a living room or a lounge. But in some cases, you may also decide to place the TV in the bedroom. In this case, the tall TV cabinet can have different characteristics that blend in better with the bedroom ambience.
If a small TV needs to be stored, a TV cabinet with wheels, for example, can be chosen. The furniture thus designed can then be moved from one point to another in the room, depending on the position from which you want to watch TV.
One last tip. If you prefer a fixed structure, you can choose a TV cabinet that has the same style as the wardrobe. Alternatively, you can choose a designer piece of furniture, which can become the centrepiece of the room's décor.
Need to furnish your home or a single room?
Choose a top-notch woodworking shop.

We have over 50 years of experience!
Contact Us
Il Piccolo, a second generation family-run joinery, opens its own showroom in Lugano. With over 50 years of experience, Il Piccolo brings with it a wealth of technical and design knowledge of the highest level, thanks to the numerous interiors designed and furnished all over the world. In particular, Il Piccolo has a wealth of experience in the design and production of several corner wardrobe models. Finally, Il Piccolo represents the world's most prestigious furniture brands.
Our company designs, manufactures and sells the best of made-in-Italy interior design, following the customer from the design to the realisation, delivery and installation of the work, supplementing the process with a precise and professional assistance service. Looking for the ideal corner wardrobe for your room? CONTACT