Il Piccolo Blog
Beneficial effects and special shapes, all the advantages of a wooden bathtub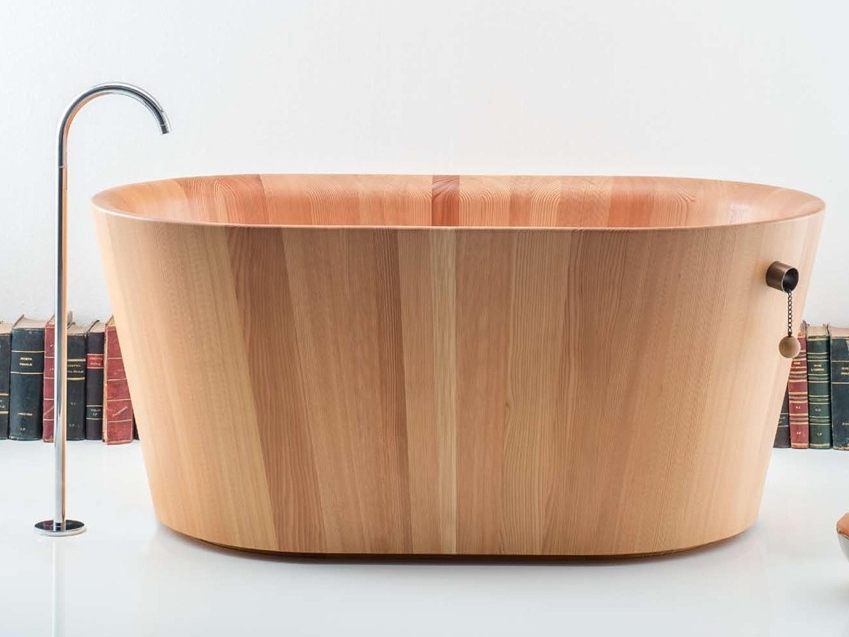 A choice that makes the bathroom unique
It is capable of bringing a special kind of relaxation, due to the intrinsic properties only of the material it is made of and not of others used over time, as well as being a truly refined design element. At the same time, it must be carefully maintained and cleaned to ensure that it will last a long time and look excellent. A wooden bathtub, if maintained carefully, is really what is needed to truly relax after a day's work! If you then choose a particular shape such as a barrel or ship shape, it will make your bathroom unique.
How to maintain a wooden bathtub to keep its spectacular appearance
Intuitively one might say that wood with water risks rotting and ruining, as opposed to other materials that are more often used for bathtubs and everything to do with sanitary ware, such as ceramics, stoneware, metals, as well as glass or marble, not to mention the gold of extremely luxurious designs, as a touch of class. Instead, consider that our ancestors used to bathe in wooden barrels! Nowadays, a number of precautions are known to safeguard the wooden bathtub, such as paints specially created for boats, which are known to stay in the water a long time. Regular use of anti-fungal agents and not to clean the bathtub with hard metal brushes or abrasive cleaners is required. It is important, when not in use, to pour in a small amount of water to prevent drying out.
The beneficial and natural properties of the wooden bathtub
So, with a little care, the bathtub will last a long time. Therefore, the only possible negative side has no reason to exist and only the positive ones remain, which show that the increasingly popular wooden bathtub is a winning choice. For one thing, there is no more eco-sustainable, natural and environmentally friendly material in the world than wood, which fully respects the great sensitivity to sustainability that characterises modern interior design trends. Furthermore, relaxing in a bathtub made of wood leads to absolutely unique benefits of contact with the material itself, thanks to its antibacterial and purifying qualities. Closing your eyes will be like being immersed in an oasis with nature all around you.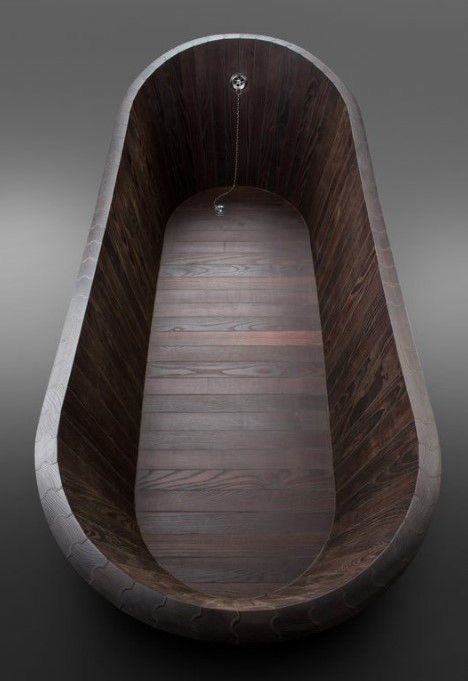 The types of wood suitable for a bathtub. And the effect must be raw and natural!
Wooden bathtubs can be placed in every type of bathroom. Wood is the material used par excellence in classic contexts, but it also fits well in modern ones, thanks also to lacquering. To accentuate its spectacular appearance, however, it is best to leave the bathtub in its natural colour, because the raw effect and the grain are definitely an extra touch. Various types of wood can be used, from juniper, which according to oriental philosophy has special beneficial qualities, to walnut, poplar and ash through to oak, larch, cedar or even mahogany. Each of course will offer a different and unique appearance.
From barrel to boat, how to make your wooden bathtub unique
Choosing a wooden bathtub also means playing with shapes. Although the usual rectangular structures can be realised, in fact, the material lends itself to a number of different and special shapes that would lose some of their appeal in ceramic or metal. Inspired by tradition, one could opt for a barrel-shaped bathtub, reminiscent of those of yesteryear, a choice that is just as suitable for classic as it is for modern settings, where the retro appeal has a truly elegant and unique effect. Particular and noteworthy are the bathtubs reminiscent of a ship. They would be the centrepiece of the bathroom! Hollowed-out solutions are also in vogue, i.e. made not from individual pieces but from solid wood, capable of reproducing any geometric shape. For those who want to recall the Orient, there is the ofuro, a mix between a rectangular box and a barrel.
Il Piccolo, a second generation family business, opens its showroom in Lugano. With over 50 years of experience, Il Piccolo brings with it a wealth of technical and design knowledge of the highest level, thanks to the many interiors designed and furnished around the world. In addition, Il Piccolo represents many of the best international luxury furniture brands. We design, manufacture and sell the best in design. Also with regard to La Cornue kitchens, we follow the customer from the design to the realisation of the project, integrating the whole process with a precise and professional service.CONTACT US