Il Piccolo Blog
The built in wardrobe is versatile, space-saving and suitable for any environment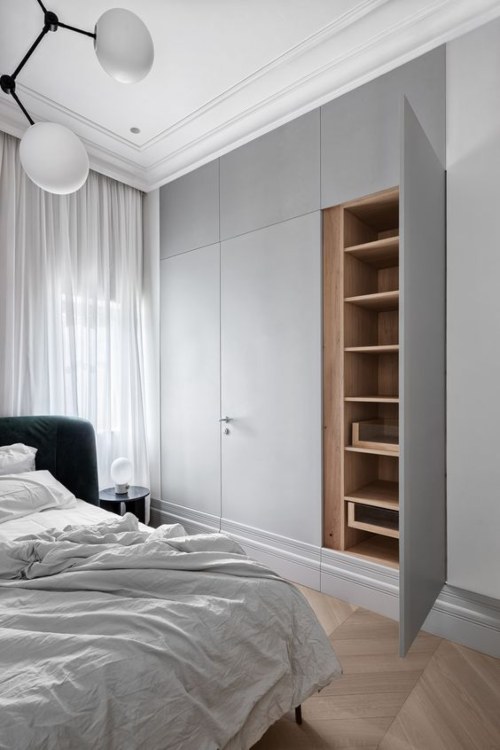 Design and functionality, these are the characteristics that a wardrobe must have
A wardrobe, whether for the bedroom or the living room or even one that makes use of an area that would otherwise be virtually unused such as the hallway or entrance hall, must be able to combine design and functionality. It must have the maximum possible capacity because we know how space is never enough, be able to adapt to the square footage of the room where it is placed and at the same time be in harmony with the furniture and style, bringing an aesthetic touch to the whole. The built in wardrobe is a solution that combines practical and aesthetic issues, representing a versatile piece of furniture suitable for all environments.
What is a built in wardrobe?
First of all, it is useful to define what is meant by the term built in wardrobe. It is a piece of furniture built into the wall, consisting of a rectangular box with two side panels, an upper lid, a lower bottom and a back panel at the rear. In fact, one side rests on a wall, it differs from a different type of wardrobe that, for example, divides a room and is used as a room divider, perhaps two-sided.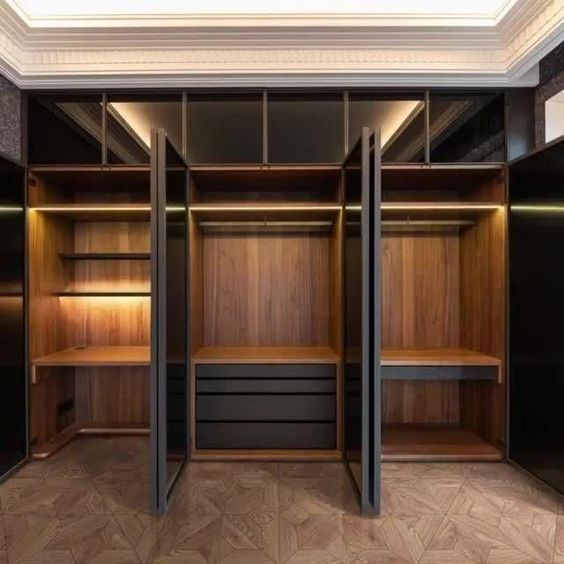 A cabinet can be designed and made to measure
It is practically always a made-to-measure solution, realised starting from the measurements of the space in which it is inserted, because there are hardly any standard rooms nowadays. It is ideal in particular for very particular sizes, think of attics, which need a real interlocking game to be furnished with functionality and design. Thanks to a built in wardrobe designed and built to measure by craftsmen, it is possible to exploit ceiling heights to the centimetre, optimising space for one's wardrobe.
Using this construction technique is good for large rooms but also for small ones, where it is often difficult to place everything that needs to be stored. It is not only suitable for the bedroom, the space where one usually keeps most of one's wardrobe, but also for the entrance hall, where one needs space for jackets and shoes, and for the corridor, a connecting space that thanks to a wardrobe is enhanced, is not lost, and becomes useful (if one wishes, one can use an inconspicuous design, so that it is almost hidden and does not stand out). Choosing a built in wardrobe, for any room, means having a discreet impact on the rest, because you do not create something as bulky as if, for the same amount of space, you also had to provide the bottom of the wardrobe.
How to structure the inside of your wardrobe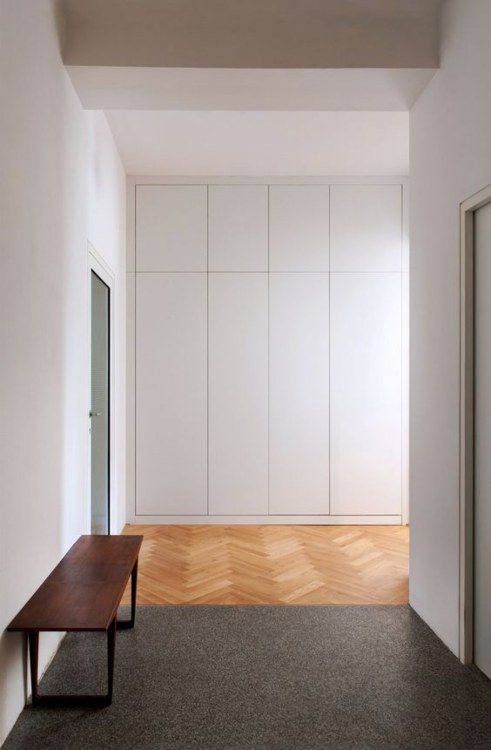 With regard to the interior of the built in wardrobe, you have enormous freedom of choice on how to organise it. You can provide shelves to place your clothes on, drawers for those that need to be better protected from dust, hangers for skirts and jackets. Since it is almost always a customised solution, you can decide according to your needs. To save space, you can have sliding doors and not hinged ones, as the latter need space to open (but with sliding ones you will never be able to see the wardrobe all at once, because one part will always be covered by the door).
From wood to glass doors, the material for the built in wardrobe
Moving on to materials, wood is certainly the main material used in wardrobes: it is versatile, durable, remains unchanged over the years if it is well maintained and adapts, with adjustments, to every style, from modern to classic. But metal can also be used for modern interior design. Those who wish to be able to see inside can opt for glass doors, perhaps smoked. Open wardrobes, which have no doors, are also possible: a design solution where clothes become decorative objects.
Need to furnish your home or a single room?
Choose a top-notch woodworking shop.

We have over 50 years of experience!
Contact us!
Il Piccolo, a second generation family business, opens its showroom in Lugano. With over 50 years of experience, Il Piccolo brings with it a wealth of technical and design knowledge of the highest level, thanks to the many interiors designed and furnished around the world. In addition, Il Piccolo represents many of the best international luxury furniture brands. We design, manufacture and sell the best in design. Also with regard to La Cornue kitchens, we follow the customer from the design to the realisation of the project, integrating the whole process with a precise and professional service.CONTACT US