Il Piccolo Blog
With balance and good taste, green kitchens speak of sustainability and serenity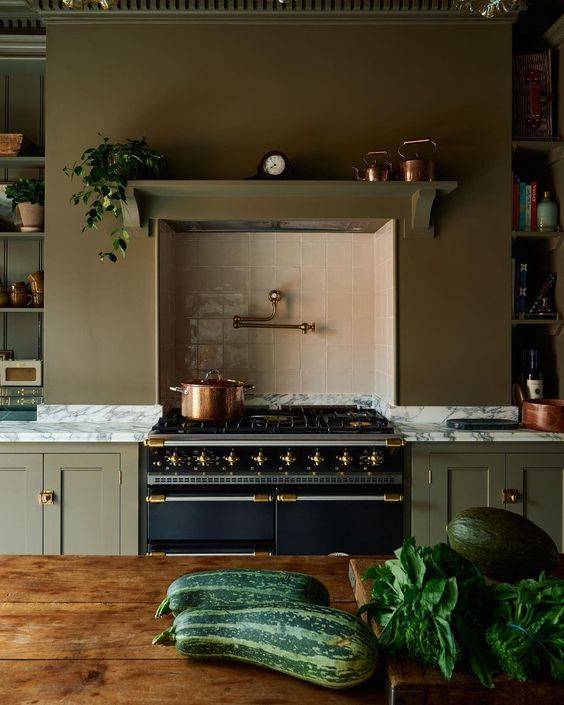 The evolution of kitchen colours
Traditionally and historically, kitchens have almost always been either the colour of wood, the main material (still used, for example, in country kitchens, which are cosy and rustic, with a studied raw effect) or, to give a feeling of serenity and cleanliness, white. In recent decades, however, people have also started to choose different colours, with the spread of bright, single-colour trends in modern contexts, or two-colour, balancing different characteristics. Over time, it has been realised that colour has a precise meaning and is able to convey a message related to the environment to be created. Green kitchens speak of sustainability and nature and are becoming increasingly popular.
Green kitchens, a versatile choice that appeals in every style
And if you think that green is just a colour that is considered acidic and not very adaptable, you are very wrong! Instead, it is an extremely versatile colour, with different gradations, that can be used for both modern and more classic interior designs, together with others or on its own. It is no coincidence that it is included by major brands such as Lacanche and La Cornue in every type of their high-standard kitchens, from rustic to Nordic. If you are not convinced about opting for green furniture or walls, you can combine it with other colours or just choose complements, perhaps chairs. The inclusion of plants also brings a touch of green that can give a completely different effect to the room as a whole.
A green kitchen fits in with the focus on nature and the environment
In a historical period in which attention to nature and the environment is preponderant, with the choice of sustainable interior design also as technologies, green kitchens fit perfectly into the trend and are able to bring a profound sense of serenity and tranquillity, a bit like when you stare out of the window at the mountains silhouetted against the sky. On a technical level, it is a colour that simultaneously brightens and relaxes, creating a calm and evenly luminous whole.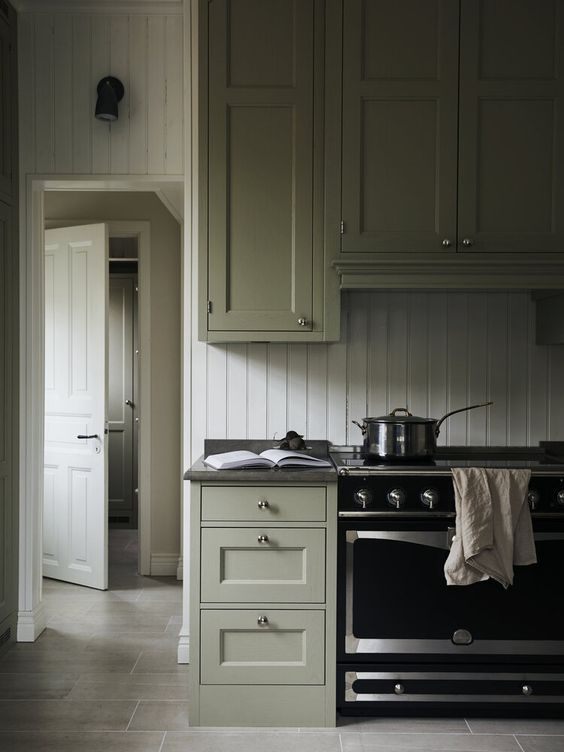 What shades for green kitchens?
Various shades of green can be chosen. For classic contexts, where a delicate and elegant effect is sought after, one can opt for a light and shaded sage, mint or olive green, a decidedly pastel shade. They are perfect for walls as well as kitchen countertops and furniture such as cupboards and accessories such as wall units.
Those who, on the other hand, want something bolder and more dynamic can go for a petrol green or at least a bright and intense shade. The brightest and most obvious one is undoubtedly emerald, a choice that requires a lot of personality. As always, there are the options of matt, with a silky effect, or shiny: a remarkable difference! A very special option is teal.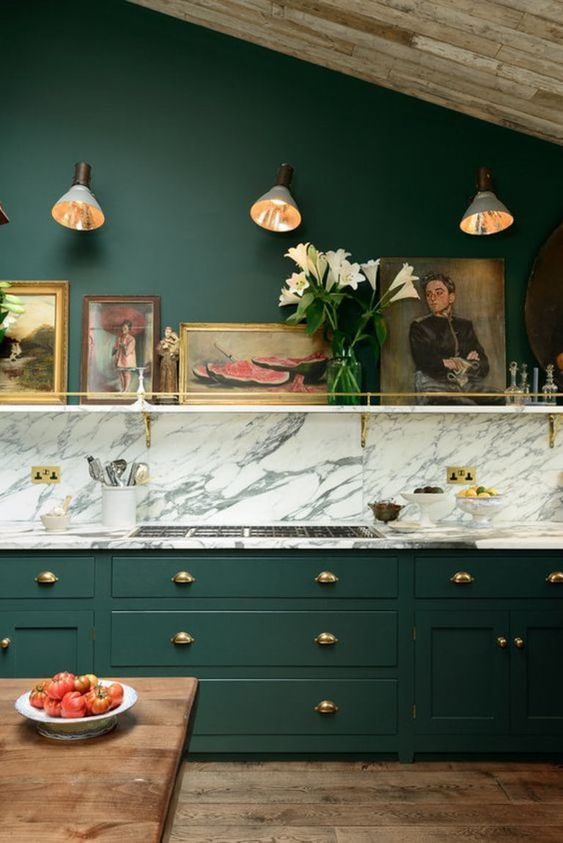 The secret of successful green kitchens: from wood to steel
If you don't like the idea, you don't have to have a single-colour green kitchen. Combining green with other colours requires good taste. You can very well alternate it with white, which is a colour capable of balancing any other. On the other hand, the choice of green kitchens and black kitchens seems risky and heavy, to be attempted if the green tends towards pastel. Other colours that can be combined are those that recall nature, such as yellow, or possibly a light blue.
Wood, whether light, painted white, or darker, blends well with green, for a kitchen that totally recalls the concept of woods and plants. If you have a darker, more decisive hue, it is fascinating to combine copper-coloured elements for a rustic effect or steel for a modern one, perhaps even in that material, such as handles, if you have them, and details such as pots and pans and accessories. Pay attention to the fact that painting the walls bold greens risks shrinking the space: only do this if the kitchen is large.
Need to furnish your home or a single room?
Choose a top-notch woodworking shop.

We have over 50 years of experience!
Contact us!
Il Piccolo, a second generation family business, opens its showroom in Lugano. With over 50 years of experience, Il Piccolo brings with it a wealth of technical and design knowledge of the highest level, thanks to the many interiors designed and furnished around the world. In addition, Il Piccolo represents many of the best international luxury furniture brands. We design, manufacture and sell the best in design. Also with regard to La Cornue kitchens, we follow the customer from the design to the realisation of the project, integrating the whole process with a precise and professional service.CONTACT US