Il Piccolo Blog
Nothing is overlooked in modern terrace furniture: relaxation area, kitchen and even greenery!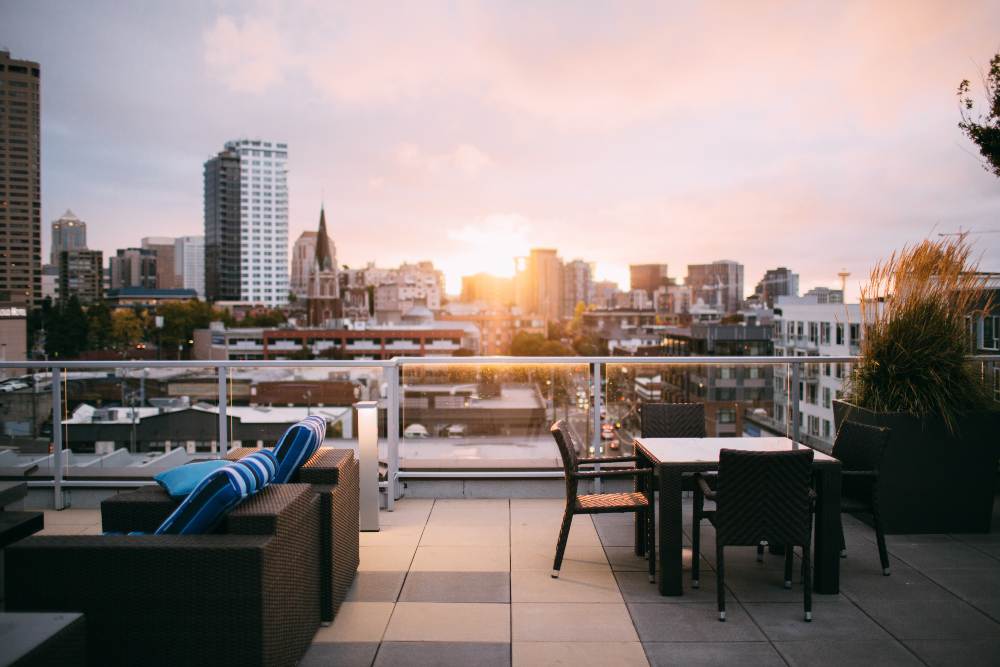 Terrace, a space to be lived in continuity with the interior
Since everyone's life has changed with the Covid, through a rediscovery of one's home and outdoor spaces as places to live, more attention is being paid to terrace and garden furniture. Like other areas of the home, modern terrace furniture requires careful planning, a choice of how to use the space and a balance.
As a first observation, it must be said that in recent times there is a tendency to seek continuity between indoor and outdoor furniture, for example sofas, which can be part of the same collection, obviously adapted. Modern terrace furniture is also based on design and aesthetic beauty as well as functionality.
Modern terrace furniture must be durable, functional and aesthetic
The philosophy behind furnishing a terrace is similar to that for a garden: the furniture must be durable because it stays outside, one must choose what to use the space for. Details that cannot be overlooked are the weather conditions, in particular what time and where the sun shines. Roofing and lighting must be carefully considered when thinking about modern terrace furniture, both for practical and aesthetic reasons.
Bioclimatic or glazed pergolas? It depends on whether you want to cover the whole terrace or just a part of it
In modern terrace furniture, the cover is very important, both for aesthetics and utility: consider that if the sun shines the space is unusable during the day. It gets too hot and who likes to eat in the sun? Modern and functional is a solution with bioclimatic pergolas, in fact a roof with adjustable sunblades. This is a dynamic idea, because it creates a real outdoor area, thanks to the fact that it can be oriented, opened or closed according to the sun and one's wishes. If, on the other hand, you prefer to enclose the entire terrace, opt for side closures, perhaps sliding windows. If during the day you pay attention to the sun, when furnishing a terrace, lighting is also fundamental, if you want to use it in the evening: choose the right atmosphere, also playing with spotlights, light chains and lanterns.
The style? Minimalist and linear!
Furnishing a terrace, especially if it winks at the modern, cannot neglect greenery. In addition to aesthetics, choose plants and flowers that last for all seasons and possibly do not require too much maintenance. As far as style is concerned, if you want to be modern, choose something minimalist and linear.
Modern terrace furniture: what function do you want to use the space for?
But the basic question to answer when furnishing a modern terrace is: what do you want to use it for? Do you want a relaxation area or an open-air dining room, or even something adaptable?
The relaxation area in modern terrace furnishings includes a series of comfortable sofas, as well as a sofa. Many brands that make indoor furniture have also thrown themselves into the outdoors, so the choice is varied and of quality.
The relaxation area can also be comfortably adapted for eating. Outdoor kitchens are increasingly in demand, especially modular ones. The solution with a whirlpool bath is also very popular: definitely relaxing!
Materials for modern terrace furniture
Outdoor furniture is usually made of wood, metal or plastic. Naturally, the latter is the less elegant material. It is essential that sofas, armchairs and tables can withstand the weather, because although the terrace will probably be partly covered, they will be exposed to sun and rain. In wood, teak, cedar and eucalyptus are particularly suitable. To create relaxation, the best colours are light tones, from beige to white (beware, however, that they can easily get dirty) or black.
Need to furnish your home or a single room?
Choose a top-notch woodworking shop.

We have over 50 years of experience!
Contact Us
Il Piccolo, a second generation family-run joinery, opens its own showroom in Lugano. With over 50 years of experience, Il Piccolo brings with it a wealth of technical and design knowledge of the highest level, thanks to the numerous interiors designed and furnished all over the world. In particular, Il Piccolo has a wealth of experience in the design and production of several corner wardrobe models. Finally, Il Piccolo represents the world's most prestigious furniture brands.
Our company designs, manufactures and sells the best of made-in-Italy interior design, following the customer from the design to the realisation, delivery and installation of the work, supplementing the process with a precise and professional assistance service. Looking for the ideal corner wardrobe for your room? CONTACT US!